Adrian 4-for-4 as Dodgers derail Angels
LA erases five-run deficit after Greinke's rough start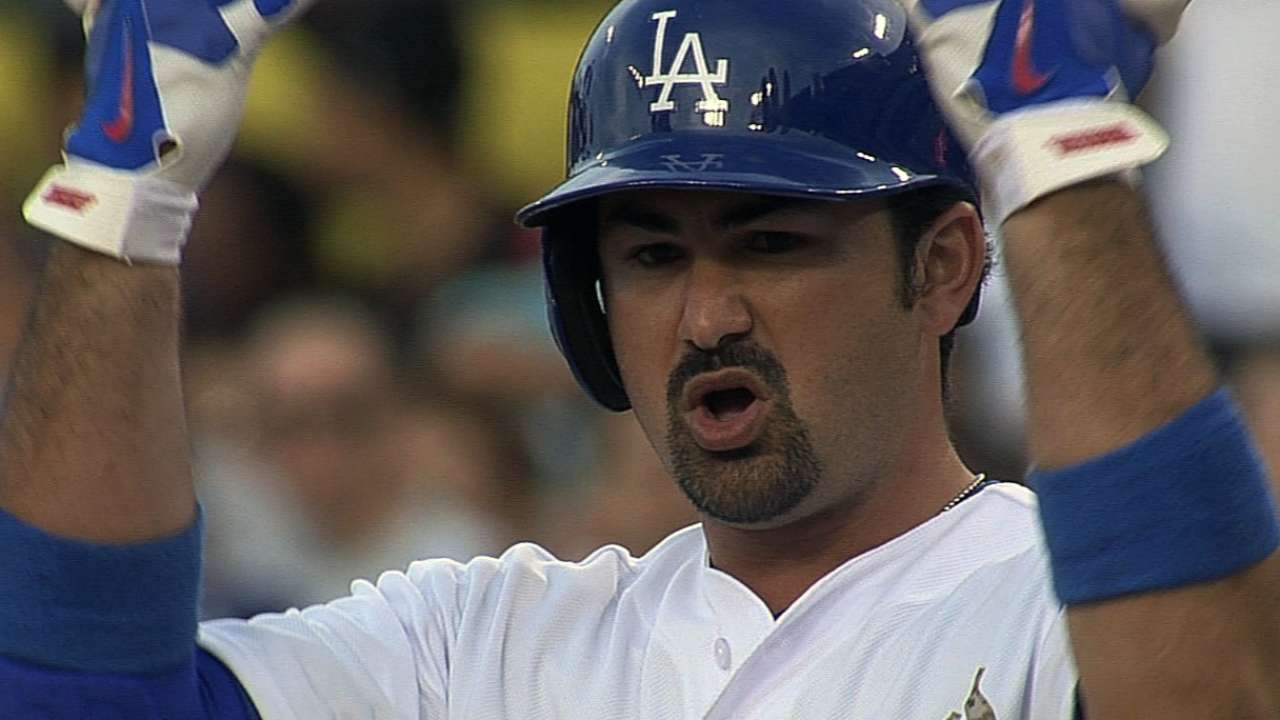 LOS ANGELES -- If the Dodgers can overcome all that went wrong on Monday night to beat the Angels, 8-7, maybe they can overcome a 7 1/2-game deficit in the National League West.
They won despite Matt Kemp's four strikeouts, another four-inning start by Zack Greinke, three errors (it could have been four) and the latest injury, a lower back bruise to the gritty Nick Punto.
That many negatives would normally mean doom in this season of curses, but the Dodgers somehow overcame all of that for their greatest comeback of the year, and they snapped the Angels' eight-game win streak for good measure.
"That was a great win for us," Punto said after receiving treatment. "We were down, 6-1, and we were just fighting the whole time. It was kind of what the manager wants to see and what we expect to be doing the rest of the year. Just no quit and keep fighting."
They did it with four hits and four runs scored from Adrian Gonzalez; a pair of RBI doubles from Scott Van Slyke, shaking off a sore neck to start in place of Andre Ethier; and a game-winning RBI single by Jerry Hairston, activated for the game after a disabled list stint with a strained groin.
"In talking to the guys, I think we're all excited about today's win," said Gonzalez. "It can definitely be a momentum builder. But again, you can't have momentum unless you come out tomorrow and play hard and win another one. That's when things start rolling. We can't just say today is the day it turns around. It takes a number of days."
The Dodgers did it with Juan Uribe, given up for dead last year, going 3-for-3 in a game he entered in the fifth inning. They did it with Luis Cruz -- given a death-sentence reprieve with the option of Dee Gordon to make room for Hairston -- parlaying a rare single and rarer walk into two runs scored.
They did it with a two-run double from Mark Ellis in a four-run fifth inning that Angels lefty C.J. Wilson couldn't finish. And with five innings from the bullpen, a save from Brandon League and four double plays over the last five innings, including one in the eighth inning that had the Angels livid.
That one came with Erick Aybar breaking from first base and Ethier, who pinch-hit in the seventh, running down Mike Trout's long fly to right field off Kenley Jansen. Aybar rounded second before realizing the ball was caught. Ethier sailed a wide throw to first that required Gonzalez to make a diving, sweeping tag.
"I thought I caught his shirt, that's why I showed the ball," said Gonzalez.
First-base umpire Paul Emmel was down the line for the batted ball and plate umpire Gary Darling was in position at first base to call Aybar out, afterward saying he saw no daylight between glove and jersey live and saw the same thing on video. That ended the inning with Albert Pujols on deck, having already hit four balls hard and destined to lead off the ninth with a single.
League got Mark Trumbo on a double-play grounder in the ninth, Ronald Belisario snuffed out a rally with a double-play grounder from Hank Conger in the seventh and Matt Guerrier did the same thing to Conger after taking over for Greinke with two on and no out in the fifth.
Those plays helped nullify the three errors and a passed ball, as two first-inning runs off Greinke were unearned.
"The way we started wasn't very pretty," said manager Don Mattingly.
A scoreless second inning wasn't pretty either, with Gonzalez committed his sixth error, and it ended with Punto beating Aybar to second base on a force play. But Punto's knee nailed Aybar's shoulder and Punto went airborne, landed on the square of his back. He played in pain until the fifth inning.
"As the game was going on it felt alright," said Punto. "As long as I kept it moving it felt OK. We'll just see how it feels tomorrow. I'm sure it's just a little bruise, but we'll see."
Kemp might have bruised feelings after going 0-for-5, with fans booing louder with each out. Mattingly, who returned Kemp to the lineup after a one-day benching, essentially said he's still the center fielder.
"Honestly, we're going to need Matt," said Mattingly. "I just don't give up on Matt. I'm not giving up on Matt, he's going to get going. At certain times, he'll hit in different spots."
Greinke, who acknowledged he didn't pitch well against Milwaukee earlier in the week, thought he pitched well against the Angels, who scored six runs (four earned) on 10 hits in four-plus innings. He also knocked down suggestions that his collarbone or elbow might be bothering him.
"I felt good, actually," he said. "They were hot and swinging good. Overall, I thought I did about as well as I could. From being on their side, I've seen them beat some really good pitchers. That's kind of what it felt like."
Mattingly said Greinke is understandably less than sharp after missing time in Spring Training with elbow soreness, then missing a month for the collarbone surgery.
"At this point, I'm not really concerned," he said. "The ball is coming out of his hand, he feels fine. It's really been a backwards year for him. I feel he's been behind the 8-ball the whole year, but I do think he'll get where he needs to get to."
Ken Gurnick is a reporter for MLB.com. This story was not subject to the approval of Major League Baseball or its clubs.