Angels' winning streak ends at eight
Wilson relents after Halos build five-run lead in LA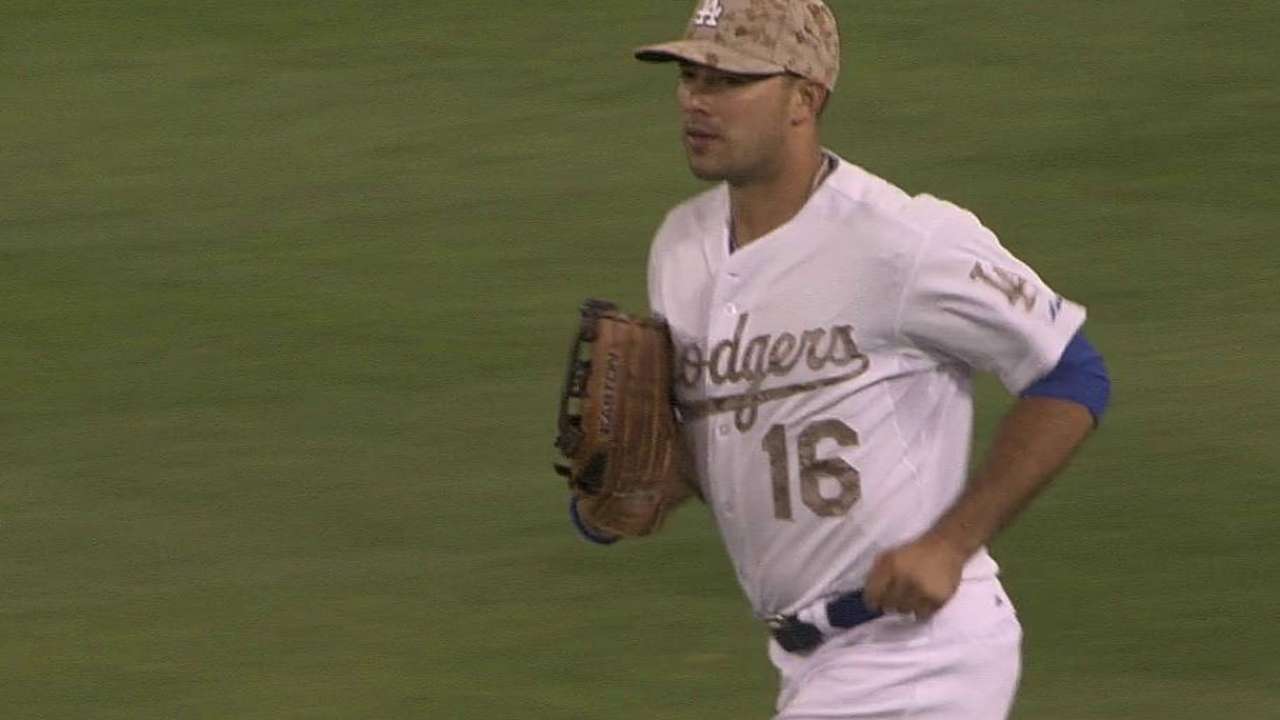 LOS ANGELES -- Maybe Erick Aybar indeed returned to first base safely, getting doubled up only as a result of another missed call by an umpiring crew. And maybe a locked-in Albert Pujols comes through behind him, with one on, two outs and his team trailing by one in the top of the eighth on Monday night.
But the reality is this: The Angels built a five-run lead against the reeling Dodgers and Zack Greinke, looking primed for their first nine-game winning streak in nine seasons, and C.J. Wilson couldn't hold it.
"It's unfortunate, because the offense obviously supported the pitching tonight," Wilson said after an 8-7 loss in front of a sold-out Dodger Stadium crowd on Memorial Day. "I just let them down."
Greinke was hit around in his first start against the Angels since choosing the Dodgers over them in free agency, giving up six runs (four earned) on 10 hits in four-plus innings. But Wilson, who came in with a 2.62 ERA in five May starts, squandered a 6-2 lead by allowing four runs in the bottom of the fifth.
Mark Ellis hit a two-run double, Adrian Gonzalez followed with an RBI single -- one of four hits in the game for the lefty-hitting first baseman -- and Scott Van Slyke laced an RBI double off the left-field wall, prompting Wilson to exit after allowing six runs in 4 2/3 innings.
The Dodgers (21-28) took their first lead off Dane De La Rosa the following inning, on a sac fly by A.J. Ellis, then retook it in the seventh on Jerry Hairston's two-out RBI single off Robert Coello, who came in with 14 strikeouts and no walks through 8 1/3 scoreless innings this season.
"I made some bad pitches in that fifth inning, and that's the thing that's upsetting because I felt like I was in the driver's seat," said Wilson, whose ERA is now at 3.95.
"He worked hard out of some trouble, was making some good pitches early and then it seemed like any mistake he made in the fifth, those guys were on it and they hit the ball hard that inning," Angels manager Mike Scioscia added. "They swung their way back in the game, no doubt about it."
In some ways, the Dodgers may have lucked their way into it, too.
With the Angels (23-28) down one in the eighth, Mike Trout fouled off three straight pitches from Kenley Jansen, then lined an easy out to right field with Aybar taking off for second on an attempted steal. Aybar never heard the sound of the ball making contact with the bat. The 49,953 fans were too loud.
"When I looked up, I was already past second," he said in Spanish. "I tried to get back as quick as I could."
The throw would've easily beat Aybar to the bag, but it was off line, forcing Gonzalez to range to his left to try to swipe Aybar as he went by. And home-plate umpire Gary Darling raced over to call Aybar out.
Replay was inconclusive. It didn't really show a tag, but it didn't completely dispel the possibility that he could've grazed his jersey. Once the call was made, Aybar slammed his helmet on the ground, first-base coach Alfredo Griffin threw his hands in the air and Scioscia was fuming.
Griffin was certain postgame that Aybar wasn't tagged, and Scioscia said it "looked like there was a lot of daylight" between Gonzalez's glove and Aybar's torso.
"I didn't feel anything," Aybar said, though he hadn't watched the replay.
But Darling told the Los Angeles Times that he did not see daylight, even after watching the replay, and Gonzalez believes a tag was applied.
"I thought I grazed his shirt there," Gonzalez said. "There was so many moving parts. I threw my glove out there and thought I caught his shirt. That's why I showed him the ball."
The Angels' offense continued to show positive signs, scoring five-plus runs in nine straight games for the first time since 2005. Pujols went 3-for-4 with two very deep flyouts, Howie Kendrick drove in two runs to give him 11 RBIs in his last 11 games and Trout continued his scorching May, going 2-for-5 to extend his hitting streak to seven games and adding his Major League-leading sixth triple.
But the pitching staff -- one that gave up only 11 runs in previous last seven games -- couldn't back them up, giving a scuffling Dodgers team what might have been their most important victory of the season.
"Hopefully we will start a new streak tomorrow," Scioscia said, after losing to the Dodgers for only the sixth time in the last 19 meetings. "I think the process is what's important. Although we didn't win tonight, there were a lot of good things that happened on the field and we've got to carry that in and start over tomorrow. We just didn't get it done on the mound tonight."
Alden Gonzalez is a reporter for MLB.com. Read his blog, Gonzo and "The Show", and follow him on Twitter @Alden_Gonzalez. This story was not subject to the approval of Major League Baseball or its clubs.