Homer too much for Bumgarner, Giants vs. A's
Lefty allows four runs in 6 2/3 innings of Bay Bridge Series opener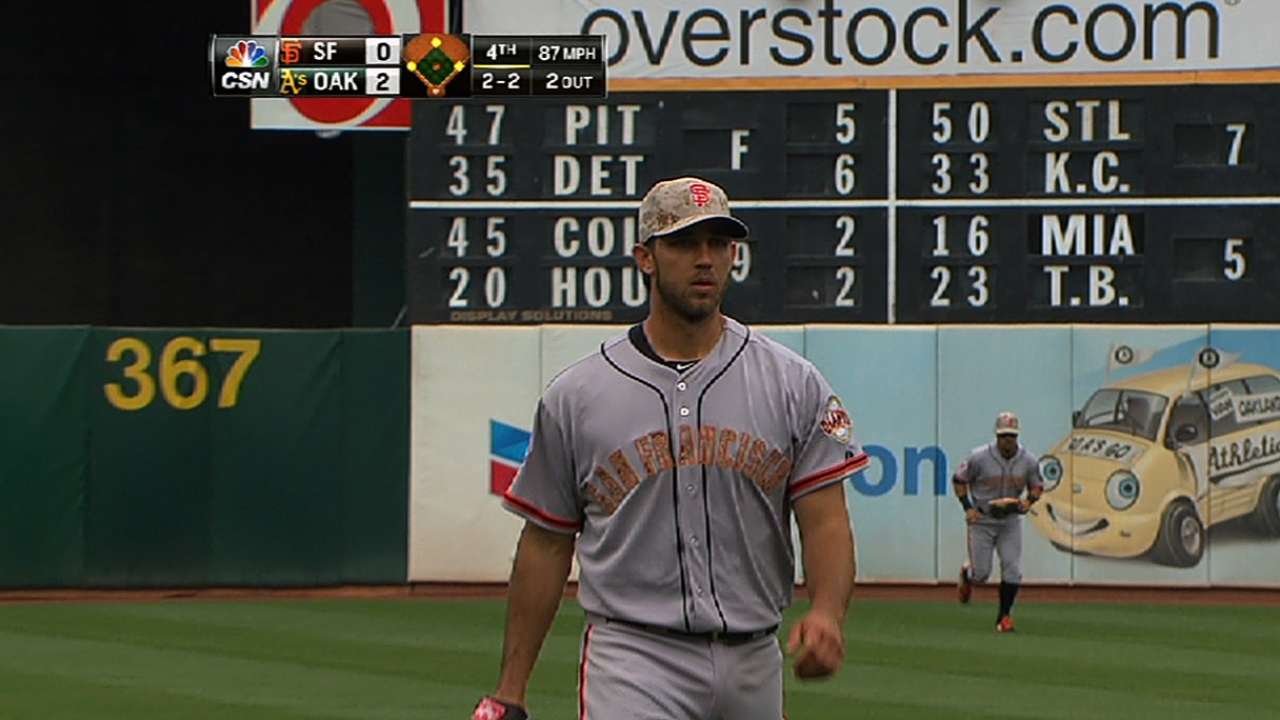 OAKLAND -- Madison Bumgarner was missing and not by much. That's why he was a little frustrated with himself despite pitching effectively into the seventh inning.
The Giants left-hander made one mistake all day and it cost him and San Francisco on Monday.
"I felt good and I wasn't missing by a big margin," Bumgarner said after the Giants' 4-1 loss to the Oakland Athletics. "I had a couple of walks and that cost me a run. I tried to pitch through that, but the biggest thing is I got deep into the game and gave the bullpen a rest."
Josh Donaldson hit a two-run home run in the fourth inning, Yoenis Cespedes hit a two-run double in the seventh, and the Athletics beat the Giants in the first of four consecutive Interleague games between the Bay Area rivals.
"I tried to throw a fastball down and away," Bumgarner said of the pitch to Donaldson. "The ball came back over the plate a little bit but it was still down and he put a good swing on it."
Bumgarner (4-3) was charged with four runs on four hits over his 6 2/3 innings. He walked five, hit a batter and struck out six.
"The one inning he got out of sync a little but he did a great job," Giants manager Bruce Bochy said. "He got us deep in the game, allowed the two runs [before departing with two runners on base]. That's the kind of pitching we need. I know it doesn't go down as a quality start, but he left the game with a good start."
Bumgarner is 1-3 with a 5.17 ERA in May following a 3-0, 1.55 April.
George Kontos came on to pitch after Bumgarner gave up a single to Derek Norris and walked Chris Young. Cespedes greeted Kontos with his double off the right-center-field fence.
"Kontos just left a curve up at the wrong time," Bochy said. "The pitch just got away from him."
Opponents are hitting .341 (15-for-44) against Kontos with runners on.
"We need help in that area," Bochy said. "We can't keep using the same guys."
Buster Posey, who had a 10-game hitting streak snapped, drove in the Giants' only run with an infield grounder in the sixth. Andres Torres had two hits as the Giants lost their fourth straight on the road and six of their last seven away from AT&T Park.
The Giants have struggled away from home all year, winning nine of 23. They are 19-9 at home.
Torres is heating up. He's has 10 hits in his last 18 at-bats following a 1-for-17 streak.
Brandon Crawford has hit safely in 16 of his last 19 games and is hitting .386 (27-for-70) in day games.
"It was a great atmosphere," Crawford said of the Memorial Day sellout crowd. "It was a good day to support our troops. It just didn't turn out the way we wanted."
Rick Eymer is a contributor to MLB.com. This story was not subject to the approval of Major League Baseball or its clubs.