Yanks unable to put away Mets, drop opener
Gardner does his part with amazing catch to rob a two-run home run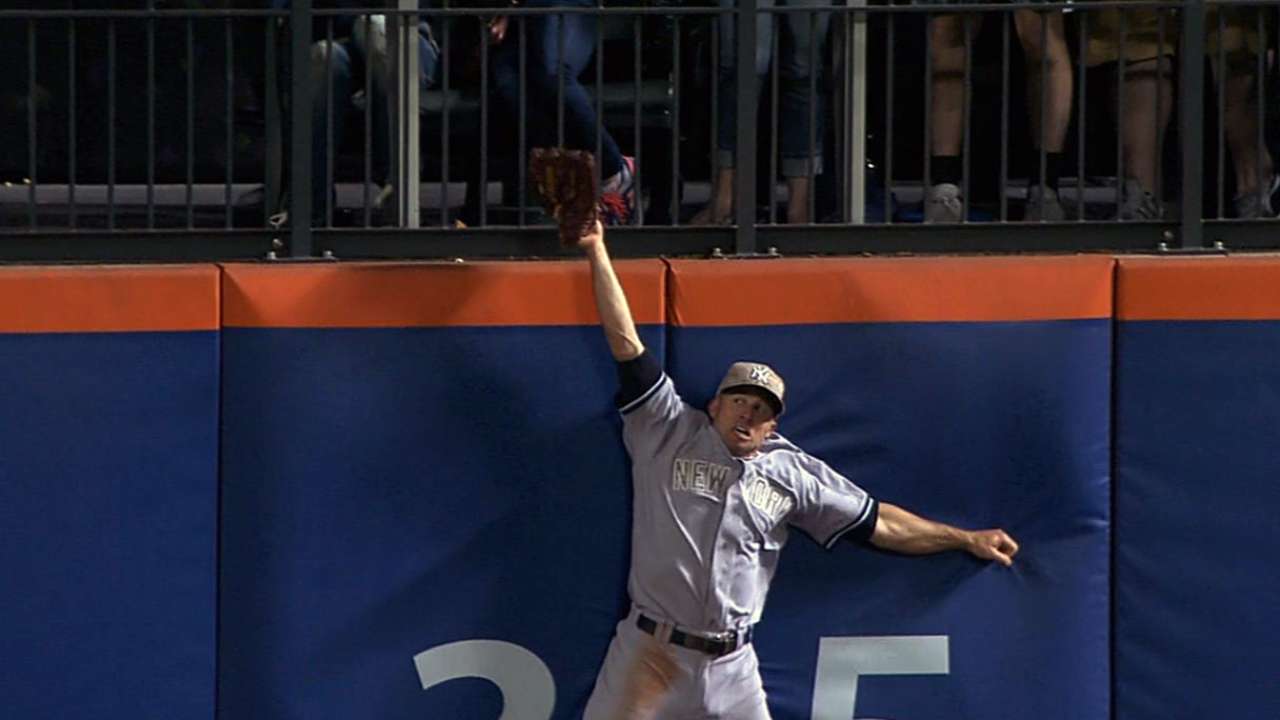 NEW YORK -- The Yankees thought they had their player of the game picked out the moment Brett Gardner's back crashed into the padding of the outfield wall, his glove soaring over the 385-foot marker to reel in a sixth-inning drive.
From his vantage point on the mound, Phil Hughes said he'd witnessed the best play ever made behind him. Daniel Murphy got his revenge later, though, lacing a go-ahead RBI single in the eighth inning that stunned the Yankees with a 2-1 defeat in Monday's Subway Series opener at Citi Field.
"I did a terrible job out there," said losing pitcher David Robertson, who left a cutter up that Murphy laced into center field. "I kept falling behind in the count, couldn't throw a breaking ball for a strike, and when you make mistakes like that against a good team, they make you pay for it."
After Gardner stole a two-run homer from Murphy with his terrific play in the sixth inning, the Mets tied the game with David Wright's long homer off Hughes in the seventh, then moved runners to second and third in the eighth as they pounced on an ineffective Robertson.
Second baseman Robinson Cano sharply threw home to cut down Mike Baxter at the plate on a Ruben Tejada fielder's choice, but Robertson allowed the go-ahead hit to Murphy, giving the struggling Mets their first lead of the evening.
"It's been a little bit of a frustrating time for us," Murphy said. "And to battle like that, to just absolutely battle, it felt like it was a big moment. I was really excited."
Hughes cruised through six scoreless innings before challenging Wright with a fastball in the midst of a tough at-bat in the seventh. The Mets' captain got him with a long blast to left, but Hughes still was able to feel good about his outing.
"I thought my fastball was pretty good at the start and it got better as the game went along," said Hughes, who allowed just four hits with no walks and six strikeouts. "Obviously, it would've been much different without Gardner making that catch. That was unbelievable."
Girardi said there should be no shame for Hughes in getting beat by Wright, who crushed his seventh home run of the season but just his first at Citi Field.
"David Wright is a perennial All-Star and a very good player," Girardi said. "He's put up big numbers for a long time and he got the best of Hughesie in that at-bat. He's a superstar and he put a superstar at-bat on him."
Brandon Lyon pitched a scoreless top half of the eighth inning to pick up the victory in relief of Jon Niese. The left-hander allowed just one run over seven innings, but with eight hits off Niese, the Yankees felt they should have been able to do more damage.
"I honestly don't know [what made Niese tough]. I feel like I saw good pitches against him," catcher Chris Stewart said. "He got out of some situations. He was just able to make good enough pitches to get out of jams and kept us off balance."
The Yanks brought around their only run off Niese in the sixth inning as Gardner laced a leadoff triple past the dive of left fielder Lucas Duda, then scored on Jayson Nix's soft single to right field.
In Gardner's mind, that only partially atoned for a first-inning misplay of a Wright drive to right-center that went for a triple as Gardner crashed into the fence.
"I thought I had another step or so," Gardner said. "Thank goodness it's a part of the park where it's a fence, not a wall. The poles out there have got some pretty good pads in front of them, so I'm fine."
He'd make up for the play entirely by leaping in a moment reminiscent of Endy Chavez's catch in the 2006 National League Championship Series across the parking lot at Shea Stadium, robbing Murphy of what should have gone for a two-run homer.
"It wouldn't be as difficult if I was a little taller," Gardner said, cracking a grin. "You've just got to hope that you're able to get a good clean jump. You want to get back there close to the fence as possible, but you don't want to run into the fence or hit the fence on the way up. I was able to time it just right."
Murphy hopped around first base and spiked his helmet in frustration, while from the back of the mound, Hughes pumped his right fist high in the air to celebrate Gardner's catch.
"Pretty special. It looked for a while like Gardy was going to be the star of the game, with the triple and then taking away the home run there," Girardi said. "But it didn't end up that way, unfortunately."
Bryan Hoch is a reporter for MLB.com. Follow him on Twitter @bryanhoch and read his MLBlog, Bombers Beat. This story was not subject to the approval of Major League Baseball or its clubs.