Encarnacion drives in five to back Buehrle
Blue Jays hit three homers as lefty allows one run in six innings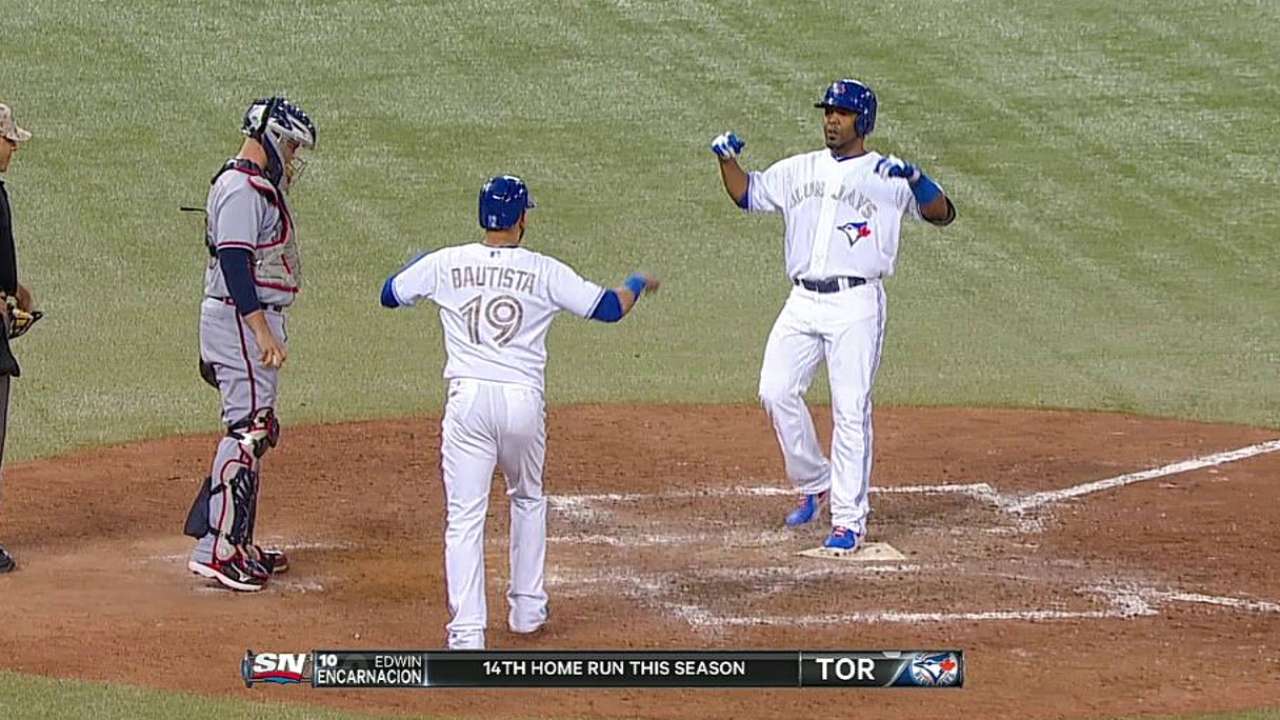 TORONTO -- Just like Jose Bautista from two years ago, Edwin Encarnacion entered this season having to prove he wasn't a one-hit wonder.
Toronto's first baseman/DH was fresh off an impressive 2012 campaign which saw him become one of the elite hitters in the American League. The question on everybody's mind was, would he be able to do it again?
Despite somewhat of a slow start, Encarnacion appears to have regained that status and once again took center stage on Monday night by tying a career high with five RBIs to support six strong innings from Mark Buehrle in Toronto's 9-3 victory over the Braves.
"That's the question everybody's been asking, and the best way to answer is the way I've been playing right now," said Encarnacion, who has 35 RBIs in his past 32 games.
"I want to have another great year, so they can say it's nothing lucky. I believe in myself, I have a lot of confidence and I know what I got."
The early returns this season weren't exactly promising, as Encarnacion found himself in a long line of Blue Jays' hitters who were struggling to find some sort of rhythm at the plate. A lingering wrist injury didn't help matters, as Encarnacion hit just .197 (14-for-71) with two homers and eight RBIs through the first 19 games.
The storyline changed towards the end of April, and Encarnacion has been a different hitter ever since. He maintained a patient approach at the plate and along the way regained the 2012 form by hitting .290 (36-for-124) with 12 homers and 35 RBIs dating back to April 22.
The Blue Jays' lineup has gone through a similar rebirth, as the club has been one of the top offensive teams in the American League during May. That production continued on Monday night as Encarnacion, J.P. Arencibia and Colby Rasmus each homered.
Toronto has scored five or more runs in nine of its past 13 games, and finally seem to be enjoying the type of production that was originally expected coming out of Spring Training.
"We knew that things were going to change," Encarnacion said. "When the season started we struggled at the beginning, but we knew we weren't going to be like that all year long. We knew things were going to change. So right now, we feel great at the plate, everybody's making adjustments, so everybody feels better."
Buehrle has been another reason for the Blue Jays' recent turnaround, and he was back at it again on Monday night. He allowed just one run on five hits while walking two and striking out six.
The strong outing marked another step in the right direction for Buehrle, who is still attempting to overcome a slow start to the season. The veteran starter began the year with a 7.02 ERA through seven starts, but has since begun to turn things around.
Buehrle's ERA now sits at 5.51, and he has recorded quality starts in three of his past four outings. He's allowed a total of nine runs over those 26 innings of work, with most of the effectiveness coming from an increased ability to keep the ball down in the zone.
"My sinker is moving, too. I think when you throw it that soft, it gives it a little more time to move down," Buehrle said with his typical self-deprecating humor. "Everything's been down in the zone, so when you're down in the zone pretty much the only thing they can do with it is hit it down.
"It's always good when I'm getting ground balls instead of fly balls -- I'll take fly-ball outs -- but when they're hitting the ball on the ground, that's kind of my game."
Atlanta right-hander Tim Hudson has owned the Blue Jays for most of his career, but that wasn't the case on Monday. Rasmus put Toronto on the board early with a two-run homer, while Encarnacion increased the lead to 4-0 with a two-run single in the third.
Arencibia then delivered the final blow to Hudson in the sixth with another two-run shot. It was Arencibia's 12th home run of the season and 54th of his career, as he moved to within five of Darrin Fletcher for the second spot on Toronto's all-time list for catchers.
Hudson entered the game with a career 11-3 record and 2.79 ERA vs. the Blue Jays, but struggled to get through six innings. He was charged with six runs on eight hits and he has now surrendered five or more runs in three of his past four outings.
"It was just not a very good night," Hudson said. "A night where I was battling a little bit with my delivery, my pitches weren't very crisp."
The capper went to Encarnacion when he connected in the seventh for a three-run homer off right-hander Cory Rasmus, the younger brother of Colby making his second Major League appearance.
The Blue Jays have now won nine of their past 14 games.
Gregor Chisholm is a reporter for MLB.com. Read his blog, North of the Border, and follow him on Twitter @gregorMLB. This story was not subject to the approval of Major League Baseball or its clubs.