Samardzija fires two-hitter for first career shutout
Starter allows pair of singles, fans eight; feat first for Cubs since 2011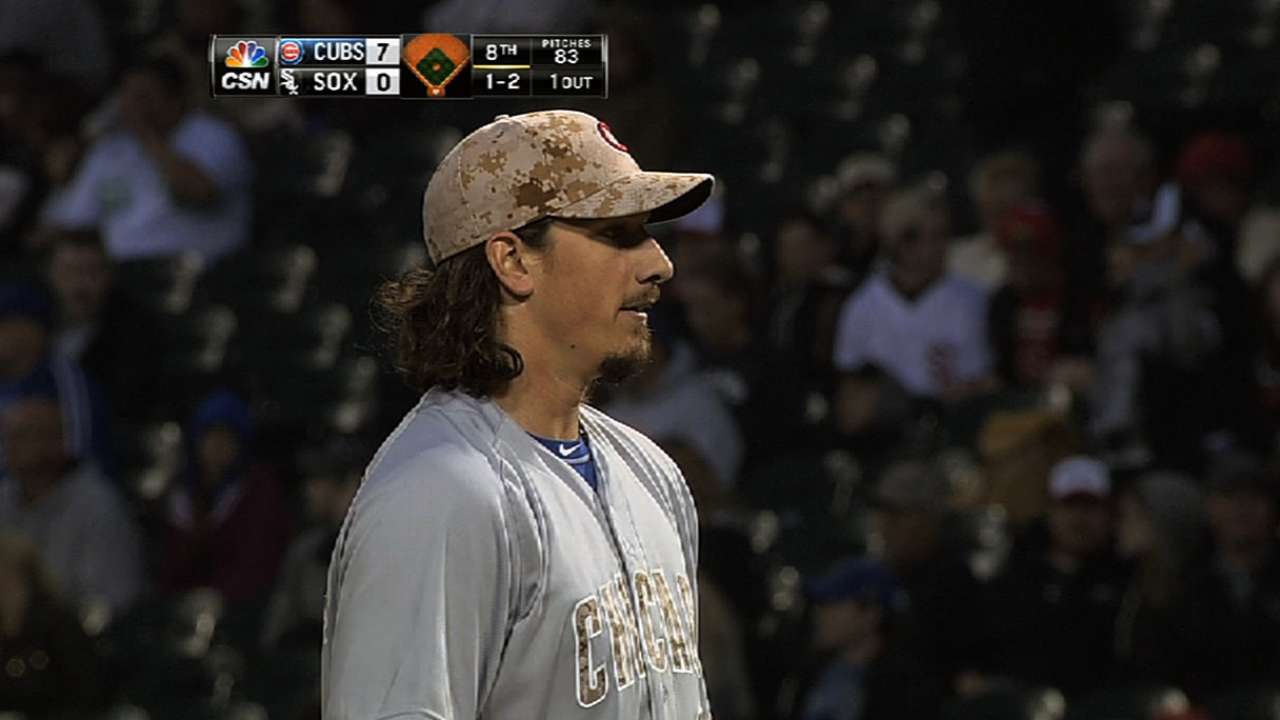 CHICAGO -- Jeff Samardzija used to go to White Sox games as a kid growing up in Valparaiso, Ind. On Monday, he felt right at home on the South Side.
Samardzija threw a career-best two-hitter for his first shutout to lead the Cubs to a 7-0 victory over the White Sox. Julio Borbon smacked his first home run, and Anthony Rizzo hit a double and a triple and drove in two runs to back the right-hander, who collected his second complete game.
"That's as dominant as you can be," Rizzo said of Samardzija. "He wasn't trying to punch everyone out, he was just trying to throw strikes. That's all you can ask of him."
Samardzija struck out eight and gave up a leadoff single to Conor Gillaspie in the third and a two-out single to Alexei Ramirez in the ninth. That was it. He's the first Cubs pitcher to throw a shutout since Randy Wells did so against the Giants on Aug. 29, 2011.
"I love this place," Samardzija said about pitching on the South Side. "I loved coming to watch games here as a kid. I loved watching these guys play here, so to come here, and have my whole family here, 30 minutes from home, from my backyard, it's fun. I love being here, I love the atmosphere. I love these games against the White Sox, they're always fun. Unfortunately, they cut [the series] down to four -- this is what baseball is all about, these rivalry games. It's just fun, this is what you play for."
He seems to have a knack for big games. Samardzija's other complete game came in his last start last year, when he knew he was being shut down. He won his first Opening Day start this year.
"Sometimes you can lull me to sleep with other games that aren't that important, and that's something I need to get better at, too," Samardzija said. "You approach every game like it's a playoff game, and I think I'm learning that and getting better."
This is only his second full season as a starter, and it was easily his best performance.
"That's a big-time pitcher, that's No. 1, that's a No. 1 knowing that our bullpen has been abused the last few days -- knowing, 'I've got to go deep in the game to finish it to give the bullpen a rest,'" Cubs manager Dale Sveum said.
It helped being at home for a road game.
"There's just a comfort level when you can sleep in your own bed and drive 15 minutes to the park and come play," Samardzija said. "You've got the smell of the steel mills in the background. It's not the most beautiful scent in the world, but it smells like home.
"I love competing against that team, they're a great group of guys who play hard, and I admire them a lot -- it was just fun."
His complete game also was necessary. The Cubs needed Samardzija to go deep to give the bullpen a break. He delivered and credited his teammates.
"You've got to give kudos to our offense there to allow me to relax and make my pitches," Samardzija said.
The right-hander has made an adjustment with his hands and feels he can now get on top of the ball better and drive it downhill, which has improved his fastball command.
"He was on tonight," Gillaspie said. "He threw every single pitch for a strike, it seemed like. His fastball moves all over the place."
Samardzija threw 108 pitches. He was efficient, and he was effective.
"That kind of stuff, 97 [mph] from the first pitch to the last pitch, whatever he threw, you're not going to see that too often in the big leagues," Sveum said.
There have been times when Samardzija thinks too much, Sveum said.
"He's a big-time power guy," Sveum said. "You saw his split-finger tonight, and that's pretty much an unhittable pitch when he's ... throwing it like that. Not that he's not a pitcher, but sometimes he wants to be this pitcher who's pitching like Greg Maddux or something, and he's not that kind of pitcher."
This was the first of four Interleague games to be played between the intracity rivals in a new format in which the Cubs and White Sox will play two games at U.S. Cellular, then two at Wrigley Field.
"When these [city] series get closer and closer, you start talking about them and looking forward to that almost playoff-type atmosphere that you don't get on an everyday basis," Sveum said.
Monday also was the first of three straight games against left-handed starters, which has not been a good thing for the Cubs. They're now 5-10 against southpaw starters. One reason for the struggle is the low on-base percentage, but the Cubs changed their approach. They may be last in the National League in walks but got things started in the first, when Starlin Castro drew a one-out walk. He then stole second and scored on Alfonso Soriano's single off the left-field wall.
Ryan Sweeney walked with one out in the fifth, and one out later, Borbon launched the first pitch from Jose Quintana into the right-field seats for a 3-0 lead, his first homer since he connected off another lefty, the White Sox Mark Buehrle, on July 4, 2010, while with the Rangers.
Scott Hairston's sacrifice fly in the sixth made it 4-0. The Cubs had runners at first and second with one out in the seventh, when Castro singled to left. Outfielder Dayan Viciedo threw out Sweeney, who tried to score on the hit, and Rizzo followed with his triple off the center-field wall. Two runs scored, and Soriano hit an RBI single to make it 7-0. The Cubs did the little things, which they haven't done much this season.
"Just to put runs on the board and keep adding on, and two-out hits, it's nice for the entire team, the pitching staff, our coaches -- it was a nice, easy win," Rizzo said.
Carrie Muskat is a reporter for MLB.com. She writes a blog, Muskat Ramblings, and you can follow her on Twitter @CarrieMuskat. This story was not subject to the approval of Major League Baseball or its clubs.