White Sox bow to Samardzija, shut out in opener
Club musters just a pair of singles; miscues burden Quintana's start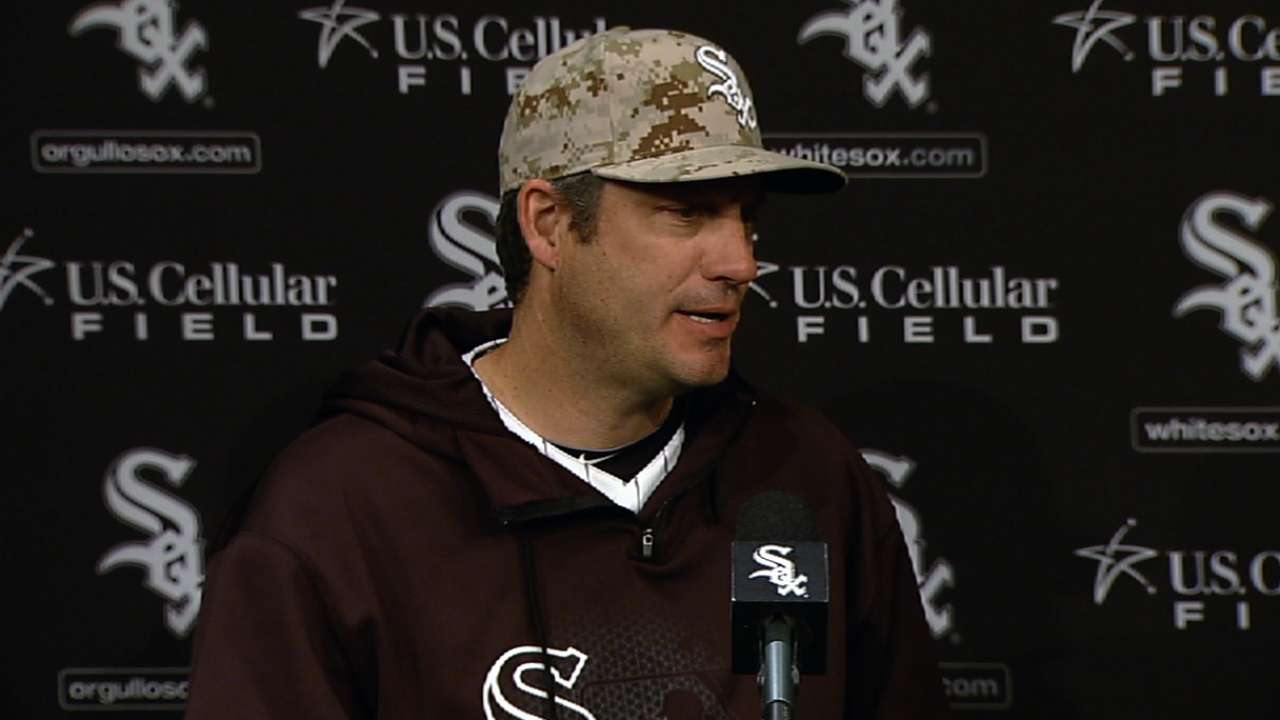 CHICAGO -- White Sox manager Robin Ventura has been asked in each of his pregame media sessions over the past four days if he likes the new two-and-two, home-and-home setup for the Interleague crosstown battle with the Cubs, reduced from six games per season in the past.
Ventura was fairly non-committal with his responses, adding Monday that it would be better judged following the completion of the four games. After Monday's 7-0 shellacking at the hands of the Cubs and Jeff Samardzija, before 30,631 at U.S. Cellular Field, Ventura decided there was no need to wait any longer to make his call.
"I guess the answer to the format is, they like the format because we don't have to face him anymore," said Ventura, after Samardzija's two-hitter ended a three-game winning streak for the White Sox (24-25).
Samardzija (3-6) needed 108 pitches for the complete-game effort, having faced one hitter over the minimum going into the ninth, before Tyler Flowers drew a four-pitch walk and Alexei Ramirez singled to right. The Cubs right-hander struck out eight, keeping the White Sox hitters off stride from pretty much the first pitch.
If Samardzija wasn't rushing a fastball up to the plate at 97 or 98 mph, he was getting wild swings on his slider and splitter. Monday's effort certainly won't rank as one of the best of the season for the White Sox, but the cause for that effect pretty much centered on Samardzija.
"Obviously he threw well, he was the story of the game," said White Sox first baseman Paul Konerko, who finished 0-for-2 with a walk. "You just tip your hat to him. That's a great start for him, and that's all you can really say about that one. They had some guys swing the bats as well, but that was kind of secondary to what he was doing out there."
"They're an aggressive fastball-hitting team," Samardzija said. "I knew it was going to come down to location on that pitch [fastball], and I had some good location early in the count and got some quick outs. It really allowed me to kind of hold off my offspeed stuff until later in the game."
The Cubs (20-30) added more than a little offense to the mix in support of Samardzija, cutting the White Sox overall series lead to 49-42 and picking up their third win in the last four games played at U.S. Cellular. One run scored in the first on Alfonso Soriano's single off the left-field wall against Jose Quintana (3-2), and Julio Borbon's two-run homer in the fifth raised the margin to three.
A three-run seventh, courtesy of Cubs first baseman Anthony Rizzo's long two-run triple to center and Soriano's third hit, put the game well out of reach. Quintana allowed four runs on four hits over six innings, striking out five, but gave himself less than a passing grade.
"I'm upset about making those mistakes," said Quintana through translator and White Sox coach Lino Diaz. "When you're facing a good pitcher like that, they're even bigger mistakes. I didn't feel that it was that good of a night."
Quintana's pitching line was a bit deceiving when factoring in a flat, error-filled performance by the White Sox.
In the first inning, Ramirez failed to cover second on a Starlin Castro stolen-base attempt. Castro didn't get a good jump and might have been caught for the third out if Ramirez was in place.
Flowers missed a wild swinging third strike on Ryan Sweeney to start the seventh, and although Sweeney didn't break immediately out of the batter's box, Flowers' errant throw past Konerko allowed Sweeney to reach. Rizzo's triple was well struck to center, but Alejandro De Aza mistimed his jump on a catchable drive.
"It's just one of those you can't win if you play like that," Ventura said. "I don't know if it was flat -- if Samardzija made us flat or we were just flat. It was definitely not what we've been playing like."
Conor Gillaspie delivered the only hit until the ninth for the White Sox with a leadoff single in the third. It was the highlight of the night for the team, unless the goal horn sounding at U.S. Cellular to signify the first Blackhawks goal in Detroit counts in the thinking.
Monday's loss matched the largest margin of defeat this season for the White Sox and marked the second time this season they were limited to two hits or fewer. It was shutout No. 4 thrown against the White Sox and first coming at home, but on this evening, the credit went to Samardzija instead of the blame going on the host squad.
"He was on tonight. It didn't matter who we had on the mound, honestly," Gillaspie said. "He threw every single pitch for a strike, it seemed like. His fastball moves all over the place. You get to two strikes, you're in trouble with a guy like that. You tip your cap sometimes."
"That's the best I've seen him. He had everything going, and that's how dominant he can be," said Rizzo of his teammate. "His split-finger was working well today. It was fun to watch. His pitch count was down. He wasn't trying to punch everyone out. He was just throwing strikes. That's all we could ask."
Scott Merkin is a reporter for MLB.com. Read his blog, Merk's Works, and follow him on Twitter @scottmerkin. This story was not subject to the approval of Major League Baseball or its clubs.