Gomez homers twice, but Peralta shaky
Miscues hurt Brewers even as former Twin accounts for two runs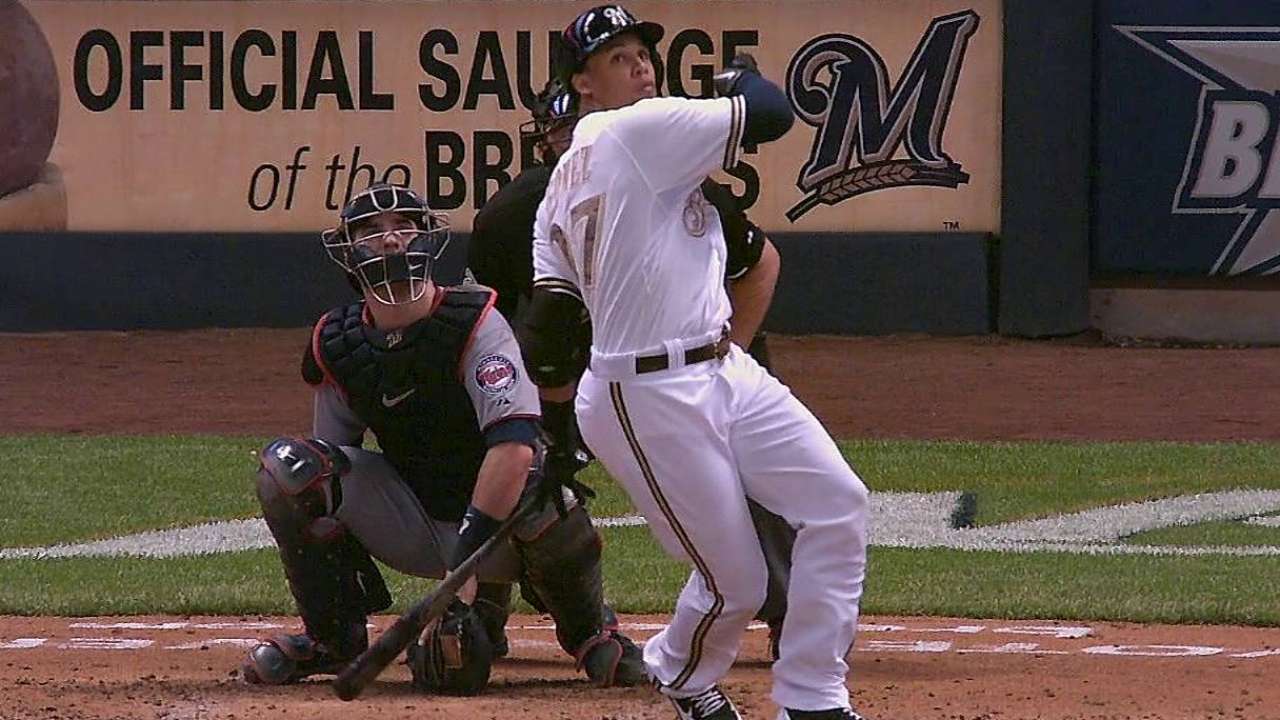 MILWAUKEE -- On Sunday, the question was, "What's wrong with Yovani Gallardo?"
On Monday, it was, "What's wrong with Wily Peralta?"
On Tuesday, the Brewers will try someone new. Alfredo Figaro will make a spot start for a team playing toward its toughest month in a decade.
Carlos Gomez homered twice against his former team, and Jean Segura added a solo shot, but Peralta and the Brewers made too many mistakes and lost to the Twins, 6-3, in a Memorial Day matchup of struggling clubs at Miller Park.
The Twins won for only the second time in the first eight games of a road trip that concludes here Tuesday night. The Brewers fell to 5-19 in May, their worst month since going 6-21 in August 2004 under second-year manager Ned Yost.
"When things go wrong, it's a little tough to get out of that," said Gomez, who delivered the first multihomer game of his career Saturday against the Pirates and matched the feat Monday afternoon against the Twins. "Things are going to change."
Playing without left fielder Ryan Braun, who was limited to a pinch-hit appearance in the ninth inning because of a sore thumb, and third baseman Aramis Ramirez, who needed a day to rest his right knee, the Brewers were held to three solo home runs by Twins starter Kevin Correia (six innings, seven hits, three runs) and four relievers. Glen Perkins earned his 10th save.
Peralta (3-6) lost his fourth straight start after needing 108 pitches to navigate five innings against a Twins team that entered the day 11th of 15 American League teams in on-base percentage, 14th in batting average and last in slugging. Peralta allowed four runs, three earned, on five hits, with three strikeouts and a career-high five walks.
"Right now, I don't think this is nothing with mechanics," Peralta said. "Something is happening. I just have to forget about it. We all have a hard time right now. I just want to go out there and do the best for me and the team right now. We are really struggling right now."
The Brewers had a chance to build Peralta an early lead when they loaded the bases against Correia (5-4) in the first inning, with Norichika Aoki working a walk, Segura singling and Gomez getting struck on the right wrist by a pitch.
They came up empty when Yuniesky Betancourt lined to shortstop for a double play, and Jeff Bianchi, batting fifth because Braun and Ramirez were sidelined, struck out.
"We're not getting any breaks," Brewers manager Ron Roenicke said, "but I keep saying we're not playing well enough to get a lot of breaks."
Brewers mistakes contributed to each of the Twins' first four runs.
In a 29-pitch first inning, Peralta issued a pair of two-out walks (including Josh Willingham on four pitches) before Justin Morneau punched a fastball the opposite way, through a big hole between shortstop and third base for a 1-0 lead.
In the fourth, with two outs after a walk and a fielder's choice, Peralta appeared to surprise first baseman Alex Gonzalez with a pickoff throw. It ticked off Gonzalez's glove, moving Aaron Hicks into scoring position for No. 8 hitter Pedro Florimon's RBI double and an unearned run.
"He wasn't paying attention," Roenicke said of Gonzalez.
After Gomez halved the deficit with a fourth-inning solo home run, walks again burned Peralta in a 36-pitch fifth. This time he put Joe Mauer on base with one out and Morneau with two outs to load the bases for Ryan Doumit, who grounded a two-run single up the middle for two more runs and a 4-1 Twins lead.
"That's been kind of one of our problems is missing opportunities to either score runs or add on," Twins manager Ron Gardenhire said. "Today we did it a few times, which, if we can do that a few more times, we'll win a lot more ballgames."
Peralta's ERA after 11 starts in his first full Major League season is 6.35.
Roenicke was asked, what could be done?
"We'll see," he said. "We have discussions about it all the time, and I'm sure Doug [Melvin, the Brewers' general manager] will talk about it again. Somewhere, we need to get this guy going, and however best that is to do it, then we'll do it."
Peralta just turned 24 and entered the year universally considered the Brewers' top prospect, so a move to relief seems unlikely. That leaves two options: Stick with him, or send him back to Triple-A Nashville to gain confidence.
"He's got tremendous upside, but he's got to be confident when he's doing this," Roenicke said. "How do you get a guy confident? It comes with success. And right now, he's not that guy.
"He had it in the Minor Leagues. He didn't start off well last year in Triple-A, and then he got it, and by the time he came up to us [for September] he was really confident. That's what we expected coming into the season, that we'd have that same guy, and he's not."
Asked specifically about demoting Peralta to Triple-A, Roenicke said, "I don't know that we're there yet."
Trailing after five innings, 4-1, the Brewers tried to power their way back. Segura led off the sixth inning against Correia with home run No. 8, and Gomez followed with another solo shot to make it 4-3.
The Twins then pulled away. Mauer hit a solo home run off Tom Gorzelanny in the seventh inning, and Chris Parmelee went deep against Burke Badenhop in the eighth to extend the lead to 6-3.
Milwaukee's bullpen has been a bright spot of late (1.88 ERA over its last 19 games entering Monday), but Roenicke is growing concerned about overuse. Gorzelanny had been unscored upon in 16 of his 19 appearances before Mauer homered Monday, and Parmelee's homer accounted for the first earned run off Badenhop in 13 May appearances.
Adam McCalvy is a reporter for MLB.com. Read his blog, Brew Beat, and follow him on Twitter at @AdamMcCalvy. This story was not subject to the approval of Major League Baseball or its clubs.