Twins capitalize on Brewers' miscues
Walks give Minnesota early advantage, late home runs help hold it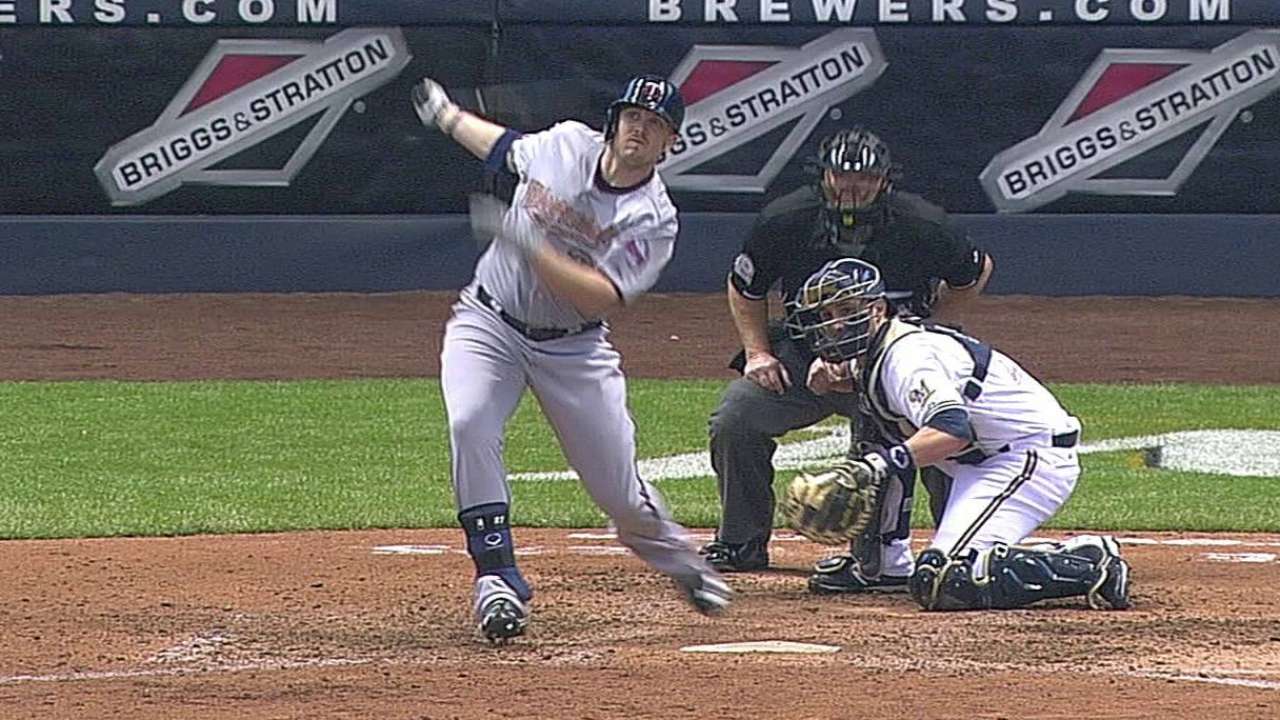 MILWAUKEE -- Things have not come easy for the Twins in the month of May, especially on their current nine-game road trip.
Monday, though, Minnesota breathed a sigh of relief, taking advantage of the Brewers' miscues while starter Kevin Correia worked around three solo home runs for a 6-3 Memorial Day win at Miller Park.
The Twins cashed in on Brewers starter Wily Peralta's wildness and an Alex Gonzalez error before holding off the Brewers' bats.
"Everybody's seen what we've been through," Twins manager Ron Gardenhire said. "We've missed a few opportunities, and we need to start getting in some of those big hits and knocking in some of those runs. That's been kind of one of our problems, is missing opportunities to either score runs or add on. Today we did it a few times, which, if we can do that a few more times, we'll win a lot more ballgames."
The win bumped the Twins' record in May up to 9-16, and they improved to 2-6 on their trip that ends with Tuesday's game against the Brewers.
Correia was staked to a 4-1 lead after the Twins posted single tallies in the first and fourth innings and two more in the fifth. Peralta walked two in the first inning including Joe Mauer, who scored on a Justin Morneau single.
In the fourth, Pedro Florimon doubled to left field, scoring Aaron Hicks from second base. Hicks was in scoring position because a Peralta pickoff attempt to first base tipped off Gonzalez's glove and rolled into foul territory. Ryan Doumit then delivered a big two-out hit in the fifth, scoring Brian Dozier and Mauer, who walked again.
"Free passes always seem to come back and get you," Gardenhire said. "We were patient enough and made him throw some pitches, and he walked a couple guys. We kind of nickeled and dimed him a little bit there, and we made him pay for a couple of walks."
Mauer and Chris Parmalee added late solo homers off the Brewers' bullpen, Mauer's an opposite-field shot off reliever Tom Gorzelanny and Parmalee's a pinch-hit homer to the batting eye in center field off Burke Badenhop.
Mauer's homer was a liner to left field that bounced beyond the fence, off the State Farm sign and back into left fielder Logan Schafer's glove in the seventh. Mauer stopped at second base, looking to the umpires for a signal, and after a brief review, finished his trot around the bases.
Gardenhire was in the clubhouse talking with Correia but came out to talk with the umpires after seeing the play on TV.
"I actually was looking at the TV, and I took off running as soon as I saw double," Gardenhire said. "I sprinted right out of the clubhouse. I had to push a couple guys out of the way to get on the field."
The Twins' bid for another insurance run in the seventh was cut off when Morneau was thrown out at home trying to score on Hicks' two-out double. Morneau was waved around third when Schafer bobbled the ball in the left-field corner, but after a relay from shortstop Segura to catcher Martin Maldonado, Morneau was tagged at home.
Correia made three mistakes that yielded homers in his six innings of work, two to Carlos Gomez and one to Jean Segura. Gomez smacked a solo shot in the fourth inning, and then Segura and Gomez went back to back in the sixth.
It was the second multihomer game of Gomez's career, the first coming Saturday against the Pirates.
"They just weren't good pitches; I was behind in the count," Correia said. "You don't have to be as careful [pitching with a lead]. If you've got the lead, you don't really want to be out there walking guys. You've got the luxury of trying to make a pitch over the plate."
The Twins' starter escaped a bases-loaded jam with no outs in the first with a little bit of luck. Correia walked leadoff man Norichika Aoki, gave up a single to Segura and hit Gomez in the wrist to pack the bags for Brewers first baseman Yuniesky Betancourt.
But a sharp line drive off Betancourt's bat found the glove of Florimon who flipped to second base, doubling off Segura, who floated too far off the bag. Correia struck out Jeff Bianchi to end the threat.
"We're not getting any breaks," Brewers manager Ron Roenicke said after his team dropped to 5-19 in May, "but I keep saying we're not playing well enough to get a lot of breaks."
Correia finished with six innings of seven-hit, three-run ball, striking out four and walking one. It was his first win since May 9.
Peralta gave up five hits and four runs, three earned, in five innings.
Kevin Massoth is an associate reporter for MLB.com. This story was not subject to the approval of Major League Baseball or its clubs.