Bucs bats come to life late but comeback falls short
Pirates fall victim to Tigers ace Verlander's Interleague dominance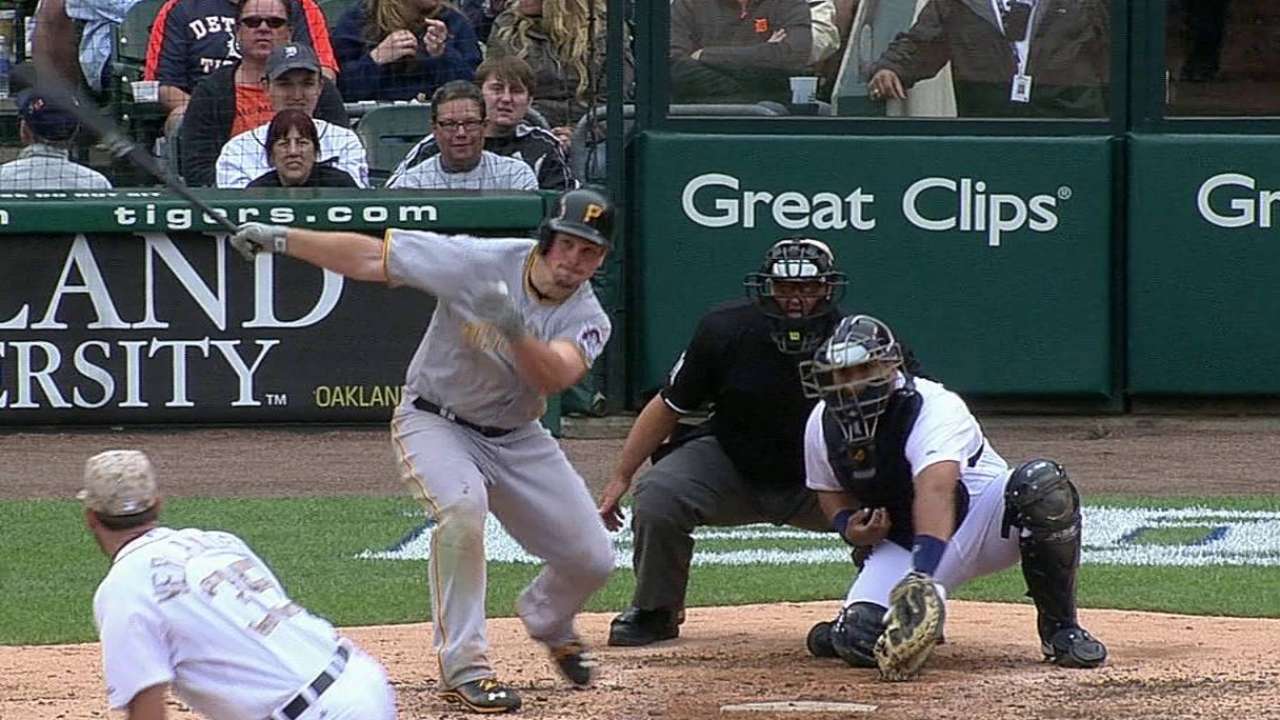 DETROIT -- The Pirates have lauded and relied upon their depth, and rightfully so. The role players on the bottom of the roster and in the back of the bullpen have played a major part in the impressive record the Bucs took into Interleague Play on Memorial Day. You don't write the Bucs' track record in late-game comeback wins without their help.
On Monday, the spotlight instead cast their shadow over a 6-5 loss to the Tigers.
The Pirates had fought back to trim a 4-1 deficit to Detroit ace Justin Verlander to 4-3 when Jose Contreras, the last man in a seven-man bullpen, came on in the seventh to give back those two runs.
And once again the Bucs reduced that 6-3 deficit to 6-5 in the eighth and were still threatening with one out when Josh Harrison entered the game as a pinch-runner to represent the tying run. Harrison was picked off at second base by reliever Joaquin Benoit, ending the Pirates' last serious threat.
"They told me to be aggressive, and that's what I was trying to do. I'm taking a couple extra steps, maybe I go," said Harrison, mindful that the Pirates had already stolen three bases on catcher Brayan Pena, including one of third by Andrew McCutchen. "But then [Benoit] did something different that he didn't do the previous five pitches."
Flushed with the rush from a fascinating game, Pirates manager Clint Hurdle lamented both flubs, but did not fault either.
Contreras created "a little problematic situation. We had battled back within one, then came back again in the eighth," Hurdle said. "But you can't pitch the same guys all the time. He needed to pitch that inning today."
Confirming Harrison had the blueprint to be aggressive, Hurdle said, "We tried to make something happen. Our average with men in scoring position is not extremely high right now, and if we got a guy moving on the pitch, maybe it opens up a lane, maybe he scores on an infield out.
"You don't draw it up to be picked off," Hurdle added. "You draw it up to be aggressive."
Although in a losing effort, the Bucs kept it tight -- the one-run game was their ninth in the last 15 -- this time against one of the Majors' elite pitchers backed up by one of the Majors' most rugged lineups.
"I love the way we battled," Hurdle said. "We got down early and battled back, a couple of different times."
Verlander, deciding to end his extended impersonation of someone human after having allowed 17 runs and 22 hits in the 12 2/3 innings of his last three starts, throttled the Pirates on four hits until buckling slightly in the seventh, his final inning. For good measure, he also notched his first double-digit strikeout game, with 13, since April 18.
Maybe Verlander, who brought an ERA of 3.66 into the game, was due. Or maybe it's just what Interleague giants always do. Verlander improved his record against the National League to 20-2.
"Part of it is he's really, really good," said Detroit manager Jim Leyland, attempting to explain that record, "and part of it is they don't get to see him much."
For the second time in as many starts, Francisco Liriano got one run in the first inning and tried to run with it. Last Wednesday he worked the first seven innings to make that first-inning run stand up for a 1-0 victory over the Cubs. Monday, he protected the first-inning run -- on Neil Walker's triple and McCutchen's sacrifice fly -- through three, making it 10 straight innings he had survived on the ledge.
This ledge was particularly precarious: The Tigers threw at him a lineup that included seven men hitting over .300, many of them well over; and the two under the figure included Prince Fielder, who does heavy damage not measured by average.
The Pirates' lineup, once it lost Starling Marte to a pregame case of migraine symptoms, in contrast did not have a single .300 hitter. That's the apples-and-oranges of National and American League play.
Detroit caught up in the fourth, but it actually was a chance for Liriano to do his best, most impressive work. The Tigers already had their tying run on consecutive singles by Fielder, Victor Martinez and Jhonny Peralta, leaving them with two runners on and none out, when Liriano answered the challenge. The runners advanced to second and third on an infield grounder, and that's where they rooted on two more meek infield grounders.
"He's got experience, and doesn't panic," Hurdle said of the veteran lefty, who was back in trouble in the fifth.
After Omar Infante and Miguel Cabrera struck out around a walk of Torii Hunter, Fielder blooped a single over the emptied left side of the infield, and was followed by Martinez's roller down the left-field line for a two-run double, and Peralta's cue-shot double down the right-field line was good for another run and a 4-1 lead.
"Three balls not hit extremely hard, but find grass," said Hurdle, summing up that rally.
"It was one of those games when it doesn't matter what you throw, they're going to keep finding holes," said Liriano, providing his own summary.
When the Pirates stirred in the seventh, Verlander had to man-up for the victory. Gaby Sanchez led off with a double and scored on a two-out triple by Travis Snider, who then scored on Walker's double to make it 4-3.
Furthermore, it brought up McCutchen, now with the tying run in scoring position. A worthwhile duel ensued, seven pitches' worth, and Verlander won it, getting McCutchen swinging at a disappearing curve. It was the 12th Verlander pitch at which McCutchen had swung -- and only the second he had missed.
"I'd thrown him one all day and I knew my curveball had been really good," Verlander said, "so I thought it was a great time to throw it."
Verlander, in other words, had set his trap.
He wasn't alone.
"This was a nip-and-tuck game," Hurdle said. "We set the trap, and will get after them tomorrow."
Tom Singer is a reporter for MLB.com and writes an MLBlog Change for a Nickel. He can also be found on Twitter @Tom_Singer. This story was not subject to the approval of Major League Baseball or its clubs.