Verlander fans 13 to continue NL dominance vs. Bucs
Ace sets aside recent struggles with quality start and sixth win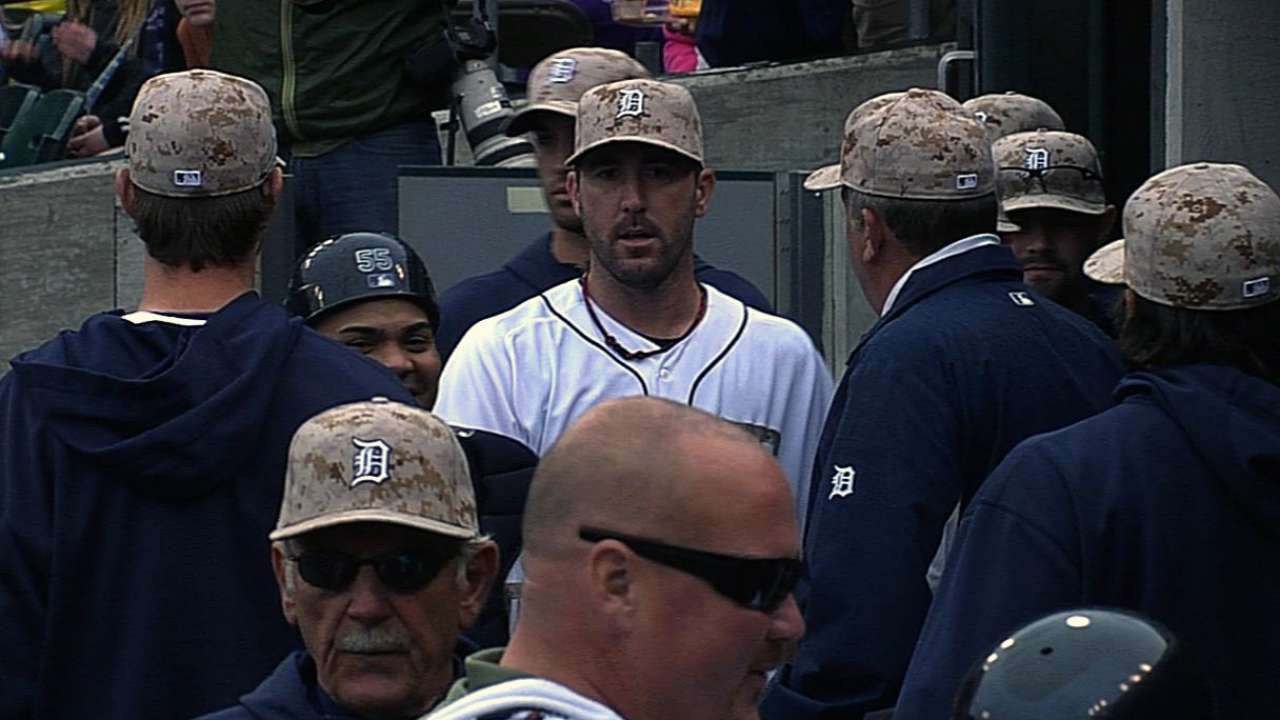 DETROIT -- Somewhere in the middle of Justin Verlander's recent struggles these past few weeks, he made the observation that he was throwing some of the best curveballs he has in a long time.
At the time, it came off as irony. On Memorial Day, it came off as filthy. For that matter, so did some of his sliders.
As the Tigers' 6-5 win over the Pirates showed, he can win with that. It might not be pretty, even with seven quality innings, but he can make it work.
"I expect the bar to be high. That's where I set it for myself," Verlander said. "I'm not going to say this was a great game because I struck out 13 guys. That's showing me that my offspeed stuff was a lot better. I just know from me being out there that the fastball control wasn't where I wanted it.
"Better? Yes. Where I want it? No. I don't mind the bar being set high."
The struggles of the Verlander's fastball command might have shaken some belief systems, but it has not toppled Verlander's game. He's working on getting his fastball back, and he called Monday a step in the right direction, but he also characterized it as a process.
In the meantime, he still has to find outs. And for now, his curveball and slider are leading the way. Against the Pirates, it was a mix that fit well enough to get him another win against the National League.
Nobody in baseball can compare to Verlander's 20-2 record in Interleague Play. Some of that comes from NL hitters seeing him so rarely, but that didn't seem to hurt them in last year's All-Star Game. Another part has been the fact that most of Interleague Play fell around the time of year Verlander gets his game together, though year-round Interleague eliminates that timing now.
He's 8-0 against the National League since the start of the 2011 season, half of those wins over Pittsburgh. Around this time last year, he carried a no-hit bid into the ninth inning against the Pirates at Comerica Park, thwarted only by a pesky at-bat from Josh Harrison.
He gave up his fair share of damage on Monday, starting with a Neil Walker triple two batters in. He didn't give up any home runs, but surrendered five extra base hits for the first time since last September and just the fifth time since 2010.
When they put the ball in play, they tended to hit it well, with half of their hits going for extra bases. From the second inning through the sixth, however, Verlander had more strikeout pitches than he had balls put in play.
"I realized these guys are pretty aggressive," Verlander said. "So pitches that look like fastballs out of my hand that aren't, when teams are real aggressive, it's a good pitch. So slider, changeup, those were key pitches for me today."
So, too, was the curveball. It wasn't simply a pitch he could move. He could command it in the strike zone Monday, dropping it at the knees or hitting the outside corner.
Verlander's previous start in Cleveland, pitching coach Jeff Jones said, "was probably the best curveball I've seen him throw all year. And today was about the same. It was really good."
Three strikeouts in a four-batter stretch of the fifth and sixth innings -- he actually pitched into the sixth inning for the first time in three weeks -- came on the curve, two of them for called third strikes. Others came on the slider.
Out of Verlander's 13 strikeouts, only one came on a fastball, and it wasn't a swing. It was a 95-mph heater that caught Pedro Alvarez looking with two on and one out in the fourth inning. Verlander used changeups and curveballs to set it up.
He has done more of that the last two starts, using other pitches early to set up the heater late. The first-pitch fastball became less frequent as Monday's game went along. The velocity picked up, hitting the mid 90s, but he didn't have to pound it.
"He's as advertised, got that other gear that started to go to," Pirates manager Clint Hurdle said. "In the sixth -- saw 94, seventh saw 95. We kept after it. I love the way we battled today, getting down early to one of the elite pitchers and battling back."
For a while, the mix kept Verlander in a pitching duel with longtime Tigers nemesis Francisco Liriano. Detroit hit its way ahead with three straight hits in the both fourth and fifth innings. Both times, Jhonny Peralta capped them with RBIs, the latter following a Victor Martinez two-run double to moved the Tigers in front for good.
Peralta began the day with a .326 average, good for 10th in the American League. Once his seventh-inning single up the middle plated an insurance run for a 4-1 Tigers lead and Peralta's first four-hit day as a Tiger, his .341 average was good enough for third, pending the evening games. Peralta enjoyed his first four-hit game since June 4, 2010.
Verlander took the seventh with a three-run advantage, then watched Travis Snider's RBI triple and Walker's RBI double put the potential tying run in scoring position, giving Verlander his best test against All-Star Andrew McCutchen.
After three at-bats, McCutchen was on him, taking 90-mph sliders and fouling off 97-mph fastballs. With a 3-2 count, Verlander finally went to the curveball to end the threat.
"I'd thrown him one all day, and I knew my curveball had been really good," Verlander said, "so I thought it was a great time to throw it. And what a tough out he is."
Even without his best fastball, Verlander is pretty tough himself.
Jason Beck is a reporter for MLB.com. Read Beck's Blog and follow him on Twitter @beckjason. This story was not subject to the approval of Major League Baseball or its clubs.