Behind Shields, Royals drop Memorial Day matchup
KC ace allows six runs in first installment of I-70 rivalry with St. Louis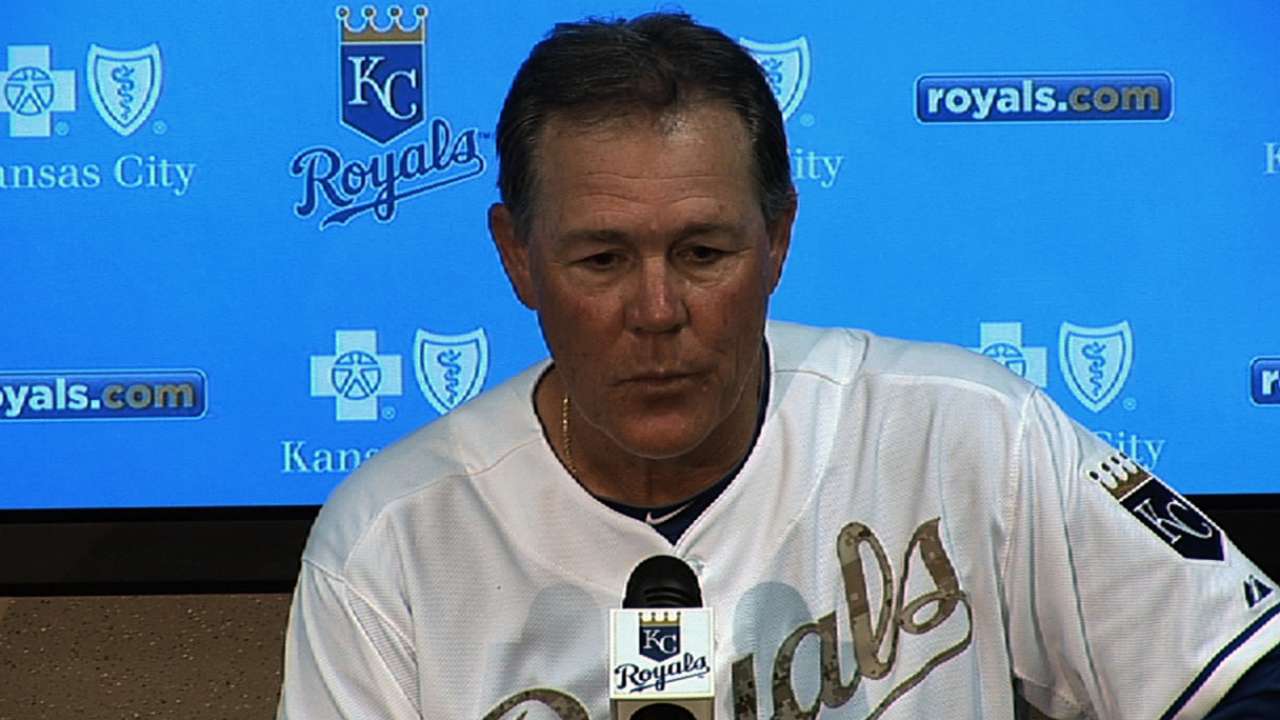 KANSAS CITY -- Baseball war games on Armed Forces Day: The Cardinals went on the attack and won, while the Royals just kept soldiering on.
St. Louis improved on the best record (33-17) in the Major Leagues, and catcher Yadier Molina drove in four runs in the Cardinals' 6-3 victory against Kansas City on Monday in the 2013 renewal of the I-70 Series at Kauffman Stadium. For the Royals, it was a sixth straight loss and their 17th in 21 games.
If there was a silver lining to the Royals' clouds, it came in the form of 13 hits on an afternoon they were swinging against the Cardinals' hammer, right-hander Adam Wainwright.
"We showed some life today, we had some good at-bats, we had Wainwright on the ropes a couple times and just couldn't get a big hit, but it was a better day for us offensively," Royals manager Ned Yost said.
David Lough, giving Lorenzo Cain a day off in center field, had four of the Royals' hits, including a double in the first inning. And that points to a downside to all those hits: It was their only one for extra bases.
"Early on, we responded well. I got on, and we got that early run with [Alex Gordon], so I thought we were trying to get the team rolling here, back in order," Lough said. "But we just couldn't capitalize, especially late. Wainwright's a great pitcher and he only gets better as the game goes on."
The Memorial Day crowd of 34,746 had to wait an hour and two minutes, a delay caused by heavy morning rain, but there was no delay in the action. On James Shields' sixth pitch of the game, Matt Carpenter lined a single to left field, and it was game on. Then, boom, Molina followed with a home run to left field on an 0-1 pitch, and the Cardinals had a 2-0 lead.
"Any time you can score first, it's a good sign for your pitcher and for your team," Molina said. "That's what you want ... score first and get comfortable."
Both teams wore camouflage caps and lettering, but there was no covering up the enthusiastic backing for both clubs in this intrastate rivalry. The red-shirted fans roared as Molina rounded the bases.
"I understand the rivalry," Yost said. "We knew that there would be a lot of Cardinal fans here. Like there'll be quite a few Kansas City fans in St. Louis. And that's what makes these rivalry games fun. There is an extra buzz to it. So it is a fun series."
The blue backers had their chance in the bottom half of the first, when Lough doubled down the left-field line and scored on Gordon's single. Billy Butler also singled before the inning was over.
The Royals summoned up nine hits and scored all three of their runs in the first four innings against Wainwright. After that, nada.
Shields went six innings and gave up all six St. Louis runs, his worst outing of the season. Even so, his ERA is just 2.96 but his record is, ouch, 2-6.
"I wasn't commanding the fastball today, and when you don't command the fastball, you're behind in the count and you start walking guys," Shields said. "It definitely wasn't the brightest game in the world, but we've got to keep grinding. I didn't pitch very well today, I put that game on me."
Molina drilled him for an RBI double in the Cardinals' two-run third inning and added a sacrifice fly in the fourth. Shields gave up nine hits and a season-high five walks.
"I don't think if I hadn't walked that many guys they would have had that many runs," Shields said.
Right fielder Jeff Francoeur did his best to prevent the Cardinals' sixth run in the sixth. Daniel Descalso was on with a two-out infield hit when Carpenter's liner was fielded by Francoeur down the line. He unleashed a strong throw that beat Descalso to the plate, but it brought catcher George Kottaras off the plate to his left. Whirling, Kottaras couldn't quite reach Descalso, who slid past the plate, but returned quickly and was safe.
"It was just up the line enough where he couldn't make the tag. A great throw," Yost said.
Wainwright, now 7-3 with a 2.48 ERA, gave up 12 hits, but just two after the fourth inning.
"No matter what, you just have to keep battling and keep making pitches," Wainwright said. "If you can do that, then eventually things will work out. As the game wore on, I felt more and more comfortable."
In his last four innings, Wainwright faced just one batter over the minimum.
"He definitely makes adjustments," Lough said. "That's what good pitchers do."
With the Royals scuffling in the late innings, Miguel Tejada dropped a bunt and beat it out in the eighth against Wainwright. Francoeur followed with a looper to center that was caught by a lunging Jon Jay. But Tejada was already around second base and was an easy out for an inning-ending double play.
"When he broke on that ball, he thought it was going to fall and, frankly, I did too," Yost said. "But in that situation -- down three -- you've got to go station-to-station there. It was a baserunning mistake, but it was a tough read."
Thirteen hits were quite a haul.
"As an offense, we take positives from it, but at the same time, you want to win games and go out there and do whatever you can to win," Eric Hosmer said. "Stuff's just not going our way right now, and there's a long, long season left, so we just need to keep plugging along, keep playing, and when those little breaks start going our way, then we'll be in a good spot."
Dick Kaegel is a reporter for MLB.com. This story was not subject to the approval of Major League Baseball or its clubs.