Molina's four RBIs make Wainwright a winner in KC
Catcher homers in first, setting tone as Cards improve league-best mark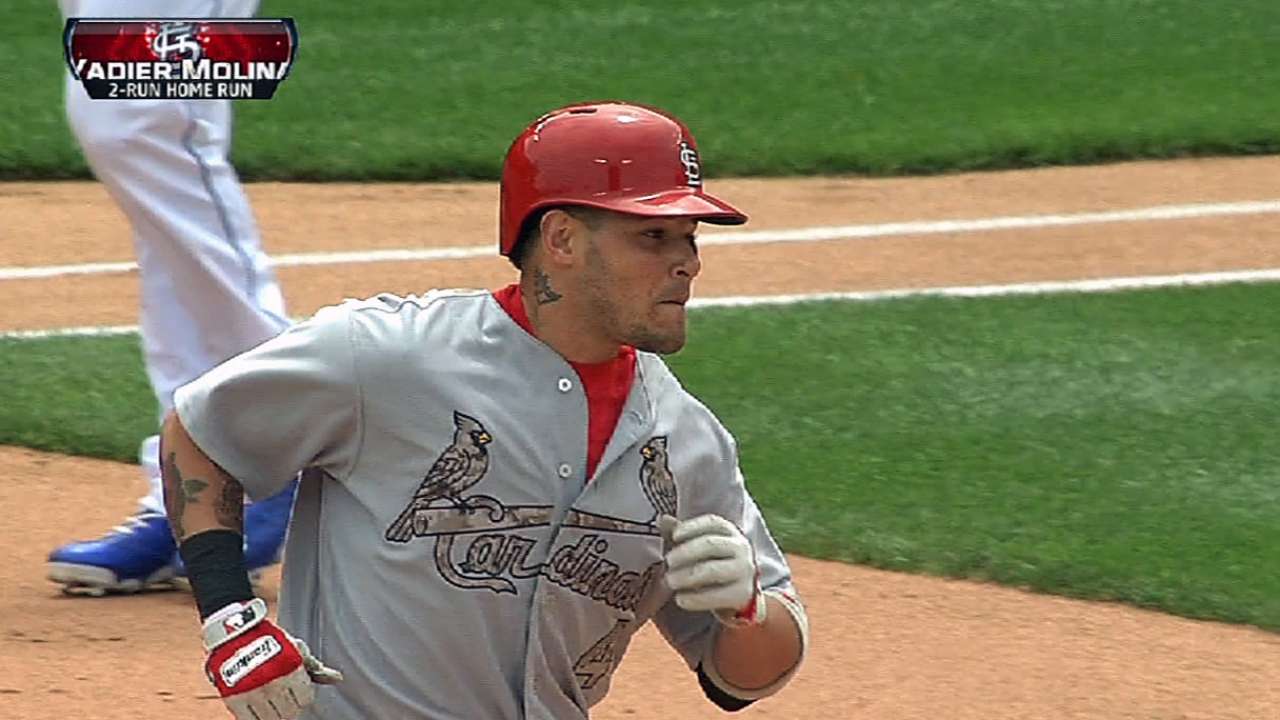 KANSAS CITY -- Yadier Molina may not be your prototypical No. 2 hitter, but he was certainly in the right place at the right time on Memorial Day.
With Matt Holliday getting a day off on the holiday, Cardinals manager Mike Matheny crafted a lineup that had Molina stationed behind leadoff hitter Matt Carpenter. Just a couple of minutes into a 6-3 St. Louis victory against the Royals, that lineup had already paid two runs worth of dividends.
Carpenter singled to start the game, and Molina followed with a two-run homer to jump-start the Cardinals toward a Major League-best 19th road win. Molina didn't stop there. Against Royals ace James Shields, he added an RBI double and a sacrifice fly for his first four-RBI day since June 16, 2012.
"Anytime you can score first, it's a good sign for your pitcher and for your team," Molina said. "That's what you want ... score first and get comfortable."
These days, any spot in the batting order is just fine with Molina. He's now hitting .346, and right-hander Adam Wainwright -- the recipient of the Molina-led offensive support Monday -- looks at Molina's batting stroke as a thing of beauty.
Molina's homer in the first and ringing double in the third came on changeups, and Shields is known to have one of the best changeups of any Major League starter.
"Yadier has such a great swing," Wainwright said. "His bat is in the zone for a long time, and that gives pitchers a lot of problems. His bat path reminds me of Albert [Pujols] a few years ago, when it was like his bat went to sleep in the zone. You couldn't get that bat out of the zone. It makes it really tough to make pitches on a guy when the bat is in the zone that long."
Molina wasn't the only major nemesis for the Royals. Second baseman Daniel Descalso was all over the field with a sparkling display of hitting, fielding and baserunning. He was 3-for-3 and on base four times. He scored twice and made the defensive play of the game in the third inning after the Royals chipped a 4-1 deficit to 4-3.
With two on, two out and Wainwright's pitch count mounting, Jeff Francoeur shot a grounder that looked as though it would get through the second-base hole and tie the game. But Descalso made a diving stop, scrambled to his feet and threw out Francoeur to end the inning.
"That was a great play, a huge play," Wainwright said.
Descalso said his top priority was to knock the ball down, thus preventing the runner from second a chance to score. When he came up with the ball cleanly and threw out Francoeur, it was just what Wainwright needed to get his second wind.
"I was able to come up with it and I knew that Francoeur runs pretty well," Descalso said. "We were lucky to get an out there."
Descalso got the best of Francoeur once more in the sixth. With the Cardinals leading, 5-3, Descalso hit a two-out single and took off running when Carpenter doubled down the right-field line. Although Francoeur has one of the strongest outfield arms in the game, Descalso made it home and avoided a lunging tag by catcher George Kottaras, coming in wide, then recovering to work his way back and touch the plate.
"The catcher was giving me the outside, and he caught the ball a little bit up the line," Descalso said. "I just tried to avoid him the best I could."
A three-run lead was then enough for Wainwright, who got stronger as the game wore on. The Royals had some bloopers and bleeders early, and Wainwright wound up allowing 12 hits. But even on a day when he wasn't at his best, Wainwright still allowed only three runs over eight innings.
The Cardinals have the best record in the Majors through 50 games, and Wainwright doesn't see any reason why that type of efficiency should drop off.
"It's not a surprise to me at all," Wainwright said. "I think we just have a great all-around team. We can win games in a lot of different ways."
Robert Falkoff is a contributor to MLB.com. This story was not subject to the approval of Major League Baseball or its clubs.