Richard gets rough welcome in first start off DL
Padres manage four hits in former teammate Harang's shutout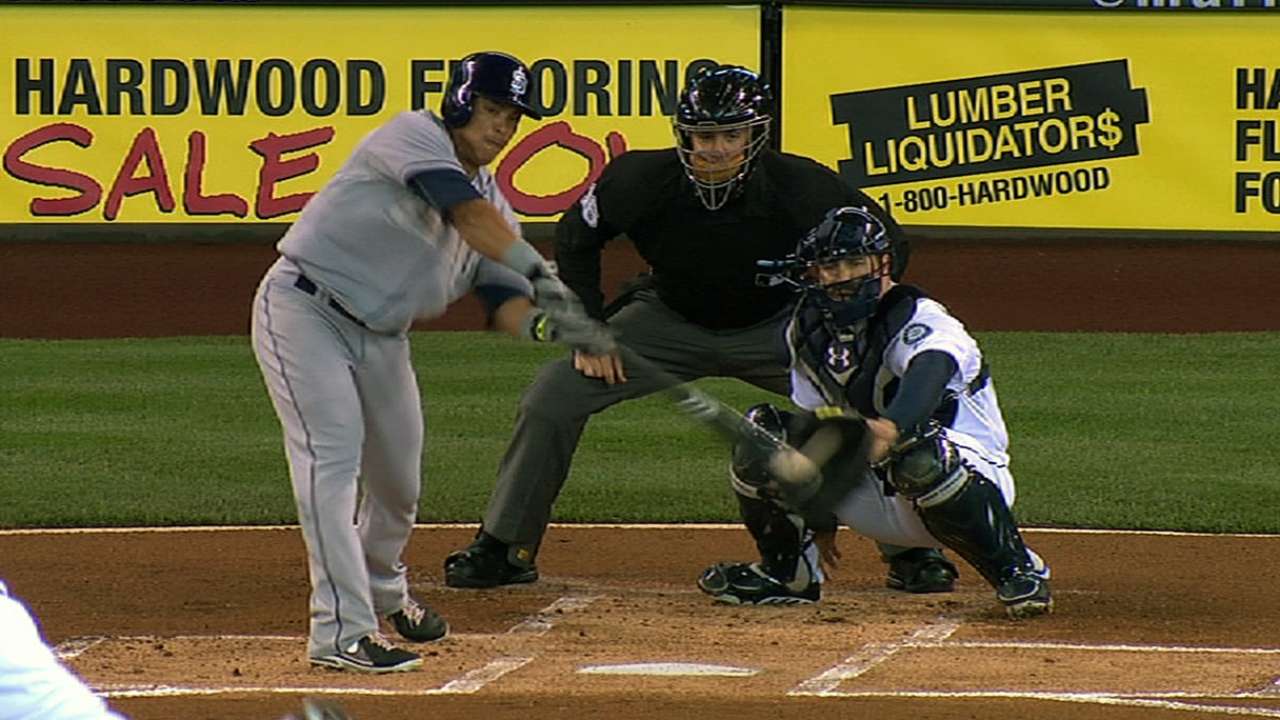 SEATTLE -- Chase Headley spent the entire 2011 season as a teammate of Aaron Harang's in San Diego and has seen him from the other side enough to have a good idea of what he should expect from him.
"I've known Aaron for a long time," Headley said Monday.
How well?
"He got away with some stuff today," Headley continued.
That statement wasn't meant as a sign of disrespect of Harang, but it was made more out of discontent, especially after Harang tossed a four-hit shutout as the Mariners topped the Padres, 9-0, in front of a crowd of 18,942 at Safeco Field.
Harang, who entered the game with a 8.58 ERA, was hardly tested and the Mariners (22-29) backed him with four runs in the first inning, as Jason Bay hit a leadoff home run and Michael Morse added a three-run home run off Clayton Richard in his first start since coming off the disabled list.
"They were able to jump on pitches that weren't executed well," Richard said. "... It was a rough start."
The finish was none too good, either, as the Mariners added four runs in the seventh inning to run away with a victory in the first of four games this week against the Padres (22-28).
Richard, reinstated from the disabled list before the game, made his first start since May 4. He went on the disabled list the following day with an intestinal virus that first started bothering him in April. While on the disabled list, he worked on using a higher arm slot in two Minor League starts with the hope that he could return to his ground-ball ways with fewer home runs.
The results on Monday were mixed.
Richard (0-5) allowed three home runs -- Bay, Morse and then a solo shot to Kelly Shoppach in the fourth inning -- and yielded five runs on seven hits. Kyle Seager walked and Kendrys Morales doubled before Morse's homer.
"The Seager-Morales-Morse trio put [Richard] behind the eight-ball," said Padres manager Bud Black. "Then he settled in and got a lot of ground balls after that."
But after the early fireworks, Richard got back to inducing ground ball after ground ball, 12 of them in all, over six innings.
"I felt like I was -- mechanically -- doing the right things," Richard said. "It's frustrating, but you can't let that deter you from trying to make pitches and keep your team in a game."
Richard, who allowed 31 home runs in 218 2/3 innings last season, has now given up 10 home runs in 32 1/3 innings this season.
"That changes the complexion of the game," Richard said of the early home runs.
The way Harang (2-5) was going, it might not have mattered. After allowing a leadoff double to Everth Cabrera to start the game, he retired 18 of the next 19 hitters he faced before Headley had a single to begin the seventh inning. Two batters later, Carlos Quentin lined a ball right at Harang, who caught it and threw to first base to catch Headley off the bag.
"The big thing was coming out and pounding the strike zone and getting ahead in the count," Harang said. "Obviously, they're an aggressive team and they're going to come out and they're swinging, so I was able to get the ball in play within the first few pitches at times."
Oddly enough, this isn't the first time Harang has gotten the best of his old team. While pitching for the Dodgers last season, he tossed seven innings in a start on May 17 at Petco Park.
"We hit some balls on the nose. It looked as though the fastball away was effective," Black said. "Today, when we squared the ball up, they [Mariners] were there. But it looked as though his fastball command was there for Aaron."
The Mariners (22-29) added four runs in the seventh inning off reliever Anthony Bass. The loss marked their third shutout of the season. They were also limited to four or fewer hits for the sixth time in 2013.
"I was encouraged by my swings," said Headley, who flew out to the warning track twice. "To be honest, I thought we took a lot of good swings.
"But, to [Harang's] credit, he got better. That's what a veteran pitcher does."
Corey Brock is a reporter for MLB.com. Keep track of @FollowThePadres on Twitter. This story was not subject to the approval of Major League Baseball or its clubs.