Harang's gem, Seattle's bats drive Memorial Day win
Veteran righty goes distance as Bay, Morse and Shoppach go yard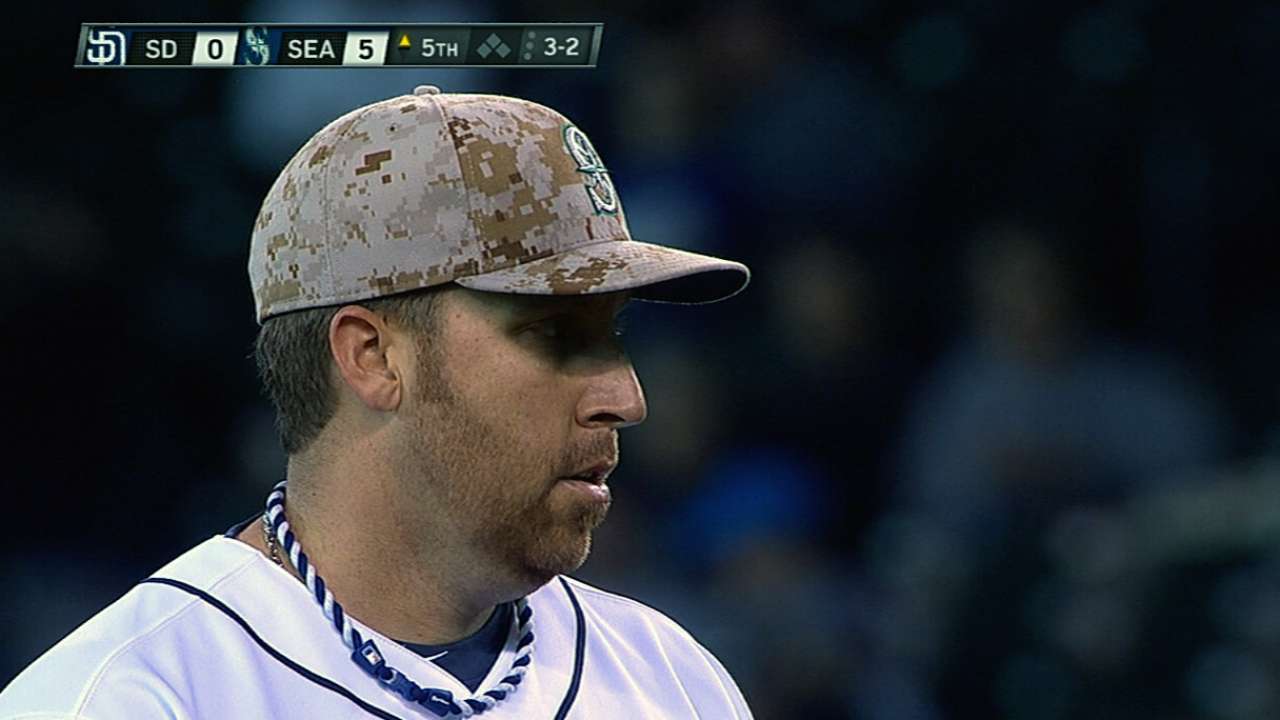 SEATTLE -- Nick Franklin had the best seat in the house, and he had to like what he saw on Monday afternoon at Safeco Field.
The 22-year-old infielder, called up prior to Seattle's tidy 9-0 victory over the San Diego Padres before a Memorial Day crowd of 18,942 and inserted into the game as a late-inning defensive replacement, witnessed a brand of complete baseball that hasn't been common over the first seven weeks of the 2013 season.
And for starter Aaron Harang, it was something that hasn't happened in a very long time. Harang, who entered the game with an 8.58 ERA and had not gone more than six innings in any of his six starts in a Seattle uniform, went the whole way this time for a shutout, his first in more than four years.
Time after time, the Padres made contact -- sometimes hard contact -- and time after time, the Mariners defenders were there to smother it. Or Harang struck them out, which he did a season-high eight times.
"Aaron was outstanding today," Mariners manager Eric Wedge said. "You could tell early on he had good stuff. The biggest difference was he was hitting his spots all day. He did a great job with his fastball on both sides of the plate, elevated every now and again.
"I thought he did a nice job of dropping that breaking ball in there from time to time, just to keep them honest. He did a great job of controlling the ballgame."
One Padres player didn't fully see it that way, but the result could not be disputed.
"I've known Aaron for a long time," said San Diego third baseman Chase Headley, who went 1-for-4. "He got away with some stuff today. Not to take anything away from him. Once he got to the fifth inning, he was better. That's what a veteran pitcher does."
Harang, meanwhile, was the first to acknowledge how much he and the Mariners benefited from the offensive surge, and a good portion of it happened early.
Outfielder Jason Bay, the hero of the previous day's 13-inning walk-off win over the Texas Rangers, kept his personal mojo going by belting a Clayton Richard pitch over the wall in right-center field to lead off the bottom of the first inning. It was Bay's first career leadoff homer.
Then Kyle Seager walked, Kendrys Morales doubled Seager to third, and Michael Morse followed with a three-run homer to right center. It was 4-0 before Richard had recorded an out, and catcher Kelly Shoppach added to the party with a solo shot of his own in the fourth.
The Mariners took a 5-0 lead into the bottom of the seventh, but they weren't done putting the pressure on the Padres. Facing reliever Anthony Bass, shortstop Brendan Ryan continued his hot hitting, singling to left field. Back-to-back walks to Bay and Seager loaded the bases for Morales, who drove in two runs with his third hit of the day. A wild pitch to Michael Morse scored Seager to make it 8-0, and Raul Ibanez doubled home Morales.
"The guys have been swinging the bats great, putting runs on the board, and the starters, we kind of talked the other day and said, 'We've got to pick this up,'" Harang said. "[Hishashi Iwakuma] went out and had a great game yesterday and I went out and tried to follow suit. Hopefully we can start feeding off each other."
Right now, that seems to be happening with the Seattle bats.
Morales extended his hitting streak to seven games, during which he's batting .500 (16-for-32) with seven doubles, a homer and nine RBIs. He's hitting .360 in May, with hits in 18 of 21 games this month, and has six RBIs over the last three games.
"I'm just trying to get better and help the team, and I'm feeling comfortable now," Morales said through an interpreter. "I'm where I want to be. I'm just trying to make more contact with the ball and help the team in the situation we're in."
Shortstop Brendan Ryan is now comfortably over the "Mendoza Line" at .214 after getting a hit Monday, which gives him at least one in 11 of his last 12 games. He's raised his season batting average by 92 points in that span.
"Jason Bay did a great job of being aggressive and staying in the middle of the field with his first AB there leading off," Wedge said. "And just good at-bats after that, from Seager to Morales, and of course the big shot there by Morse. You're seeing some good things."
Harang, who threw 122 pitches in his first complete game since June 4, 2009, was seeing good things all game … even when he didn't see them.
He surrendered a double to Everth Cabrera, the first batter of the game, and retired the next 11 batters before issuing a walk to Carlos Quentin in the fourth inning. Harang then retired the next seven hitters.
When Harang got into a bit of trouble in the seventh, giving up a leadoff single to Headley, he did what he had to do to minimize the damage. He speared a hot liner off the bat of Quentin and doubled up Headley at first for a quick -- albeit blood-pressure-raising -- double play. He put two batters on base in the eighth, but he got Will Venable to ground out to end the threat.
Harang was not only efficient, but he did exactly what Mariners manager Eric Wedge needed him to do: spare the beleaguered bullpen for at least one day.
"They've been picking the slack up for us," Harang said. "Hopefully we can just keep everything going right now, like in the last few games, and move forward heading into tomorrow."
The Mariners made some roster renovations prior to the game, including optioning second baseman Dustin Ackley to Triple-A Tacoma to clear the way for Franklin, who made his Major League debut with his brief appearance. He fielded a ball cleanly on the first ball hit in the eighth before drawing a leadoff walk in the bottom of the inning in his first plate appearance.
"I knew the first ground ball was going to go right to him, which it did," Wedge said with a smile.
Franklin admitted to a touch of nerves, but he said they went away quickly during an otherwise relaxing holiday cruise to victory for the Mariners.
"More than anything, I was just trying to calm down during the AB," Franklin said. "The defense was the start of it, the first ground ball. After that, it was just more, 'Stay calm.'"
Doug Miller is a reporter for MLB.com. Follow him on Twitter @DougMillerMLB. This story was not subject to the approval of Major League Baseball or its clubs.