Johnson hits pair of three-run homers to top Marlins
Rookie Odorizzi allows six runs in four-plus frames but Rays hold on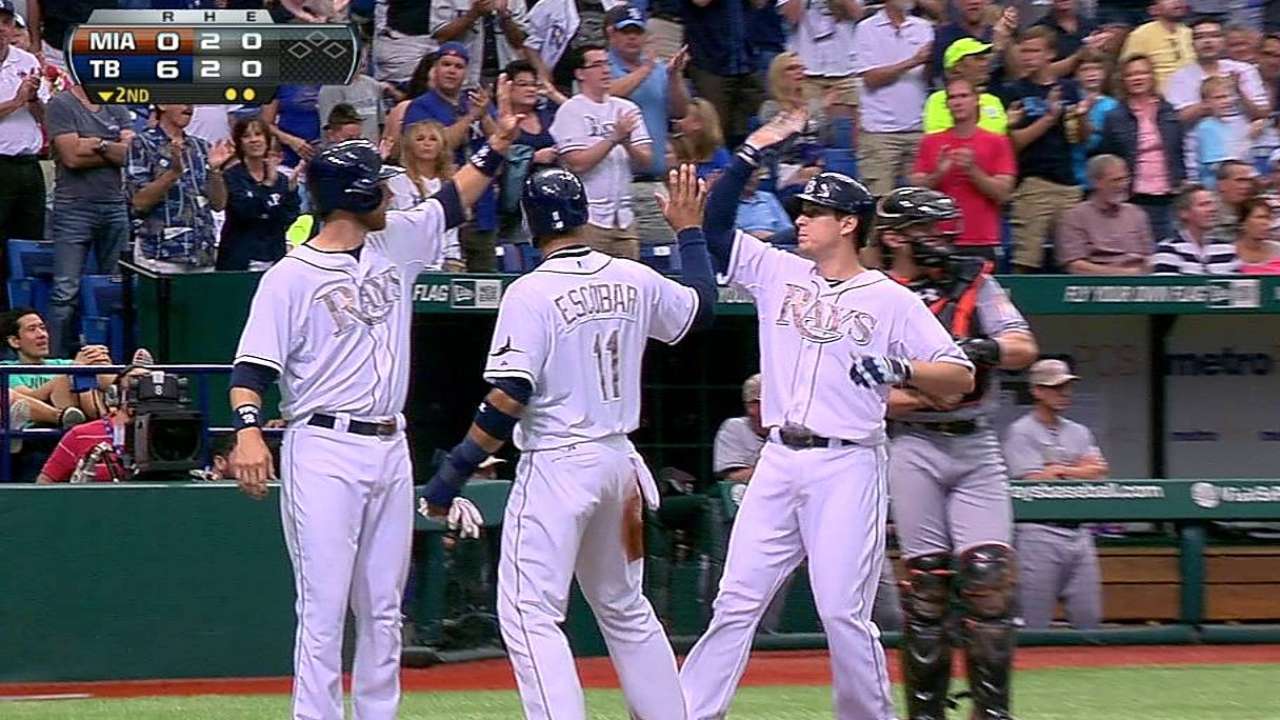 ST. PETERSBURG -- Another big lead gone bad?
Not this time. Kelly Johnson made sure the Rays would come away 10-6 winners against the Marlins on Memorial Day by hitting his second three-run homer of the game in the bottom of the eighth, expanding the Rays' one-run cushion to withstand any possible late-inning drama.
Based on the way the Rays have struggled to put games away, Johnson called Monday "huge."
"If that's the way we have to go, we have to keep doing it," Johnson said. "We can't score early and put it in cruise control. I don't think that's a good recipe for any team. We just have to keep plugging away and keep trying to score as many runs as possible. I think you should be trying to do that even if it was 7, 8-0. Keep on going."
By winning, the Rays claimed their second consecutive win while moving to 26-24 on the season and 2-2 on the current homestand.
Everything looked in place for the Rays to follow their all-too-familiar storyline. Their six-run lead had dwindled to one, and Fernando Rodney warmed in the bullpen while the Rays batted in the bottom of the eighth.
Rodney has struggled to seal the deal as the Rays' closer this season. Entering Monday's game, he had blown his previous two saves.
But the Rays got busy with one out in the inning. Ben Zobrist walked and Matt Joyce singled to bring Johnson to the plate. Miami right-hander A.J. Ramos fell behind 2-0 before Johnson turned on a 93-mph fastball, depositing it into the right-field stands for his team-leading 10th home run of the season.
Johnson said he "didn't want to over-think it."
"Obviously, Longo's on deck," Johnson said. "At that point, that's the most logical pitch to look for. I stayed there, and it was in a good spot for me."
Johnson, who signed with the team as a free-agent during the offseason, became the first player in club history to hit two three-run homers in the same game. And he did so hitting in the No. 3 spot, feeling full of confidence.
"I feel good," Johnson said. "And I feel confident. And I think that's important. I think you're always searching for something that's going to let you feel confident, and I think you just roll with it. It can be different daily, weekly -- that's just the way baseball is. I'm not going to sit here and try and say that I'm going to try and analyze it and figure it out. But I do feel confident."
Rodney came in to pitch the ninth in a non-save situation, and despite walking one, he came away unscathed to complete a nice effort from the bullpen. Josh Lueke, Jake McGee, Joel Peralta and Rodney covered the final five innings without allowing an earned run. McGee got the win after pitching two innings.
Despite the bullpen's work, Rays manager Joe Maddon enjoyed not having to white-knuckle it in the final inning. When asked how nice Johnson's blow was, Maddon rolled around a king-sized bottle of Pepto-Bismol sitting on his desk and smiled.
"It is a lot better to go [to the final inning] with four," Maddon said. "It's good for Fernando to get out at that moment. And overall, he pitched pretty well right there. As he regains his confidence, he's going to get back to the form you saw last year. So it really was perfectly set up by Kelly's home run."
Tampa Bay scored six runs on just two hits in the second against Marlins starter Jose Fernandez, who attended high school in nearby Tampa. The 20-year-old walked two, hit another and surrendered a homer to Johnson that put the Rays up, 6-0.
"I think he just got a little bit out of his delivery," said Miami manager Mike Redmond of Fernandez. "He was over-throwing. I think he hit 99 a couple of times. That's great on the radar gun, but that shows me he is trying to do too much. He couldn't get it back together after that. It seemed like everything he tried, he couldn't get in the zone enough. They made him pay. You get behind big league hitters, and that's what they get paid to do, is hit."
Miami got three back in the fourth in an inning highlighted by former Ray Justin Ruggiano's eighth home run of season, a solo shot off Jake Odorizzi.
Evan Longoria's fourth-inning sacrifice fly put the Rays up, 7-3, but the Marlins got busy again in the fifth when they loaded the bases with two singles and a walk to chase Odorizzi.
"It's extremely frustrating," said Odorizzi of his outing. "Balls put in play, even if they weren't hard contact, they just weren't finding people. I was just getting extremely frustrated trying to manufacture outs any way I could, and I just could do that today when it came to the fifth inning. It's very frustrating not being able to get through the fifth inning and when your team gives you six runs."
Alas, Johnson's home run made Odorizzi's troubles a moot point.
Johnson's last home run "definitely put the wind at our backs," Maddon said. "After the first one, it was up to Jake Odorizzi to really make that a significant home run. By permitting them to get back in the game like he did, that second one totally took the heat off."
Bill Chastain is a reporter for MLB.com. This story was not subject to the approval of Major League Baseball or its clubs.