Fernandez struggles, Marlins' rally falls short in loss
Rookie exits after 3 1/3 innings; Miami's big day on offense is for naught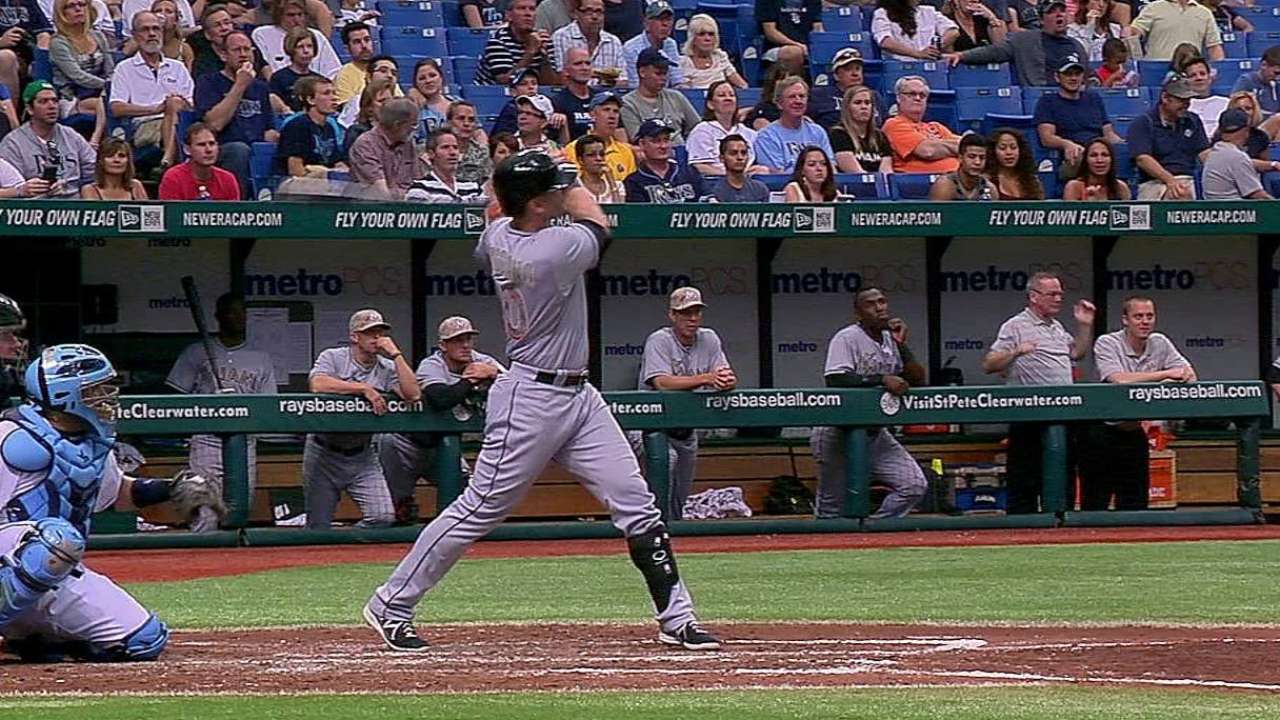 ST. PETERSBURG -- Jose Fernandez received a homecoming welcome from family and friends at Tropicana Field on Monday. But the 20-year-old phenom who went to high school in Tampa was unable to help the Marlins snap their losing streak.
Fernandez gave up a season-high seven runs (four earned), including a three-run homer to Kelly Johnson, and the Rays held off the Marlins, 10-6, in front of 13,025 on Memorial Day afternoon.
"I wasn't nervous. I was a little pumped up. I was trying to do a little too much, maybe, and it didn't come out right," Fernandez said. "I was trying to make good pitches. I tried to give the team a chance to win, and it didn't happen."
The Marlins have dropped six straight, and are 0-4 on their road trip, which concludes tomorrow Tuesday in St. Petersburg.
Johnson did the most damage to Miami, belting a pair of three-run homers. His second was off A.J. Ramos in the eighth inning to break open a one-run game.
The six runs by the Marlins were their most since beating the Phillies, 14-2, on May 5. Since that game, Miami is 3-16.
Fernandez, who led Alonso High School to two state titles, had about 50 friends and family members at the game. The hard-throwing right-hander showed great promise by striking out three in the first inning, including fanning Evan Longoria with a 99-mph fastball.
"I think he just got a little bit out of his delivery," Miami manager Mike Redmond said. "He was over-throwing. I think he hit 99 a couple of times. That's great on the radar gun, but that shows me he is trying to do too much. He couldn't get it back together after that. It seemed like everything he tried, he couldn't get in the zone enough. They made him pay. You get behind big league hitters, and that's what they get paid to do, is hit."
But the game slipped away in the second inning, when the Rays scored six runs. Johnson's big blast highlighted the frame.
"Didn't want to over-think it," Johnson said of his first three-run blast. "Obviously, Longo's on deck. At that point, that's the most logical pitch to look for. I stayed there, and it was in a good spot for me."
Fernandez (2-3) struck out six, but he had his quickest exit in 10 starts, leaving after 3 1/3 innings.
Justin Ruggiano homered for Miami off Jake Odorizzi, and Greg Dobbs had two hits and two RBIs. Marcell Ozuna's single in the first inning extended his hitting streak to 12 games, the most by a Marlin this year.
Tampa Bay's six-run second inning was too much for the Marlins to overcome.
Returning to Tampa, Fernandez went back to his roots in more ways than one. He even sported a new, orange glove for the first time. But it wasn't the first time he had used a bright-colored glove.
"I used an orange glove last year," he said. "I ordered this in Spring Training. It just got in. I was like, 'Why not? I'm going to use it.' It makes me feel good. It's like my other glove, it's just orange. For me, it doesn't make any difference."
The Rays sent nine to the plate in the second. James Loney and Luke Scott each walked to open the frame, and Desmond Jennings was hit by a pitch, loading the bases.
Jose Molina's sacrifice fly opened the scoring, and Yunel Escobar added an RBI single.
A pivotal play occurred on Ben Zobrist's bunt in front of the plate. With runners on the corners and one out, catcher Rob Brantly attempted to get Escobar out at second, but his throw pulled Adeiny Hechavarria off the bag as Jennings scored.
Brantly was charged with a throwing error, Zobrist was credited with an RBI, and the Marlins were unable to overcome the hole they fell into.
"Brant, he got the ball, he just didn't look [at third]," Redmond said. "He didn't look at the runner on third base. If he just takes a peek at him, he sees him halfway down the line, and he can run him back, and it's an easy play. He tried to turn a double play. I think we got exposed a little bit there with some of our inexperience."
Unable to record an out on the play led to Johnson coming to the plate, and he delivered his three-run, two-out home run.
"It was a weird inning," Fernandez said. "Normally, I don't walk a lot of people. I thought I was making some good pitches, and I ended up walking them. I was trying to be too fine, and that's what happened.
"The most important part is I'm learning from it. That's part of it. Keep learning from it. We scored six runs today, and we didn't get the win, so it hurts."
Miami scored three runs in the fourth inning. Ruggiano belted a solo home run, while Jordan Brown had a run-scoring groundout and Chris Coghlan collected an RBI single.
After falling behind four runs, the Marlins closed the game to 7-6 with three runs in the fifth inning.
Josh Lueke relieved Odorizzi after he loaded the bases in the fifth with no outs. He was unable to qualify for the win, because he didn't complete five innings. Dobbs had a two-run single, and Brown delivered a two-out RBI single that deflected off Lueke's leg.
"Offensively, I was happy," Redmond said. "Six runs. We got some hits and we were able to string some hits together, and get some big hits and actually sustain a rally. Overall, offensively, I was happy with the way we swung the bats."
Joe Frisaro is a reporter for MLB.com. He writes a blog, called The Fish Pond. Follow him on Twitter @JoeFrisaro. This story was not subject to the approval of Major League Baseball or its clubs.