Ninth-inning rally fizzles in first half of twin bill
Offense shut down by D-backs rookie Skaggs in Perez's season debut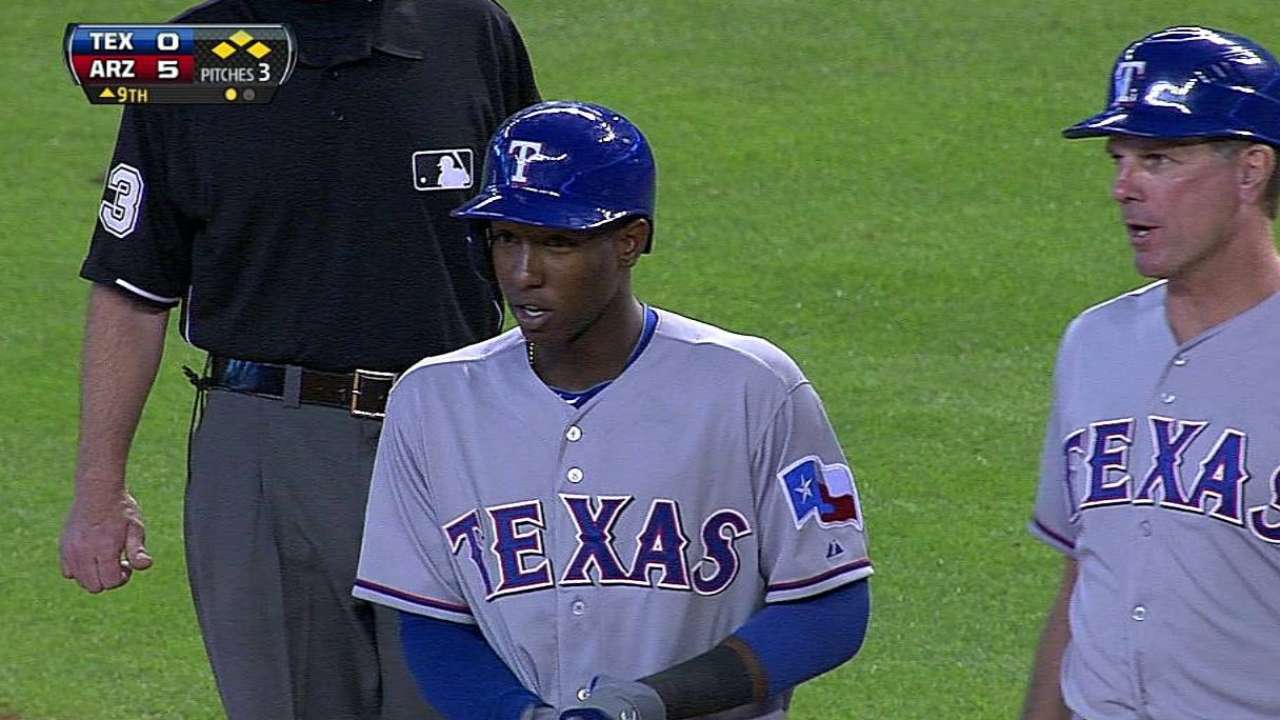 PHOENIX -- Prior to Martin Perez's spot start in the first game of an unusual prescheduled day-night doubleheader, Rangers manager Ron Washington said all he expected of the young southpaw was to give the club a chance to win.
Perez did just that Monday, tossing 5 1/3 innings, allowing four runs (three earned) on nine hits. Unfortunately for the 22-year-old, his counterpart did much more as the Rangers' offense offered no support until his afternoon was already long over.
In a matchup of two of the top left-handed pitching prospects in baseball, Perez was outshined by Tyler Skaggs on Monday as the Rangers struck out 15 times and fell, 5-3, to the D-backs in the first game of the Memorial Day twin bill at Chase Field.
Texas entered the ninth inning down five and 0-for-11 on the day with runners in scoring position before mounting a late rally and ending the afternoon stranding the tying run on first base.
"Perez kept us in the ballgame, he got us into the sixth inning," Washington said. "If we had cashed in some of those opportunities earlier, it might've been a different ballgame, but we just couldn't get a base hit when we needed to. We kept fighting though, it just took until the ninth inning until we could get runs on the board."
With the 15 strikeouts, the Rangers have now struck out at least 13 times in three straight games for the first time in club history. On Monday, Skaggs' 12-to-6 curveball was the reason for most of Texas' swings and misses. The 21-year-old threw the pitch 21 times over his six scoreless frames, resulting in six swinging strike threes.
"Give him credit, he had a good breaking ball," Washington said. "He used it at the right time, it was a slow one and we couldn't wait on it. Kid did a good job."
Said Rangers shortstop Elvis Andrus of the curve: "It was very good. He commanded it and threw it wherever he wanted. He did a really good job, kept us off-balance."
Both Perez and Skaggs were called up to the big leagues as the extra 26th man on their respective rosters for the doubleheader and will be sent back to the Minors following the conclusion of the nightcap. Perez is the Rangers' No. 6 prospect according to MLB.com, while Skaggs was pegged the ninth best overall and the D-backs' top prospect.
For Perez's part in the loss, he boiled his outing down to not throwing enough strikes (62 out of 95 pitches).
"I felt good, I was just behind in the count every time, to every hitter," he said. "That's not good, I missed too much of the zone today. I hung a couple pitches too."
Even though he didn't get the results he wanted Monday, Perez still came out of his performance encouraged for the future.
"I'm young and I'm still learning, it's part of the game," Perez said. "I have to move forward and be ready for the next opportunity they give me."
Following a 13-inning affair in Seattle on Sunday, it appeared as if the Rangers' bullpen might receive another heavy workload early on Monday as the D-backs touched up Perez for three runs over the first two innings, all with two outs. After Martin Prado put Arizona on the board in the first with an RBI single, A.J. Pollock and Paul Goldschmidt tacked on two runs an inning later with the help of a Jurickson Profar fielding error at second.
After the initial barrage of five hits in two innings, Perez seemed to settle down and get comfortable on the mound the rest of the way. Over his final 3 1/3 frames, the southpaw surrendered just one more run, a solo homer off the bat of Cody Ross.
"His stuff was really good, a lot of sink on his ball," Pollock said. "He had good stuff, you just have to lay off his good pitches and hopefully he'll leave one there for you."
Once Perez left the game, Ross Wolf and Joseph Ortiz combined to work the final 2 2/3 innings, allowing a run on three hits to protect the rest of the bullpen for Monday's nightcap.
"Perez certainly saved our bullpen getting as deep as he did," Washington said. "We used the two freshest guys we had and they got us through the game."
In that ninth inning, when the Rangers nearly came back to tie the game, Profar and Adrian Beltre each tallied RBI hits before Heath Bell struck out Nelson Cruz and induced a Mitch Moreland groundout to end the rally.
"They made good pitches at the right moments, those are a bunch of guys we haven't faced, it's going to happen," Andrus said. "We just have to be aggressive when we see a good pitch to hit. We created a lot of opportunities, we have to keep that going. If you keep fighting, good things will happen."
Tyler Emerick is an associate reporter for MLB.com. This story was not subject to the approval of Major League Baseball or its clubs.