Votto's HR in eighth leads Reds past Indians
Leake delivers strong outing, allowing one earned run in 7 1/3 frames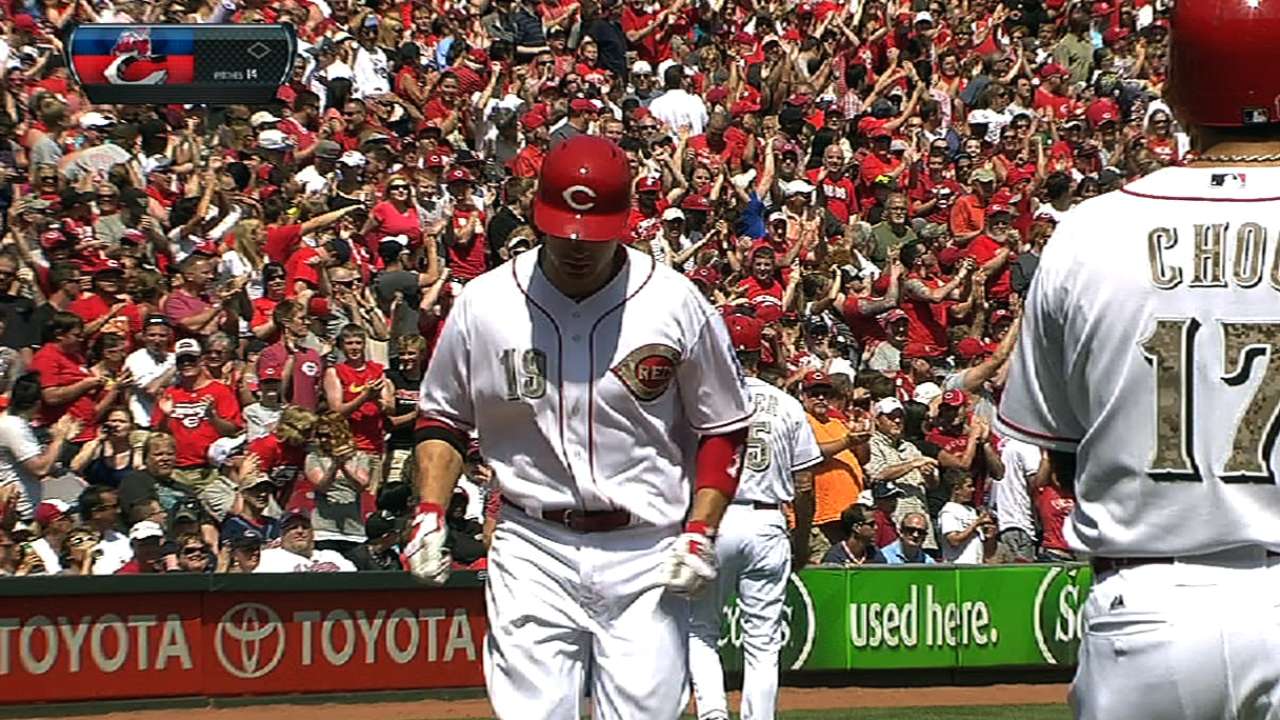 CINCINNATI -- In the first inning after striking out against Indians starter Ubaldo Jimenez, an angry Joey Votto put part of his Reds jersey over his mouth and started yelling. The words, not suitable for print or your grandmother's dinner table, still carried to the higher reaches of Great American Ball Park.
By the eighth inning, Votto had a much better result for his club. He hit a baseball that carried to the outer reaches of Great American Ball Park that gave the Reds a 4-2 victory over the Indians before a sold-out crowd of 38,822 fans.
"Whether he's frustrated or had two bad at-bats previous to his last at-bat, you never count that guy out," said Reds starting pitcher Mike Leake, who did not figure in the final decision.
It was a 2-2 game in the eighth when Indians left-handed reliever Nick Hagadone gave up a Shin-Soo Choo leadoff single to left field. Zack Cozart then put down a perfect sacrifice bunt to the left side that moved Choo to third.
That created the most optimal of situations for Votto. With two bases open, Cleveland brought its infield in and decided to pitch to him rather than move on to the next batter, Brandon Phillips.
On a 2-1 fastball, Votto hit a very high drive that landed in the seats in left field for the two-run homer and game-winner. It was Votto's third homer in his last five games.
"I hit that home run because of Choo and because of Cozart," Votto said. "I wouldn't have gotten those pitches to hit. It would have been a much tougher at-bat with Hagadone. There was a man on third base. I'd imagine he probably wasn't very comfortable throwing that curveball because he bounced one or two. Scoring a run like that is not ideal for the Indians.
"Second of all, I in all likelihood, was going to see fastballs in the part of the zone where I could probably put the ball in play because of Brandon behind me. Cozart had that big bunt and made the at-bat a little easier for me, a little more predictable from an unpredictable pitcher. He's tough."
Votto, who has reached safely in his last 16 games, is batting .420 (37-for-88) in May with five homers and 14 RBIs. Indians manager Terry Francona accepted the outcome from trying to challenge the Reds' best hitter.
"It's a tough assignment for anybody," Francona said. "That shows the confidence we have in [Hagadone]. His stuff is so good. Situationally, we want to try to pound Votto in and we didn't. We don't want to let him get his arms extended there. But that's the learning of a young pitcher."
Jonathan Broxton, who notched the final two outs of the eighth inning in relief of Leake, got the victory for Cincinnati. The Reds have won six of their last seven games and 13 of their last 16 while Cleveland has dropped four in a row and six of its last seven.
After Leake had returned to begin the eighth inning, pinch-hitter Jason Giambi snapped an 0-for-24 skid with a mammoth game-tying homer off of the batters' eye in center field. Leake finished allowing two runs (one earned) and five hits over 7 1/3 innings. He did not walk a batter and struck out seven.
Leake has a 2.13 ERA over his last eight starts. A sacrifice fly in the fourth inning scored an unearned run stemming from a Phillips error on a Nick Swisher grounder. It ended Leake's scoreless streak at 16 2/3 innings.
"He's been lights-out lately," said Cozart, who was 2-for-2 with a double and robbed Drew Stubbs of a hit with a barehanded play in the third inning. "He's pounding the zone, and I think when you do that, you keep your defense in the game and you get ahead of guys. And when you get ahead of guys, it's proven that you're successful, and I think that's what he's doing."
Choo, acquired by the Reds from the Indians in a December trade that sent Stubbs to Cleveland, hurt his old team in the first inning. He sent a 2-1 pitch from Jimenez the opposite way into the left-field seats for his team-leading 10th homer and a 1-0 Reds lead. It was Choo's third leadoff homer this season.
Later that inning, Votto was frustrated with his strikeout. He flied out to center field in his second at-bat in the third inning and grounded to second base in his third at-bat in the sixth.
"I'm not sure there is a correlation between getting angry early and success later," Votto said. "[After games] I try to think about whether I gave away any at-bats and whether or not my focus and intensity was at its highest every single at-bat and whether or not I prepared well today and whether or not I got better today. Those are the things I think about."
Reds manager Dusty Baker would like Votto to think about toning down his outbursts near the batters' box.
"I have a son that idolizes him," Baker said. "Sometimes that display of displeasure is not a good example, whether you come through or not later. Joey's the face of baseball, so I'd like to see him temper it a little bit."
Mark Sheldon is a reporter for MLB.com. Read his blog, Mark My Word, and follow him on Twitter @m_sheldon This story was not subject to the approval of Major League Baseball or its clubs.