Giambi ties it late, but bullpen falters vs. Reds
Ubaldo delivers seven solid frames, but Votto stings Hagadone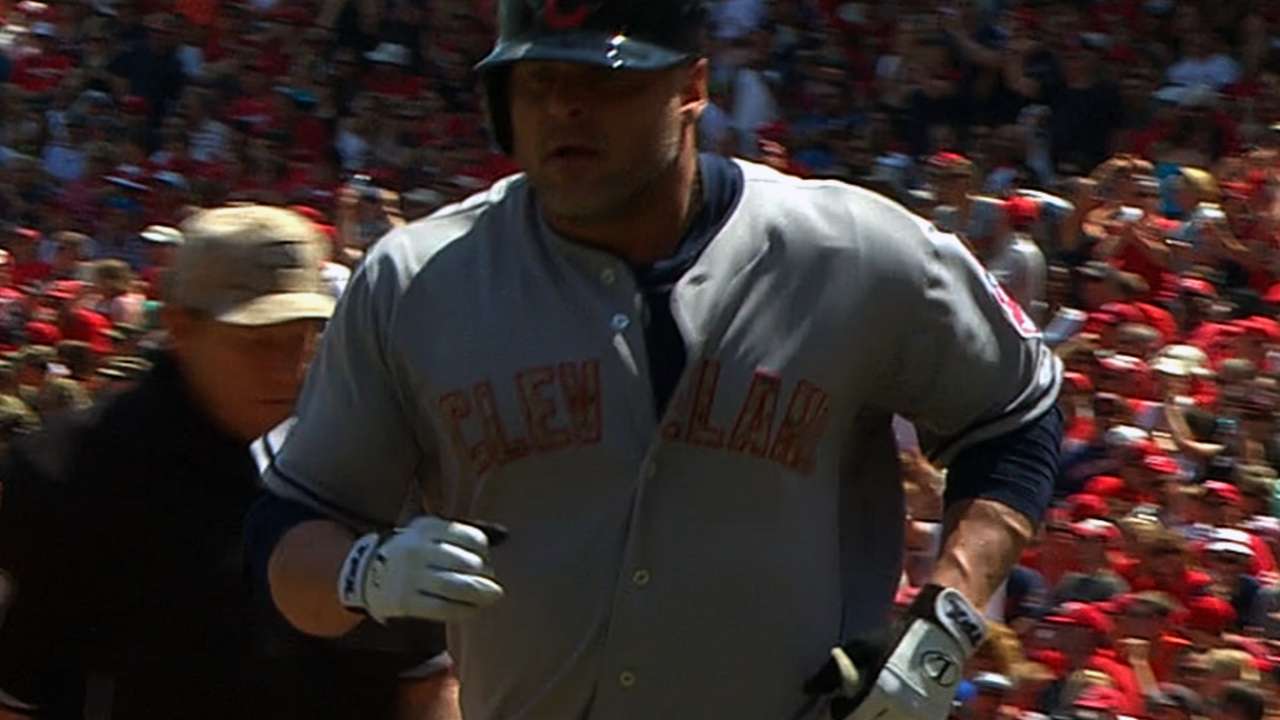 CINCINNATI -- The Indians are familiar with this script. The goal now is to find a way to alter the ending.
On Monday afternoon, Cleveland received a strong start from Ubaldo Jimenez and a key home run from Jason Giambi, but it was not enough to avoid a 4-2 Interleague loss to the Reds at Great American Ball Park. The Indians have suffered six losses in a seven-game stretch, making the club's red-hot start to this month feel like ages ago.
"This is a little bit of a tough stretch," Indians manager Terry Francona said. "We're getting tested, and we're going to figure it out. We're going to battle through it."
Only a week ago, the Tribe was riding a wave of confidence that comes easily when a team rattles off 18 victories in a span of 22 games. It was a similar situation in each of the past two seasons, when Cleveland roared off to strong starts only to see its fortunes fade before the calendar flipped to June.
Two seasons ago, it was a 30-15 run out of the gate (plus a seven-game lead in the American League Central) that vanished down the stretch of an 80-win season. Last summer, the Indians ran to a 26-18 record through May 24 before stumbling to a 94-loss showing that led to a roster overhaul this past offseason.
The reorganization of the roster is one reason the Tribe believes this year can be different.
"We have a lot of new faces," Jimenez said. "This team is not the same as last year's team. There's a lot of guys with experience here and they're going to help all the guys in the clubhouse to keep it going."
The Indians dished out lucrative contracts to reel in experienced players such as Nick Swisher and Michael Bourn, and added postseason veterans such as Mark Reynolds and Giambi. The battle-tested vets are important for any stretch of the season, but they also play an integral role when a team is hit with adversity.
"One hundred percent," Giambi said on Monday. "We're going to have these ups and downs in a season. But a great ballclub will come back. We've been resilient all year. That's been our M.O. Even today, we fought and kicked and scratched and, even after a couple tough losses in Boston."
That mentality might make this merely a bad week, and not foreshadowing for the next four months.
The breaking point on Monday came in the eighth inning. Indians left-hander Nick Hagadone -- summoned from Triple-A Columbus before the game after the Tribe placed closer Chris Perez (right shoulder) on the disabled list -- was handed the ball with the game caught in a 2-2 tie. An old friend of the Tribe wasted little time in making it clear that he is now an enemy.
Shin-Soo Choo -- traded to Cincinnati by Cleveland over the offseason -- led off with a base hit to left field and advanced to second base on a passed ball. After Zack Cozart successfully moved Choo to third base with a sacrifice bunt, Joey Votto delivered the decisive blow. Hagadone fired a 94-mph fastball, which Votto deposited over the wall in left for a two-run home run that put the Indians down, 4-2.
"We want to try to pound Votto in and we didn't," Francona said. "We don't want to let him get his arms extended there. But that's the learning of a young pitcher."
Cleveland chose to pitch to Votto with first base open.
"I don't second guess another manager," Reds manager Dusty Baker said. "I'm sure Terry, he's a very fine manager, he had his reasons for it. You've got to take a shot at some point in time in the game. Like I said, Joey won that one."
Reds closer Aroldis Chapman finished the Indians off in the ninth to earn his 13th save of the season.
Choo also toyed with his old club in the first inning, when he sliced a 2-1 pitch from Jimenez to left field for a leadoff home run. Cincinnati came through again in the sixth inning, Cozart yanked a pitch from Jimenez into the left-field corner, where it bounced off the line for a fair ball that resulted in a leadoff double. Francona went out and discussed the ruling with third-base umpire Eric Cooper.
"I can't see it, but I saw everybody react," Francona said. "I just asked, 'Can you go check? Because I'd hate for you to get the wrong call.' I said, 'I don't know if it was fair or not.' He said, 'I can't go do that.' So I said, 'Well, if you're wrong, it's going to be tough to live with.'"
Two batters later, Brandon Phillips sent a pitch to right field for a sacrifice fly that pushed Cincinnati in front, 2-1. On the play, Indians right fielder Drew Stubbs attempted to throw Cozart out at the plate, but catcher Carlos Santana was unable to keep a firm hold on the ball.
The baseball skipped away from Santana as he quickly turned in an effort to make a sweep tag, allowing Cozart to slide in safely.
"It was just a little bit too in-between of a hop for Carlos to handle," Francona said.
That would be all that Jimenez relinquished in a solid bounce-back effort. In his last start, the right-hander surrendered six runs in four innings in a loss to the Tigers. This time around, Jimenez sidestepped the four hits and four walks he allowed, holding the Reds to two runs and ending with six strikeouts in seven solid innings.
Reds starter Mike Leake (seven strikeouts in 7 1/3 innings) was equally strong, holding the Tribe to one unearned run through the first seven frames.
Baker trusted Leake to start the eighth and, with one out, the Indians turned to Giambi as a pinch-hitter for Jimenez's spot in the lineup. Giambi snapped out of an 0-for-24 slump in a big way, crushing a 1-1 offering to deep center field for a 467-foot home run that pulled the game into a 2-2 deadlock.
"I'd trade it all in for a win right now," Giambi said. "That's the most important thing. I think that's the message we've got to send to the ballclub. Things have been tough right now, but the most important thing is we have to keep going forward and forget those losses."
Jordan Bastian is a reporter for MLB.com. Read his blog, Major League Bastian, and follow him on Twitter @MLBastian. This story was not subject to the approval of Major League Baseball or its clubs.