Gio labors as Nationals drop opener to Orioles
Lefty allows four runs on eight hits, four walks over 5 2/3 innings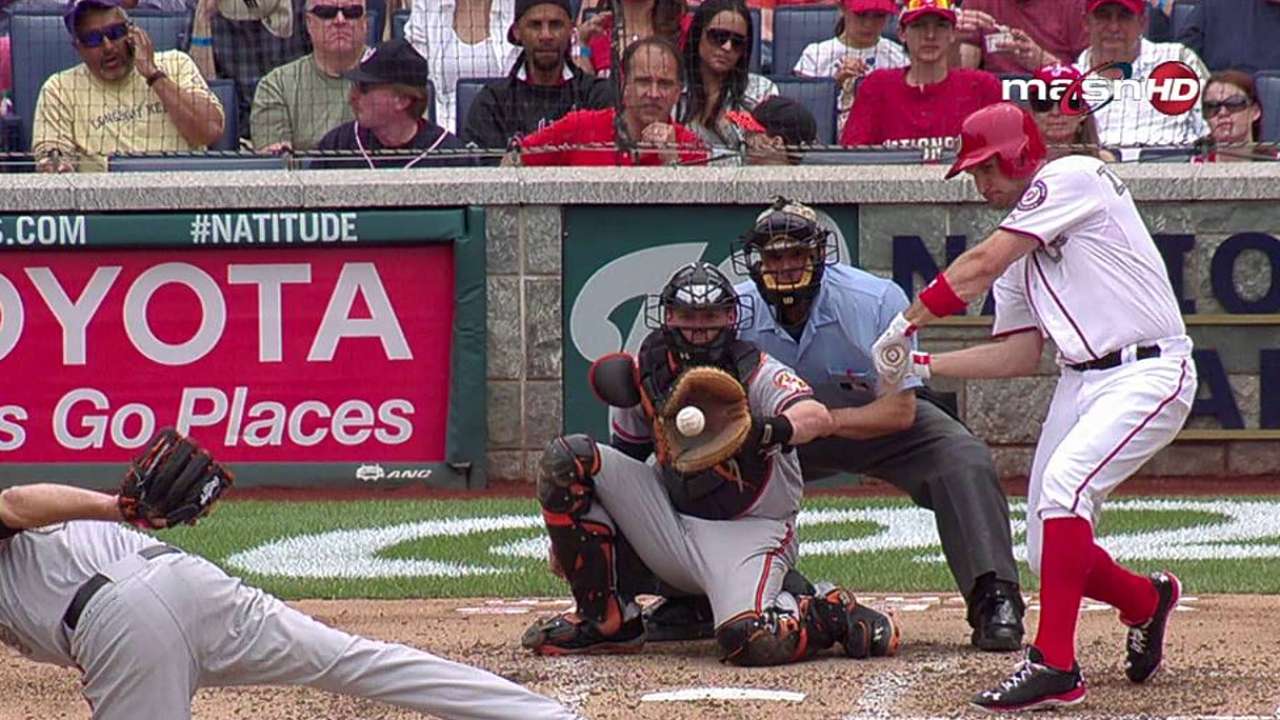 WASHINGTON -- The Battle of the Beltways started Monday afternoon at Nationals Park, and it was the Orioles who defeated the Nationals, 6-2, in front of a sellout crowd of 41,260. The Nationals are now a game over .500 at 26-25.
Left-hander Gio Gonzalez started for Washington and was given a 1-0 lead in the second inning. Facing O's starter Jason Hammel, Adam LaRoche reached base on a single and then stole second base, his second of the season. One out later, Tyler Moore doubled near the left-field line, scoring LaRoche.
But it was all Orioles after that. Gonzalez threw 109 pitches in 5 2/3 innings and left the ball up in the strike zone most of the time. Baltimore was able to get to Gonzalez in the fourth inning. Yamaico Navarro singled to left field, scoring Chris Davis. Two batters later, Nick Markakis drove in Matt Wieters and Navarro with a single to center.
"He had good stuff today. It was really good, but the Orioles did a good job fighting some pitches off and getting some hits to fall," said Nationals catcher Kurt Suzuki about Gonzalez's outing. "We probably could have worked more ahead in the count. I could have tried some different things, myself, to get him back in the count. Overall, we were kind of pitching behind all day."
It was obvious Nationals manager Davey Johnson didn't like the way Gonzalez was throwing on the mound.
"He didn't go after them when he needed to. He left a lot of pitches up," Johnson said. "I thought he had pretty good stuff, but it's a good hitting ballclub. You can't give mistakes to them. That's what can happen."
In the fifth, Davis scored the fourth run of the game on a sacrifice fly by Wieters.
Hammel, who improved to 6-0 in his career against Washington, lasted eight innings, allowing two runs on eight hits with eight strikeouts, walking none. It helped that he had 23 first-pitch strikes and had a comfortable lead for most of the game.
"They've been putting up runs for me all year, and kudos to them," Hammel said about his teammates. "It's a lot easier to pitch when you have the lead than when you're down, honestly. You don't put as much pressure on yourself. But these guys have been doing it all year, and the bats continue to stay hot. I was able to stay aggressive in the zone, put it in play, use the fielders and let them go hit."
The second run for Washington scored in the sixth inning after Denard Span led off with a triple and Ryan Zimmerman drove him home with a single to right field.
The Nationals' struggles with runners in scoring position continued. For example, in the seventh inning, Roger Bernadina led off with a double but was left stranded at second base. For the game, the Nationals went 2-for-11 with RISP.
"It's kind of our M.O. We are showing signs of coming out of it, hopefully," Johnson said. "We are down a couple of pretty good players. It's given an opportunity to some guys, who have been struggling."
It doesn't help that the Nationals are without the services of Bryce Harper, Jayson Werth and Danny Espinosa. All three are out because of injuries. Harper has a sore left knee, while Werth and Espinosa are dealing with hamstring and wrist issues, respectively.
"We haven't been able to consistently -- up and down the lineup -- put together good at-bats, day in and day out, " Zimmerman said. "We have to keep working, keep getting better each day. There is a lot of season left, but we need to get going."
The Nationals play three more games against the Orioles this week and it could be tough for Washington to compete without some of its regulars.
"I've played against the Orioles my whole career," Suzuki said. "We had some pretty good success against them. Obviously, some days, they swing the bats. They are good hitters over there. We can pitch to them. If you pitch ahead in the count a little bit, it makes everything a little bit better."
Bill Ladson is a reporter for MLB.com and writes an MLBlog, All Nats All the time. He also could be found on Twitter @WashinNats. This story was not subject to the approval of Major League Baseball or its clubs.