Hammel, hot bats lead O's past Nats in DC
Righty allows two runs over eight; Markakis, Navarro pace offense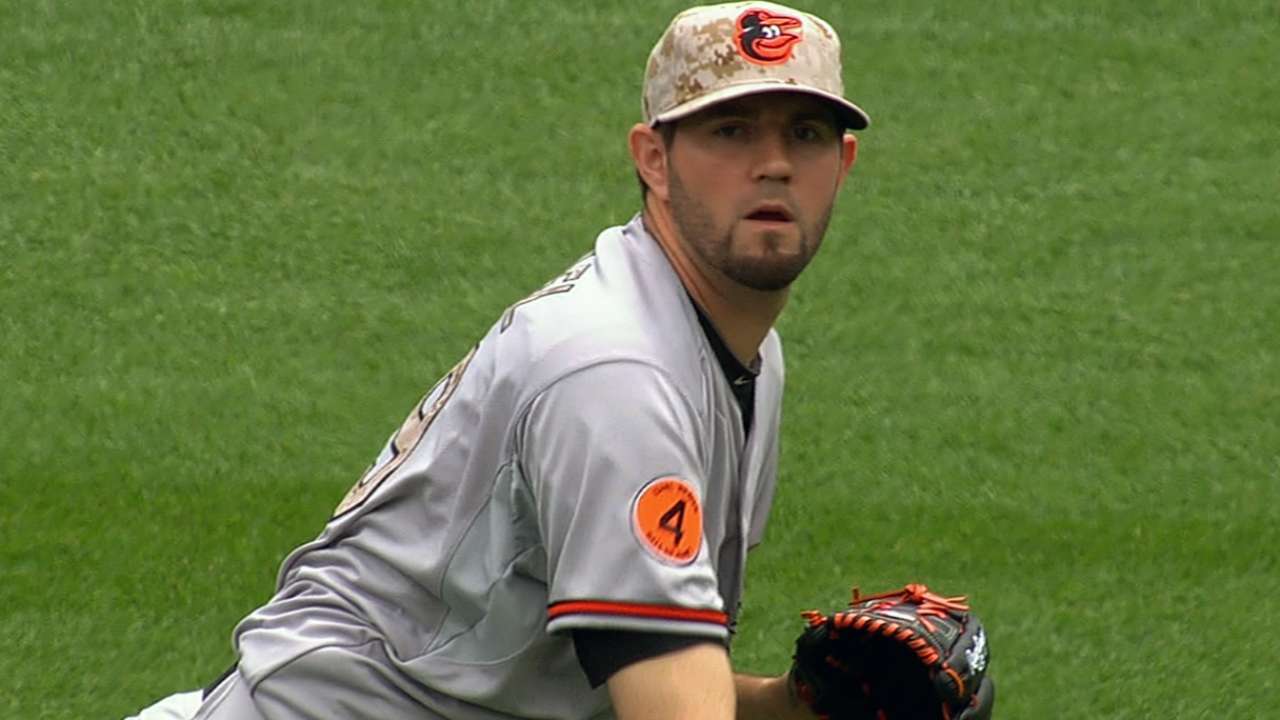 WASHINGTON -- Jason Hammel's best start of the season gave Baltimore's pitching staff a needed boost Monday as the Orioles topped the Nationals, 6-2. The right-hander pitched eight innings and allowed just two runs to earn the win and improve to 6-0 in his career against Washington.
Baltimore had given up five runs in every game during the team's four-game set against the Blue Jays in Toronto. Hammel's deep outing Monday -- his longest since June 22 last season -- gave manager Buck Showalter a welcomed opportunity to rest his taxed bullpen.
"That's, by far, the best he's thrown the ball this year," Matt Wieters said. "Thing with Ham is he's going to compete, no matter what kind of stuff he has out there, and when he's able to bring that kind of location with that stuff, he's got a good chance to succeed."
Hammel used all four of his pitches effectively and was frequently ahead in the count.
"The fastball command that I've been searching for has been getting closer and closer and closer, and today, it was finally there," Hammel said. "And a small adjustment I made with my slider added a lot more depth and a lot of swings and misses with that one. [I] stayed aggressive today."
Although the pitching staff has been inconsistent, the offense has been scorching lately. The Orioles have scored five or more runs in 10 consecutive road games, the first time that's happened in franchise history.
Washington opened the scoring in the second inning, but from that point on, the Orioles controlled the game, chasing Nationals starter Gio Gonzalez after 5 2/3 innings.
"I felt like I was attacking them, I felt like I was going after them," Gonzalez said. "They were finding hits. I felt like I was getting good fastballs in, good fastballs down and away, and somehow they just found some holes."
Right fielder Nick Markakis had the big hit, a two-run single that gave Baltimore a 3-1 lead and extended his hitting streak to 12 games. Hammel sacrifice bunted runners to second and third, which set up Markakis' knock.
"We played some small ball there, Hammel getting a good bunt down," Markakis said. "We got some timely hitting in some key situations, especially with two outs. And [with] the way Hammel was throwing the ball, it gave hitters a lot more confidence to go up there and be selective and not miss a pitch."
Markakis is hitting .377 during his hitting streak, and the team overall is in an offensive groove. Baltimore has a collective on-base-plus-slugging percentage of .825 in the month of May, the highest mark in MLB.
"You know, it's just a matter of getting comfortable, getting your timing down," Markakis said. "I preach about it all the time. Especially at this level, if a pitcher makes a mistake, you've got to take advantage of it, you can't miss it. We did that today, and hopefully we continue doing that."
Yamaico Navarro added an insurance run in the seventh, when he singled home Chris Davis for his second RBI. That gave the Orioles a 5-2 lead, and represented the most RBIs Navarro has had in a game since April 30 last season, while with the Pirates. They were his first two RBIs of the season and his first on the Orioles.
After Manny Machado collected his third hit of the day -- an eighth-inning single -- J.J. Hardy walked and Adam Jones drove Machado home with a single to left field for a 6-2 lead. Machado entered the game leading the Majors in doubles, and he added to that total with his 23rd two-bagger in the fourth inning.
Darren O'Day pitched a scoreless ninth to seal the win as Baltimore improved to 30-28 all time against the Nationals' franchise.
The win came on the heels of a difficult loss the night before in Toronto, when closer Jim Johnson surrendered four runs in the ninth inning and the Orioles lost on a walk-off base hit.
"It was a challenge for everybody physically, emotionally and mentally," Showalter said. "After four tough games in Toronto, I can't tell you how proud I am of everybody. And Ham was outstanding in a much-needed outing.
"It's hard to do. ... Pitching in the big leagues is hard. Doing what he did today and what he has done for us. ... He got a return for it today."
Showalter said if his team can get one more solid outing Tuesday, it will be in good shape again with its bullpen. Rookie right-hander Kevin Gausman will make his second start of the season Tuesday.
"It was huge," Hammel said of Monday's turnaround win. "It shows our resiliency and the type of character we have in the clubhouse. One-hundred sixty-two games is a long season, so you don't want to dwell on the one from last night, even if it was bad. You've got to push it to the back of your mind and you've got nine fresh innings for the next day."
Derek Wetmore is an associate reporter for MLB.com. Follow him on Twitter @DerekatDotCom. This story was not subject to the approval of Major League Baseball or its clubs.