Ike breaks through to deliver victory for Mets
First baseman busts out of slump with go-ahead two-run single in eighth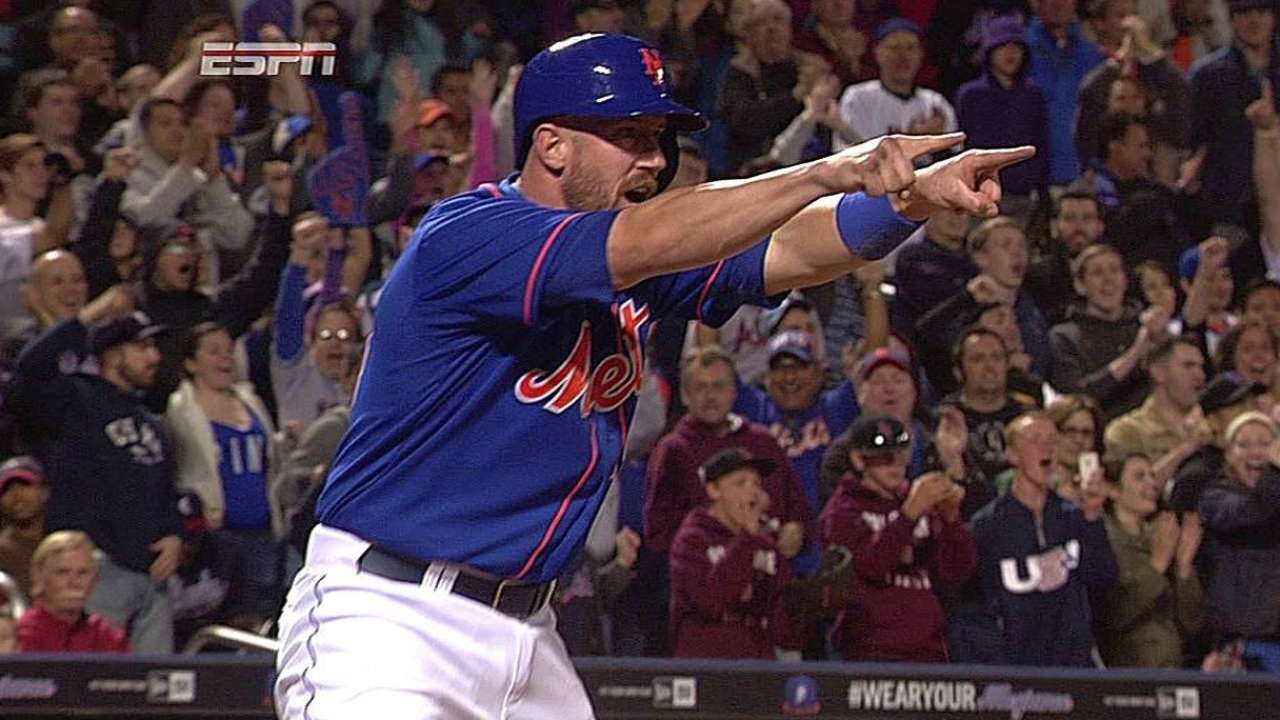 NEW YORK -- Sometimes, even baseball comes down to divine intervention.
Ike Davis, fresh off a change in attitude, was looking for an opportunity to change his season on Sunday night. And he got it. Davis, mired in a season-long slump, came up with the bases loaded and a tie game against Atlanta, and he came through with the decisive hit in a 4-2 win for the Mets.
That hit, which crept through the right side of the infield, didn't set any distance records or win Davis any style points, but it did something even more important. It helped restore the first baseman's confidence in himself, and it validated the support that he's gotten from his teammates.
Manager Terry Collins has found himself speaking about Davis on a daily basis this month, and he said Saturday that a demotion to Triple-A Las Vegas might do the hitter some good. But when Davis approached the plate in Sunday's eighth inning, Collins had some other thoughts.
"Get a hit," said Collins. "A couple guys said something during the game that he looked, for some reason, more relaxed the last two days. When he came up with the bases loaded, I said, 'If there's anybody watching that's a baseball God, this kid needs to get a base hit.' And he got it."
Indeed he did. Davis bounced a single through the right side of the infield, and two Mets came around to score the decisive runs. And here's how much Davis needed it: The 26-year-old came into the game batting .148, and he had just one RBI in his last 23 games.
Observant fans may have seen some foreshadowing earlier in the game, as Davis had previously found some luck in the form of an infield single. Davis drilled a ball to second base and watched as Dan Uggla made a diving stop, but the veteran got up and threw wildly while Davis crossed the base safely.
"Standard. Uggla makes an amazing play and I was like, 'Well, that's the way it's going,'" said Davis. "But then he bounced it, and I was safe. I was like, 'There's a little change.'"
The big change came four innings later, complete with some drama. The Mets had given up their one-run lead on a two-run homer by Uggla, but they rallied against the Atlanta bullpen in the eighth inning. Lucas Duda doubled to put runners on second and third, and John Buck singled to tie the game.
Atlanta reliever Cory Gearrin, a sidearmer, hit pinch-hitter Mike Baxter with a pitch, bringing Davis up with one out and the bases loaded. Davis went up looking for a ball he could hit into the air for a sacrifice fly, but he grounded a ball through the right side and the Citi Field crowd erupted.
"I just felt like, 'Finally, I did something productive,'" said Davis. "That's the best feeling, being productive, especially in the late innings and losing like we have been. It definitely feels great. But we've got to go get them tomorrow. I'll probably soak this one in for a couple more hours. A little more smiles, and then we'll wake up tomorrow trying to be happy again."
The Mets snapped a five-game losing streak with the victory, and the result also snapped an eight-game winning streak for the Braves. Atlanta still leads the Mets by 11 games in the National League East standings, but the teams will play 14 more times this season.
The endgame, exciting as it was, overshadowed a pair of fine pitching performances. Shaun Marcum went seven innings and set a career high with 12 strikeouts, but he also gave up the two-run homer to Uggla, a blow that gave the Braves their first lead in the seventh inning.
"It was nice of those guys to play good defense behind me and bail me out there in the late innings," said Marcum, winless in six starts (seven appearances) this season. "Definitely a big game, the way Ike came out and played and swung the bat and got those big hits for us. Great team effort. Great team win."
Atlanta starter Julio Teheran pitched into the seventh inning, allowing five hits and leaving with two outs and a man on base. The Braves' bullpen stranded a runner at first base in the seventh, but Gearrin ramped up the drama by allowing a leadoff single to Justin Turner and Duda's one-out double.
That set up the game-breaking moment for Davis, and it punctuated an eventful weekend. The former first-round draftee said his season had reached a nadir on Friday night, when he went 0-for-4 with four strikeouts in a game suspended by rain. The next day, he got a hit in the game's conclusion.
"It's tough to say I drew the line today," said Davis. "After the 0-for-4 not-finished game -- I actually went 1-for-5 that game with four K's -- I went and hit seriously for probably two hours. The next day, I felt like I tore everything in my side. Right after that game, I thought, 'I can't do this anymore. It's over. I'm changing something. Something's going to change.' So far, with a little change, I think I'm 3-for-5."
The Mets will take that statistic, and they'll take anything that will give Davis peace of mind. Collins engaged the player in a dugout discussion before Sunday's game, and the topic was anything but performance. It was about attitude, about couching everything in the best light possible.
Collins tried to tell Davis to enjoy the game, to tune out some of the extra hitting advice he's been getting and to go back to playing for fun. And while that advice sounds easier offered than absorbed, Davis took it to heart and tried to find a way to lighten his mood while playing the game.
"We had a good conversation before the game started about trying to have fun again," said Davis. "For a while there, it wasn't quite fun. I'll try to smile more and laugh a little bit more on the field, even though most Mets fans probably hate that. It's not going to help me perform better by being miserable and not having fun. The new thought process now is to have fun. Today was fun."
Spencer Fordin is a reporter for MLB.com. This story was not subject to the approval of Major League Baseball or its clubs.