Braves' win streak halted as game slips away late
After Uggla's homer gives Atlanta the lead, Gearrin gives it back to Mets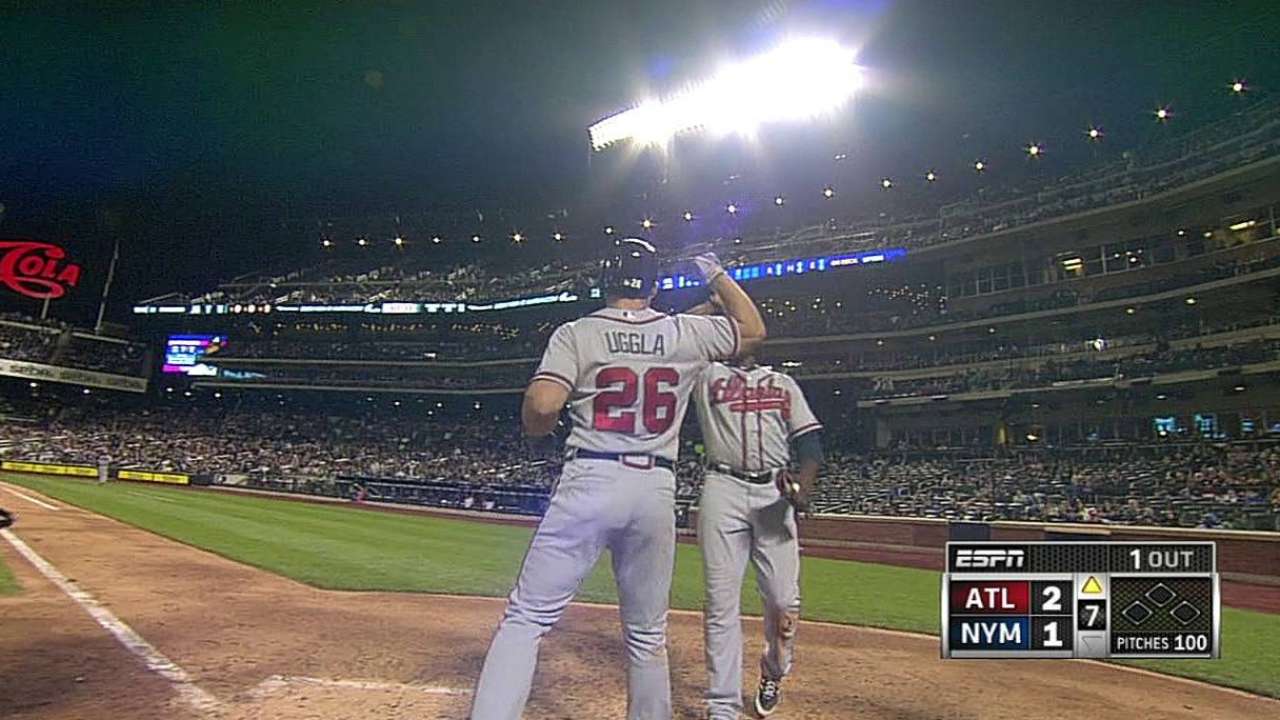 NEW YORK -- While rolling through their previous eight games in perfect fashion, the Braves had routinely erased late-inning deficits with timely home runs that at least blurred their concerns of working with an inexperienced and injury-depleted bullpen.
The stage was set for the Braves to follow this familiar script as they aimed to complete their third consecutive sweep on Sunday night. But after Dan Uggla did his part by foiling Shaun Marcum's dominant effort with a go-ahead two-run home run in the seventh inning, Cory Gearrin succumbed to the pressure during a three-run eighth that provided the Mets a 4-2 win at Citi Field.
"You come out of here feeling like you've got a chance to sweep them," Braves manager Fredi Gonzalez said. "We still won two out of three. But with the game of baseball, the feeling always is, 'What have you done for me lately?'"
As the Braves soaked in the reality of this disheartening loss, they bid adieu to the excitement that surrounded them while they had won each of the previous eight games. This one ugly inning reintroduced them to the reality that they no longer have the luxury of handing late-inning leads to Jonny Venters and Eric O'Flaherty, who both underwent season-ending elbow surgeries during the past two weeks.
"When you're trying to get six outs with a one-run lead, it's tough at times," Gonzalez said. "You make a mistake or something happens, it's tough. We just got two runs [in the seventh inning] and didn't add on. Now you've got to ask them to get six outs with a one-run lead. It's difficult no matter who you have out there."
With O'Flaherty and Venters out for the remainder of the season and Jordan Walden at least a few days away from returning from a shoulder injury, the Braves have provided more significant roles to Luis Avilan and Gearrin.
After throwing just one pitch to strand the runner he inherited from Julio Teheran in the seventh inning, Avilan was replaced by pinch-hitter Ramiro Pena, whose sacrifice-bunt attempt proved unsuccessful when the Mets beat a lumbering Gerald Laird to second base. This prompted the entry of Gearrin, who had allowed a run in just one of his previous 26 appearances this season.
But most of those appearances did not come amid the pressure that built as Justin Turner opened the decisive eighth inning with a single and advanced to third base on Lucas Duda's double. John Buck followed with a game-tying single. Gearrin then hit Mike Baxter with a pitch before allowing Ike Davis to enjoy a rare celebratory moment after lacing his go-ahead two-run single through the infield's right side.
"Anytime you have an opportunity to win a game, you want to win it, especially knowing [closer Craig Kimbrel] is right there," Gearrin said. "Our job is to get him the ball. I don't think it's any bigger deal or less of a deal because of the stuff that has happened with the bullpen. You just want to win games."
With what was just his third hit in his past 47 at-bats, Davis increased his batting average to .158 and at least quieted the talk of him being sent to the Minors. In addition, he produced yet another unexpected development on a night when Marcum did not assume the appearance of a pitcher who had not completed at least five innings in three of his previous five starts.
Marcum took advantage of Atlanta's maddening offense as he recorded a career-high 12 strikeouts and completed seven innings for the first time since June 14, 2012. The only two hits the crafty right-hander surrendered through the first six innings were tallied by Andrelton Simmons, who opened the game with a single and hustled his way to a double with two outs in the sixth.
"Marcum pretty much had our number all night," Uggla said.
Marcum had retired 14 of the previous 15 batters he had faced before Justin Upton began the seventh inning with an infield single. Two batters later, Uggla drilled a changeup deep into the second level of seats beyond the left-field wall. The veteran second baseman's 10th homer of the year provided a short-lived lead and the opportunity for Teheran to earn a win.
As he allowed one run and pitched around three walks in 6 2/3 innings, Teheran was nowhere near as sharp as he had been on Monday, when he had thrown a career-high 123 pitches and came within two outs of his notching a shutout against the Twins.
The three walks Teheran issued through the first three innings were one more than he had issued in his previous five starts combined. Still, his only costly mistake came when he surrendered a fourth-inning leadoff home run to Duda.
"I don't think he was as sharp as we have seen him," Gonzalez said. "But Gerald did a good job getting him through some of those innings. He scattered the ball around a little bit, but he left the game giving up just one run."
Mark Bowman is a reporter for MLB.com. This story was not subject to the approval of Major League Baseball or its clubs.