Rallies fall short as Padres get edged in finale
Marquis sees five-start win streak end as D-backs take series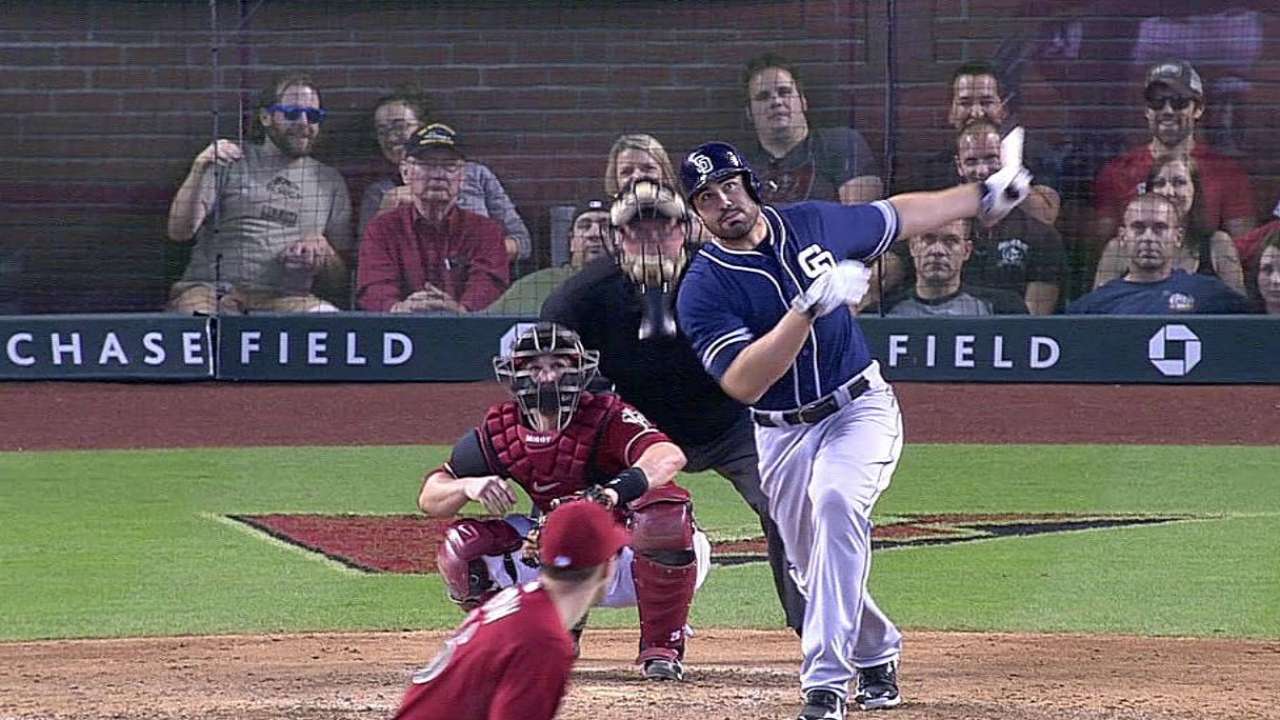 PHOENIX -- Give the Padres credit.
They rallied from two runs down twice on Saturday and they rallied again Sunday against D-backs starter Patrick Corbin, one of the best young pitchers in the National League.
But in the end, few remember rallies when they don't result in victories.
And this was one of those days.
The D-backs edged the Padres, 6-5, in the finale to win the weekend series two games to one. The Padres have lost four of their last five games, and now travel to Seattle for a short two-game series that starts Monday.
But it didn't have to be this way.
Chris Denorfia led off the game with a double and scored two batters later on a ground ball off the bat of Chase Headley to give the Padres an early 1-0 lead. But the D-backs answered on a two-run homer by Eric Chavez off Jason Marquis to give the home team a one-run lead. The D-backs tacked on a pair of runs in the second inning to extend the lead to 4-1.
The Padres came roaring back in the fourth when Kyle Blanks cut the lead in half with an RBI single. Carlos Quentin tied the game up at 4 with a two-run home run in the fifth, and just like that, the Padres were back in the game.
Quentin is on a roll lately, hitting .306 with four doubles, three home runs and seven RBIs in his last 10 games.
"He's standing a little taller and he's seeing the ball better," Padres manager Bud Black said. "Like all good hitters will tell you, they need to see the ball and there was a period of time where 'Q' was not seeing the ball as well as he wanted to. There are periods over a six-month season where you are not seeing it as well as other times."
The Padres' momentum would not last.
The D-backs answered again, this time with an RBI single by Corbin in the bottom of the fifth inning that scored A.J. Pollock to break the 4-4 tie. Martin Prado's RBI double in the seventh pushed Arizona's lead to 6-4.
Corbin lived up to the billing. The young starter gave up four runs, three earned, on seven hits in six innings of work for the victory. He is the third D-backs' pitcher to start the season with a record of 8-0 and has 10 consecutive quality starts to start the season, one shy of the club record set by Daniel Hudson in 2010.
"You can see why his stats are what they are. That's a live left-handed arm. It really is," Black said. "Live fastball, good slider and an occasional solid changeup but we put some stress on him and we had some good swings."
Blanks' RBI double in the eighth made it a one-run game at 6-5, but the Padres would not come any closer.
"We got a big home run from 'Q' to get us even, and from there it became a very close game," Black said. "They got a couple of timely hits the rest of the way."
As for Marquis, he was charged with four runs on seven hits in 3 1/3 innings, snapping a streak of five consecutive winning decisions.
"He couldn't get anything going as far as making back-to-back pitches," Black said. "There were a couple of times where he did a nice job but overall, he was just a little uncomfortable the entire day. It was one of those things where I felt we needed to go to the bullpen in the early part of the game to keep it right there and give them a different look."
Marquis did not make any excuses.
"There were some positives and some negatives. Obviously, I would like to go deeper," the pitcher said. "I just wasn't executing. They had a good game plan. They were attacking me early in the count. A lot of first-pitch, second-pitch swings. It worked to their advantage today."
Jesse Sanchez is a national reporter for MLB.com. Follow him on Twitter @JesseSanchezMLB. This story was not subject to the approval of Major League Baseball or its clubs.