D-backs' bats help Corbin stay perfect, win series
Prado's four hits back lefty as he ties Major League lead with eighth win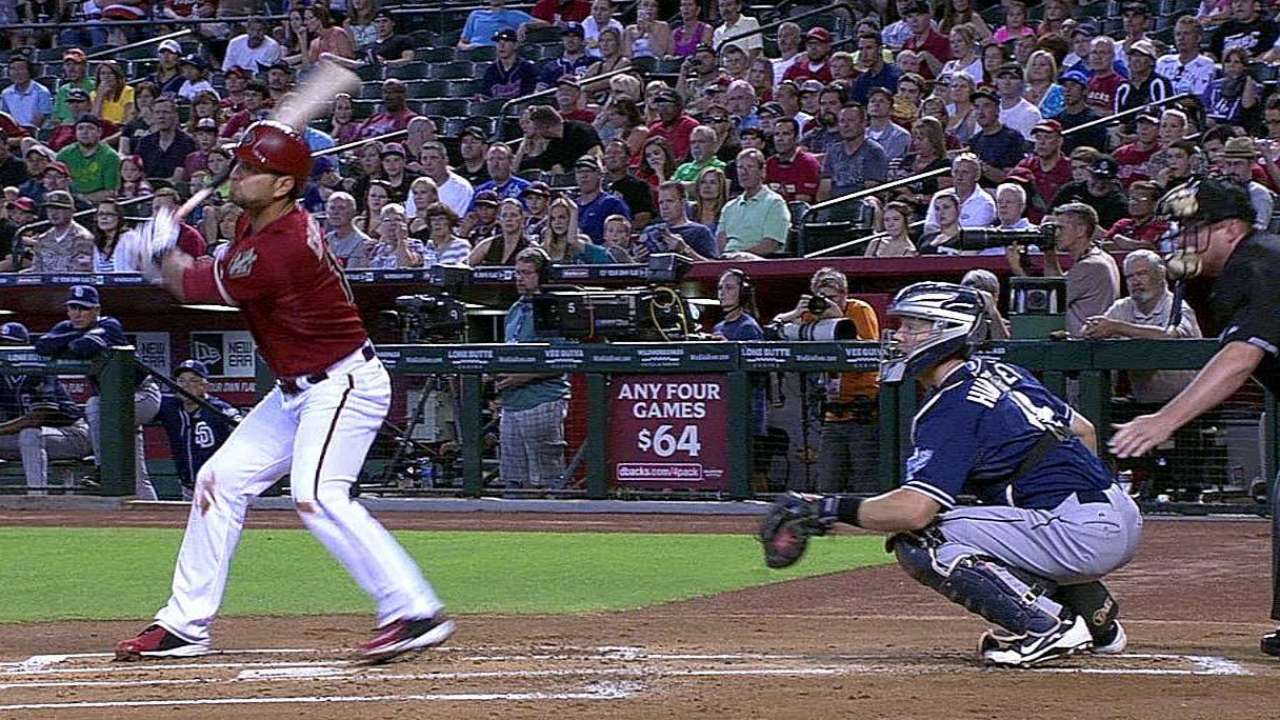 PHOENIX -- For the first time this season, Patrick Corbin looked human on Sunday.
The left-hander, who entered the game riding a franchise-best streak of nine consecutive starts with at least six innings pitched and two or fewer runs allowed, admittedly didn't have his best stuff.
But perhaps speaking to how much the young left-hander has improved from last year was how effective he was regardless.
Corbin still turned in a quality start, and, with the help of 11 hits from the offense, the D-backs squeaked by the Padres, 6-5, at Chase Field to secure a series win and remain tied atop the National League West standings.
"I was just trying to keep us in the game, I wasn't as sharp today, so I wanted to go out there and battle," Corbin said. "I was just happy to help the team win, that's all you're ever trying to do."
With the victory, Corbin is now tied for the Major League lead in wins with eight and his ERA, 1.71, is second best, trailing only Clayton Kershaw. The D-backs also improved to 10-0 when the 23-year-old starts, the most consecutive team wins by a starter in franchise history.
"You can see why his stats are what they are," Padres manager Bud Black said. "That's a live left-handed arm. It really is. Live fastball, good slider and an occasional solid changeup. He's a good pitcher. We'll see him again. He'll be around for a while."
Even though Corbin only threw strikes 65 percent of the time, he still managed to work six innings, allowing four runs (three earned) on seven hits. D-backs manager Kirk Gibson didn't think the southpaw was missing the zone by much, just that the Padres were staying patient at the plate.
"I thought his stuff was pretty good, San Diego just did a really good job of making him work hard," Gibson said. "They laid off a lot of pitches that maybe the last game he got swings at. That's a tough group, good team."
The first two runs San Diego plated actually came rather innocuously. In the first inning, Chris Denorfia came around to score on a sacrifice bunt and an RBI groundout after reaching on a leadoff double. Three frames later, in the fourth, a bloop single from Kyle Blanks drove in Jedd Gyorko, who reached on an infield hit and advanced to second on a Corbin throwing error.
"They put together some good, long at-bats," Corbin said. "Even when I made pitches, they fouled them off or laid off them and got my pitch count up. They battled and were fighting a lot of pitches away. It gets you tired after a while and maybe you leave some pitches up."
The only loud blow to Corbin came in the fifth, when Carlos Quentin picked on an 89-mph fastball over the outer third of the plate and smacked it for a two-out, two-run homer into the left-field bleachers. The long ball marked the first time since May 4, also against the Padres, the southpaw has given up a home run.
"He really only made one big mistake, he usually stays out of the middle of the plate, but the thing about Patrick is he kept his composure," Gibson said. "He kept grinding it out and gave us six innings."
Needing help to stay in the game, Corbin received plenty of support from the Arizona lineup. Martin Prado led the charge for the D-backs, tying a career high with four hits, including a pair of doubles, one in the seventh inning that drove home Jason Kubel and proved to be the difference in the game. In tallying a combined seven hits over the last two games, Prado raised his batting average more than 20 points from .232 to .257.
"I'm feeling better, I'm seeing the pitches better," Prado said. "But the most important thing is I'm going up there and attacking, being aggressive."
Back in the first inning, Eric Chavez gave Arizona its first lead of the game when he hit his second two-run homer in as many days, this time off Padres starter Jason Marquis, who entered the game on a five-start winning streak.
"That's why he's hitting fourth," Gibson said. "His game plan today was to stay to the opposite field, and that's what he did. He's seeing it good, he's been big for us."
Following Corbin's departure, Brad Ziegler, Matt Reynolds and Heath Bell combined to close the door on the Padres over the final three innings to secure the win. In tossing a perfect ninth, Bell earned his seventh save in eight chances since taking over the closing duties after J.J. Putz got injured.
"Patrick isn't always going to have his 'A' stuff, so it was nice to go out there and win for him," Bell said. "We're a team here, we're not just relying on one person."
Tyler Emerick is an associate reporter for MLB.com. This story was not subject to the approval of Major League Baseball or its clubs.