Mariners walk off in 13 to snap eight-game slide
Bay delivers game winner after Ibanez's clutch homer in 11th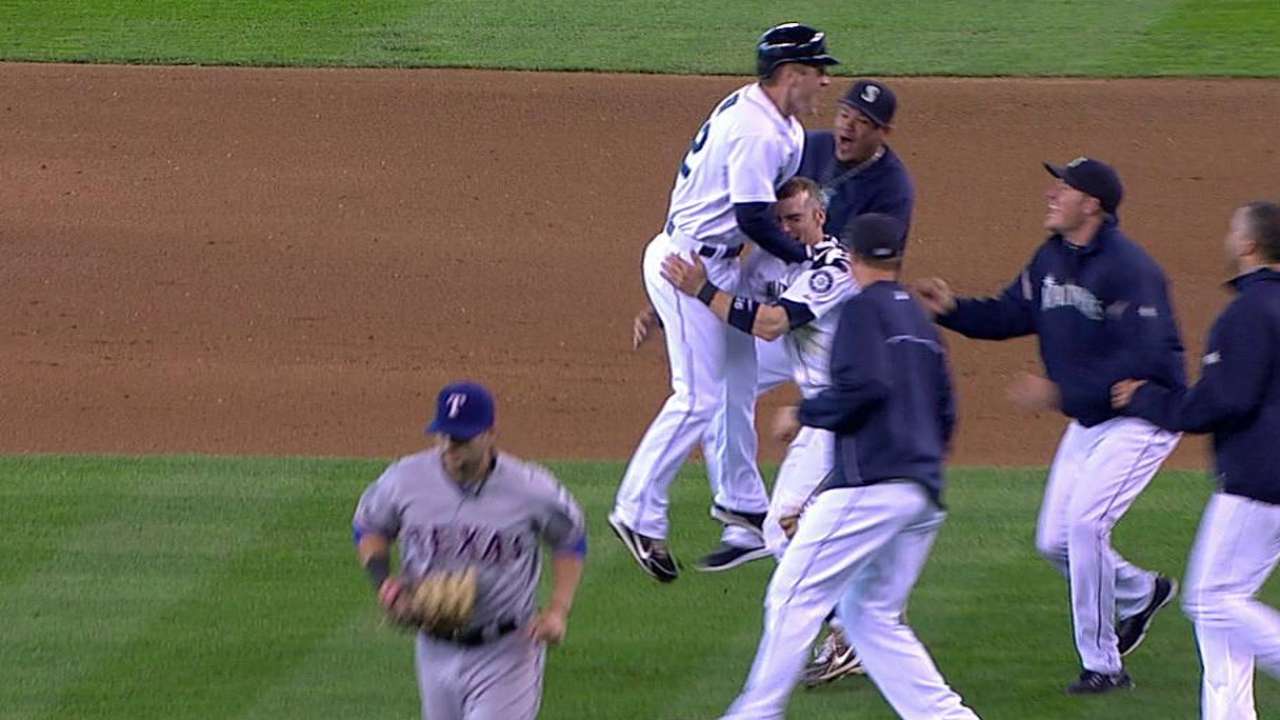 SEATTLE -- It took 13 innings and a walk-off single by Jason Bay, but the Mariners finally ended a season-high eight-game losing streak Sunday with a 4-3 win over the red-hot Rangers at Safeco Field.
The win was Seattle's first walk-off victory since Aug. 18 against the Twins and came at a welcome time for a club that was reeling a bit with its longest losing streak since 2011.
"It doesn't matter how many times you've done that, once or 500, having a walk-off hit -- whether it's a home run or a blooper -- it's pretty cool," Bay said after getting mobbed by his teammates. "A lot of that was kind of a big sigh from everybody and the urgency we had. Everybody was feeling it."
Kendrys Morales doubled with one out in the 13th, moved to third on a groundout by Carlos Triunfel and scored on Bay's two-out single off Ross Wolf.
Bay nearly won it in the bottom of the 11th after Raul Ibanez had retied the game with a leadoff home run. With two outs in that frame, Bay drove a deep shot to left that was caught at the top of the wall by David Murphy to keep the game going.
"That was one of those 'maybes' and this park doesn't usually reward the 'maybes,'" Bay said of his first shot at the game winner. "In all actuality, it was about where I thought it would land. I hoped to get a couple more feet, but just to get a chance to do it again and come through however, especially the way we've been playing, it feels great. Not just for me, but for everybody."
Bay's walk-off, the fifth of his career, came on a broken-bat blooper into left field. But that was exactly what the Mariners needed to end the four-hour, nine-minute game.
"The pitch broke his bat into 800 pieces, but that's good hitting," said Rangers catcher A.J. Pierzynski. "You don't always have to use the barrel."
The Mariners were just thrilled to pull out a win any way possible at this point.
"We've got a good group of guys," said manager Eric Wedge. "They're grinding and fighting and not giving into it. A lot of breaks have gone against us this week, we've got a lot of guys working to get where they need to get to to help us win ballgames. We've got a lot of things going on right now, but this is a great win for us. A great win."
Texas had pushed across the go-ahead run in the 11th when pinch-hitter Elvis Andrus singled leading off against Carter Capps, was sacrificed to second and scored on a base hit to left by Pierzynski off Oliver Perez.
The Mariners quickly retied the game at 3 when Ibanez homered on the first pitch from Rangers closer Joe Nathan.
"That's what he does," Wedge said. "He's one of the best clutch hitters in the game, as far as I'm concerned."
Ibanez now has seven home runs and 16 RBIs in his last 11 games, giving him nine homers and 22 RBIs on the season after a slow start. The 40-year-old said he was looking for a first-pitch fastball from Nathan and got one in a good spot.
"You just look for a good pitch to hit and try not to do too much with it and barrel it up," he said. "Fortunately I was able to get that pitch and get it airborne to right field and it worked out. This was definitely a huge win for us. We battled the whole time. Obviously with the circumstances of what had been going on, it was a huge game for us."
Hisashi Iwakuma held the Rangers to a pair of runs over eight innings and closer Tom Wilhelmsen pitched a perfect ninth and 10th for the Mariners as he lowered his ERA to 0.41, but neither figured in the decision.
The Mariners had only lost more than nine games in a row nine times in franchise history, the last being a club-record 17-game skid from July 6-26, 2011. They're now 21-29 heading into four games against the Padres in Interleague action.
The Rangers still own the best record in the American League at 32-18, which also is their best mark in club history at the 50-game mark.
Andrus walked leading off the 13th against reliever Yoervis Medina, moved to second on a sacrifice and stole third, but he was stranded there by the rookie right-hander, who picked up his first career win.
Seattle's offense struggled early against Rangers rookie Nick Tepesch, failing to reach base until the fourth inning and not denting home plate until Morales launched a two-run blast to tie the game in the sixth.
Morales, playing first base instead of designated hitter with Justin Smoak sidelined by a tight oblique muscle in his right side, went 3-for-6 with his sixth home run of the season as he increased his team-leading RBI total to 26.
Morales, acquired from the Angels for Jason Vargas over the offseason, is now hitting .293 on the season and .346 (28-for-81) with three home runs and 16 RBIs in May.
Iwakuma gave up a leadoff homer to highly touted rookie shortstop Jurickson Profar and the Rangers tacked on another run in the second on a sacrifice fly by Leonys Martin, but Iwakuma settled in after that and held Texas off the board for the next six frames.
"I had a strong feeling inside, needing to stop the losing streak," Iwakuma said through interpreter Antony Suzuki. "That was one thing that I had in mind. It wasn't an easy start to the game. The breaking pitches caught the fat part of the plate. We made a good adjustment after that. I was able to throw more fastballs from the third inning on."
With the no-decision, Iwakuma remains 5-1 with a 2.35 ERA. He continued his Safeco Field mastery as he has the lowest home ERA in the AL, having posted a 2-0 record and 1.37 ERA in his first five starts in Seattle this season.
Greg Johns is a reporter for MLB.com. Follow him on Twitter @GregJohnsMLB as well as his Mariners Musings blog. This story was not subject to the approval of Major League Baseball or its clubs.