Rangers fall in 13 after Nathan's first blown save
Closer unable to convert in 11th inning; Profar blasts leadoff HR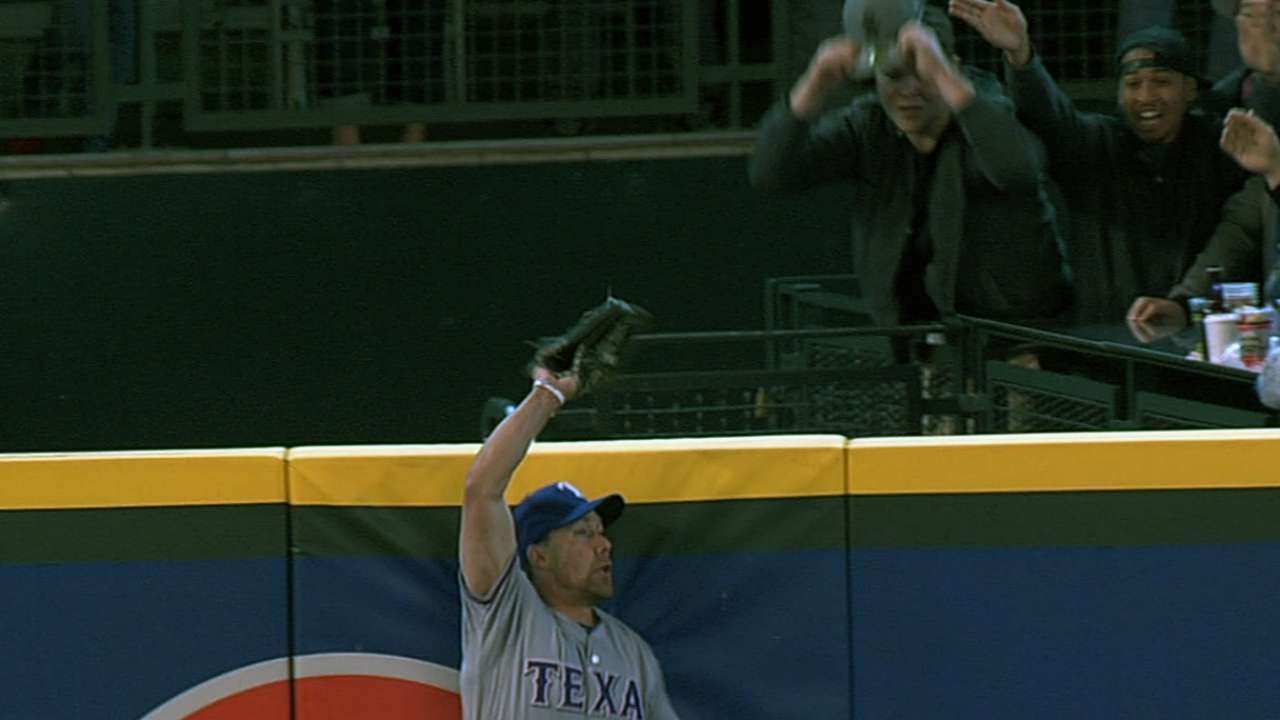 SEATTLE -- Those wonderful save streaks put together by Rangers closer Joe Nathan came crashing down on Sunday afternoon at Safeco Field.
One bad pitch brought an end to Nathan's streak of 16 consecutive saves to open the season and 36 successful saves on the road going back to 2011.
Nathan gave up a game-tying home run to Raul Ibanez in the 11th and then Jason Bay's broken-bat single in the 13th off reliever Ross Wolf drove home the winning run to give the Mariners a 4-3 victory at Safeco Field. The Rangers, missing out on a sweep of the Mariners, had a three-game winning streak snapped. The Mariners had an eight-game losing streak come to an end.
"Any loss, especially in extra innings, is difficult, but they took it from us," manager Ron Washington said.
The Rangers, on a pinch-hit, run-scoring single by catcher A.J. Pierzynski, had a 3-2 lead going into the bottom of the 11th and needed just three outs from Nathan. But Ibanez jumped on a first-pitch fastball that stayed up and in rather than down and away like Nathan wanted it. Ibanez hit it into the right-field seats for a game-tying home run.
"I just yanked a [sinker]," Nathan said. "Bad timing ... a mistake, one mistake. It just had to be the first pitch of the inning and he jumped on it. I was trying to go low and away, get him to roll it over. But I yanked it and got it in his happy zone."
The Mariners almost won it that inning. Nathan retired the next two hitters before Bay crushed one to deep left-center that David Murphy caught it at the top of the wall to end the inning. The Rangers' reprieve was only temporary.
Bay got his chance in the 13th after Kendry Morales doubled with one out to right-center off of reliever Michael Kirkman. Ross Wolf took over and got Carlos Triunfel on a dribbler in front of the mound, allowing Morales to go to third.
Bay then muscled a 92-mph sinker just over shortstop Elvis Andrus' head for the game-winning hit.
"Broke his bat into 800 pieces but that's still good hitting," Pierzynski said. "You don't always have to use the barrel."
"Sometimes you break your bat and fly out to 375 and nothing," Bay said. "Then you break your bat on a soft liner and it wins the game. It's a funny game."
Wolf was the last of seven relievers used behind starter Nick Tepesch. Joseph Ortiz was the only pitcher still standing in the bullpen at the end of the game. Now the Rangers have to sort through it all to see who will be available for Monday's doubleheader at Arizona.
Washington said he would like to stay away from Tanner Scheppers and Neal Cotts on Monday. Nathan has pitched in three straight games but said he should be available. Washington said he doesn't expect to make a roster move other than adding Martin Perez to start Game 1.
"We'll wake up tomorrow and see where we are," Washington said. "We'll be fine. We'll figure it out."
The Rangers let two leads get away on Sunday. Jurickson Profar, batting in the leadoff spot for the first time, put the Rangers ahead in the top of the first when he hit a 2-2 pitch deep into the right-field seats for a home run. Profar, at 20 years and 95 days, is the fifth youngest player in Major League history to lead off a game with a homer.
The Rangers made it 2-0 in the second against Mariners starter Hisashi Iwakuma when Nelson Cruz led off with a single, went to third on Mitch Moreland's double and scored on a sacrifice fly by Leonys Martin.
Tepesch, who retired the first nine hitters he faced, took a three-hit shutout into the sixth. But Kyle Seager led off with a double and Morales tied the game with a one-out, two-run home run. Tepesch struck out the next hitter but then Washington brought in Cotts to begin the procession of relievers.
"Overall my command was good today," Tepesch said. "Just that one pitch. I made a bad pitch to Morales right over the plate and he got it."
The Rangers were 1-for-6 with runners in scoring position and made a couple of costly outs on the basepaths against Iwakuma. Cruz, batting with one out in the fourth, crushed one off the wall in center but was thrown out trying to stretch it into a triple. Another strange play occurred when Cruz came to bat in the seventh.
This time Adrian Beltre was on second with nobody out when Cruz struck out on a slider in the dirt that catcher Jesus Sucre was able to keep in front of him. Beltre started for third and then stopped halfway as Sucre recovered the ball. Sucre was also jostling with Cruz, who had a right to run to first because the ball was in the dirt.
Sucre threw the ball to Seager at third and the Mariners were able to tag Beltre out in a rundown. Cruz was called out as well by home plate umpire Ed Hickox for interfering with Sucre on the play.
"You never know what might have happened ... Cruz misread one wrong and then Beltre just misread one wrong," Washington said. "But we had our chances to win the ballgame even through all of that. It was a tough ballgame."
T.R. Sullivan is a reporter for MLB.com. Read his blog, Postcards from Elysian Fields, and follow him on Twitter @Sullivan_Ranger. This story was not subject to the approval of Major League Baseball or its clubs.