Gallardo struggles in rubber game vs. Pirates
Right-hander logs just four innings in fourth consecutive loss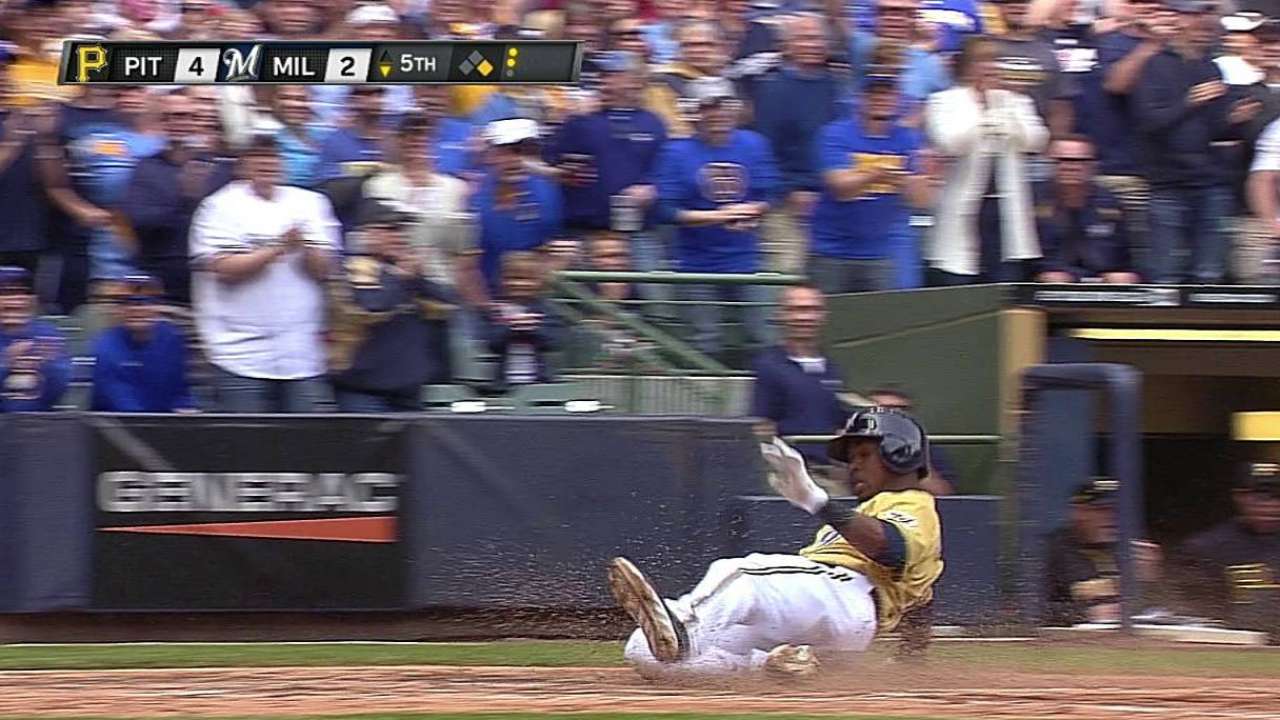 MILWUAKEE -- The Brewers called on ace Yovani Gallardo on Sunday to stop the bleeding of a rough month.
Gallardo couldn't provide much relief, though, as he lasted just four innings in another brief outing for a Milwaukee starter, and the Pirates held off the Brewers' bats late for a 5-4 win at Miller Park.
The Brewers took the opening game of the series on Friday before dropping the last two for their fifth consecutive series loss. Pittsburgh's win gave it just its fifth series victory in 27 tries at Miller Park in the last 10 seasons.
"It's definitely frustrating. I mean, I don't know how to explain it, really," Gallardo said after dropping his fourth consecutive start and falling to 3-5 on the season. "I felt good. I felt good last start, also, and I felt even better today."
Gallardo's line finished at four innings, five hits and four earned runs. He struck out seven but is currently on pace for 150 strikeouts in a 33-start season, which would snap his four-year streak of at least 200 K's.
Gallardo, who has not pitched into the seventh inning in May, threw 94 pitches, 54 for strikes, and his fastball topped 91 mph just twice.
"I know we're going to talk about the velocity again. But, I mean, velocity is not the issue," Gallardo said. "I'm sure if you ask any guy in here, I'm sure they would want to have 96 [mph] for the rest of their career."
Brewers manager Ron Roenicke thought his starter's stuff looked good, adding to the head-scratching dilemma of why the results are different than past years.
"It's surprising when I think he has good stuff, and he struggles to get through four innings like that," Roenicke said. "You make a little bit of progress, and then all of a sudden, it goes back. We've got to get him to where he's headed in the right direction, get him back to where we are comfortable and used to seeing him."
The loss dropped the Brewers to 5-18 in May, a month that has seen no back-to-back wins. Milwaukee has not won a series since taking two of three from the Pirates from April 29-May 1.
The Pirates jumped on Gallardo with a pair of two-out hits early in the game. Jordy Mercer put Pittsburgh up, 1-0, in the second inning with a triple, scoring Michael McKenry from first base. McKenry walked with two outs to start the rally. Pedro Alvarez then capped a three-run third by pulling a Gallardo changeup that hit the right-field line for a two-out, two-run double, extending the Pirates' lead to 4-0.
Pirates starter Wandy Rodriguez cruised through the first four innings, but the Brewers caught a break against him in the fifth.
With two outs and a 3-2 count, Jean Segura grounded a ball to the right side of the infield with runners on first and second base. Neil Walker would have been in perfect position to make the routine play, but he broke up the middle on the pitch and had to dive back to his left to make the stop. Segura beat the throw at first, loading the bases for Ryan Braun. Braun then delivered a liner down the left-field line three pitches later for a double, clearing the bases and rejuvenating the Miller Park crowd while cutting the Pittsburgh lead to 4-3.
"I didn't see the ball off the bat -- it was a breaking ball, so my first reaction was up the middle, by the time I saw the ball it was too late," Walker said. "I feel terrible for Wandy in that situation -- now he's got to face the best hitter in the league with two outs and the bases loaded."
But a similar break went the Pirates' way in the seventh inning when Braun stepped to the plate against Pittsburgh reliever Vin Mazzaro with two outs and runners on first and third. Segura broke for second base on the first pitch and Braun hit a sharp grounder up the middle right to Walker, who was covering the bag on Segura's steal attempt, ending the threat.
"Sometimes when things are going well, it seems like you get all the breaks," Braun said. "When things aren't going well, things don't go your way. One time it benefited us, the next time it cost us a run. It happens."
The Pirates added an insurance run in the sixth inning on a Starling Marte sacrifice fly, while the Brewers cut the deficit to 5-4 on a Carlos Gomez sac fly in the eighth. But Pittsburgh closer Jason Grilli went three up, three down in the ninth to nail down his 20th save.
"We all know we're a lot better than what we're playing right now," Gallardo said. "For the team, it's frustrating. It just seems that we can't get things together."
Donovan Hand made his Major League debut for the Brewers, relieving Gallardo in the fifth inning and tossing two innings, allowing three hits and one run while striking out three. Hand made it to the ballpark at 11 a.m. CT after leaving Nashville, Tenn., where he had been pitching for Milwaukee's Triple-A team, at 7 a.m.
Kevin Massoth is an associate reporter for MLB.com. This story was not subject to the approval of Major League Baseball or its clubs.