Scherzer continues dominance vs. Twins
Detroit starter backed by Hunter's HR, Garcia's bases-clearing triple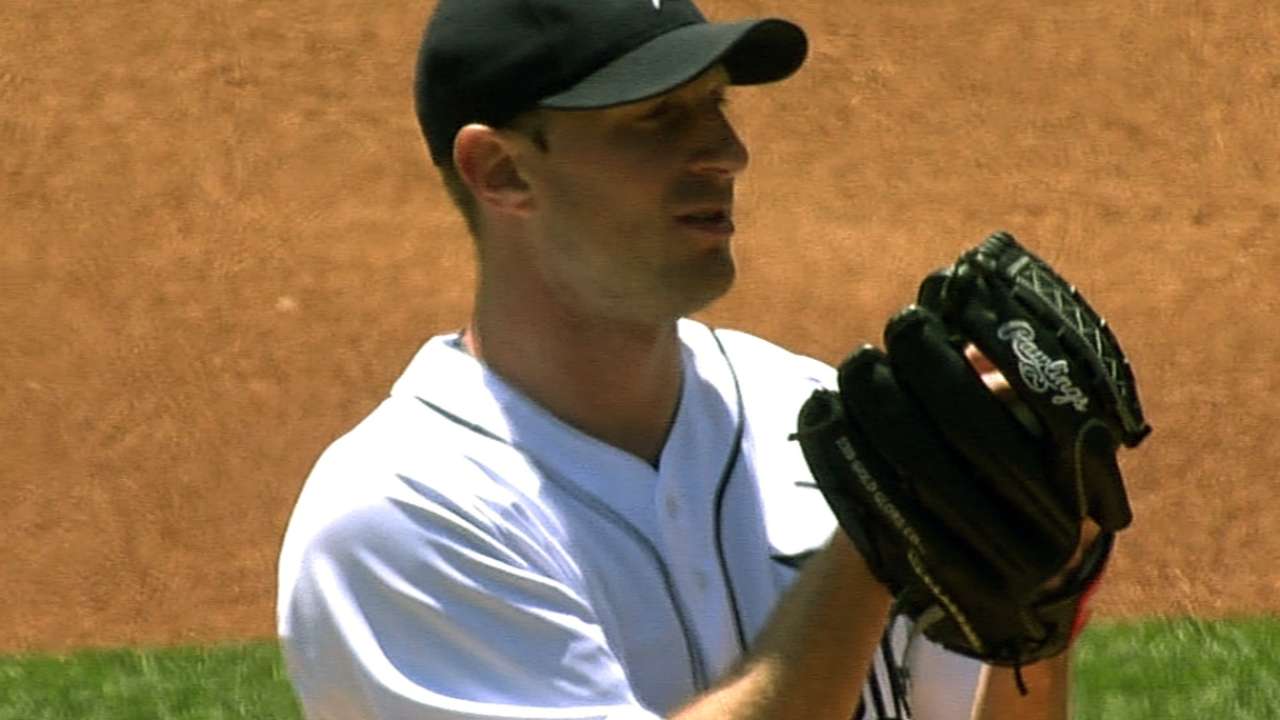 DETROIT -- Max Scherzer does not get a no-hitter for his 10 hitless innings over two starts. Thirty-eight batters between hits and 25 batters between baserunners does not put anybody into history unless it is timed right.
Seven wins and no losses by Memorial Day, however, could put Scherzer into All-Star consideration. It puts him on a pace where a 20-win season looks feasible; his next win would put him halfway toward his career high of 16 wins last year.
At the very least, it puts him into consideration as the Tigers pitcher opponents least want to face right now.
It is more than a month away from player balloting, which determines the bulk of the All-Star pitching staffs, but Sunday's 6-1 Tigers win over the Twins was the latest example of what Scherzer has going for him.
"This guy's a really good pitcher," manager Jim Leyland said. "I mean, when he gets that arm slot going, he's got a pretty good repertoire."
While the Tigers ensured a series victory, taking three out of four, Scherzer became the first Tigers starter to go 7-0 to begin a season since Jeremy Bonderman in 2007.
He has had fast starts in the past, such as the 6-0 record he sported by mid-May in 2011. This year feels different, for good reason.
He has given up fewer hits and walks with more strikeouts through 10 starts this season than he did over the same stretch two years ago. His pitching, while always nasty, has polish to it now. It is a more well-rounded game.
It is more than repertoire, though. He has had nasty pitches ever since he arrived in Detroit but has had to build the consistency. He would lose command and spend the rest of his game struggling to find it.
"He still loses it here and there," catcher Alex Avila said. "The thing is, he's able to make the adjustment quicker rather than making it after the start or from start to start. It's more of an in-game adjustment."
His latest stretch of dominance lasted so long that it is difficult to remember the last time he had to get out of a jam. It was the first inning Tuesday in Cleveland, when two singles and a sacrifice fly put a run across. He retired his next 22 hitters from there.
Once Scherzer retired the top of the Twins' lineup in order in the opening frame, he had a chance to put together nine perfect innings, maybe even threaten Shelby Miller's MLB season high of 29 consecutive outs. Back-to-back walks later, he was trying to escape a second-inning jam.
"I was in a groove," Scherzer said. "I hate that I walked [Justin] Morneau to lead off, and I hate even more that I walked [Ryan] Doumit. I'm always a guy that wants to put the hitters in a defensive mode and always be on the attack. And I hate giving free passes in those types of situations."
Ramon Santiago's drop on a potential double-play grounder took Scherzer from the end of the inning to a bases-loaded, one-out jam instead. The bottom of Minnesota's lineup was no match for him.
"It was unfortunate that it happened," Scherzer said, "but I also thought I made some big pitches to be able get out of that second inning."
With mid-90s fastballs, Scherzer overpowered Aaron Hicks into a flyout to shallow center and moved ahead on Florimon. With a change of speeds, he finished Florimon for a called third strike.
"He hangs in there," Twins manager Ron Gardenhire said of Scherzer. "His ball moves a lot, and he has a great changeup and breaking ball and can pump his fastball up there at 94 mph. And he stays around the knees and doesn't elevate."
By the time Scherzer allowed a hit, a line-drive single from Chris Parmelee, he was two outs into the fourth.
"The way he's pitched, that's really impressive," Avila said. "Especially against Cleveland's lineup with the guys that they have here in the middle of the [Twins] lineup, that's not an easy feat. That just shows what kind of stuff he has.
"When he's able to locate, he's going to be almost untouchable. He can get away with mistakes because his stuff's so good."
At that point, Scherzer was protecting a 1-0 lead built on Torii Hunter's first home run since April 13, ending the third-longest homerless stretch of Hunter's career. Once Miguel Cabrera walked and scored on Prince Fielder's double in the bottom of the fourth, Scherzer had a bigger cushion on Twins starter Mike Pelfrey (3-5).
The RBI continued Fielder's penchant for punishing pitchers who give Cabrera a pass. He is 6-for-6 with eight RBIs over the last six games in at-bats following a Cabrera walk.
Cabrera's one-out single in the sixth stretched his hitting streak to 12 and sparked the rally that would put the game away. Avila's first run-scoring hit since May 10 -- and just his second hit overall in that stretch -- was a two-out blooper that fell in short left field, just out of the reach of Florimon at shortstop.
"Joe West was joking with me, asking me if I wanted to get the ball, keep it as a souvenir," Avila said of the second-base umpire.
After Casey Fien's walk to Omar Infante loaded the bases, Gardenhire brought in left-hander Caleb Thielbar to face Don Kelly. On came pinch-hitter Avisail Garcia, who worked out of an 0-2 count and drove a 2-2 fastball to the fence in left-center to clear the bases.
As great as his pinch-hit RBI was in last year's American League Championship Series, this was about as special. It was the first pinch-hit, three-run triple by a Tiger in 32 years -- Rick Leach did it against the Orioles on Sept. 29, 1981.
"It's pretty amazing," Garcia said. "That's the first time I got that feeling. Bases loaded, and then I hit the triple."
Jason Beck is a reporter for MLB.com. Read Beck's Blog and follow him on Twitter @beckjason. This story was not subject to the approval of Major League Baseball or its clubs.