Kozma gets four hits as Cards beat Kershaw
Shortstop drives in three, scores twice; Miller allows three runs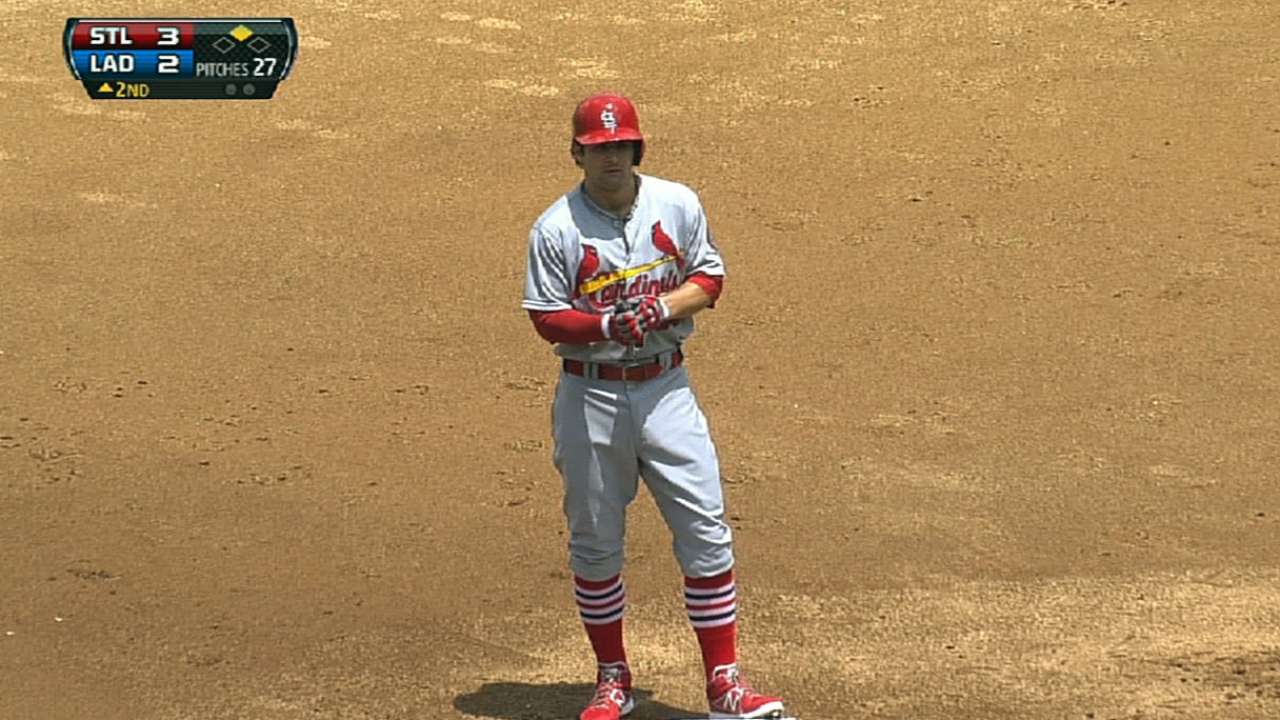 LOS ANGELES -- Pete Kozma thought he had a game-changing hit with the bases loaded on Saturday, only to watch third baseman Nick Punto make a diving stop to keep the ball in the infield and the Cardinals from taking the lead.
Kozma would not be similarly contained a day later.
The Cardinals shortstop drove home the club's first three runs off Clayton Kershaw before hustling on a pair of hits to score the go-ahead run in the seventh and an insurance run in the ninth. Backed up by stingy relief pitching, that output was enough to lift the Cardinals to a 5-3 win over the Dodgers in front of 43,244 at Dodger Stadium.
"We have had a tough time here," said manager Mike Matheny, whose club went 2-5 at Dodger Stadium last year. "You look at that lineup and it's stacked. And when you have a pitcher like Kershaw on the mound, you have to come in and have all the intensity you can have. "
Kozma, along with the Cardinals' bullpen, stole the spotlight on an afternoon that was projected to feature a pitchers' duel between Kershaw and Cardinals up-and-coming rookie Shelby Miller. Instead, Kershaw, who had not allowed more than one earned run in any of his last five starts, took the loss while giving up four. Miller lasted only 5 1/3 innings.
Kozma finished the day with four hits, three coming off Kershaw. With the Cardinals trailing, 2-0, in the second, Kozma laced a sharp line drive down the third-base line. This time it was not snagged by the third baseman, and three runs scored on the bases-loaded double.
"If they have Punto playing third, I probably only get one hit today," Kozma joked afterward. "[Kershaw] is a great pitcher, but he's going to come out and throw strikes. We [had] to come out ready to swing the bat."
After the Dodgers evened the game at 3-3, Kozma opened the seventh with a hit that shortstop Dee Gordon couldn't glove on a diving attempt. Kozma, running hard out the box, reached second safely. Two batters later, Matt Carpenter's single clipped the glove of leaping first baseman Adrian Gonzalez.
Though the ball did not scoot far away from Gonzalez, Kozma never slowed as he rounded third. He scored without a play for a 4-3 lead.
"A lot of guys aren't going to score on that, because they take a hesitation step one way or another," Matheny said. "He never slows down. That ended up being the deciding part of the game."
The Cardinals' bullpen stood firm as the Dodgers threatened to make that lead dissolve. Seth Maness bailed out Miller in the sixth by getting Kershaw to ground into an inning-ending, bases-loaded double play. It was the sixth double play induced by Maness in 11 1/3 innings.
"I've just been fortunate here, trying to keep the sinker down," said Maness, who did not record a double play in the 26 Triple-A innings he pitched before his late-April promotion. "Right place, right time."
Afterward, Dodgers manager Don Mattingly defended his decision to let Kershaw bat for himself in that spot. Kershaw had beaten out an infield single earlier in the afternoon.
"There's still one-third of the game left," Mattingly said. "We used our bullpen yesterday, and I thought he'd put the ball in play, and not [that] he'd hit into a double play."
The Dodgers loaded the bases again in the seventh. Trevor Rosenthal followed with seven straight fastballs as he struck out A.J. Ellis and Skip Schumaker.
"I was trying to make good pitches down in the zone, get ahead and not get too crazy in that situation," Rosenthal said. "It's a big situation."
"Trevor coming into those big situations, he sometimes makes even better pitches in those," added Matheny. "That's something you don't always expect from young pitchers."
Rosenthal covered the eighth, too, getting pinch-hitter Matt Kemp to end that inning by grounding into a double play. Edward Mujica cruised through the ninth for his 14th save.
By then, the Cardinals had tacked on an insurance run, again with Kozma in the middle of the havoc. He led off the ninth with his third double of the game and moved to third on a productive out by Ty Wigginton. Matheny -- despite having Carlos Beltran lobbying him to let him bat -- then stuck with pinch-hitter Matt Adams against lefty Paco Rodriguez.
Adams rewarded his manager's faith with an RBI single.
"He's not just a left-handed bat off the bench," Matheny said. "He's going to work himself into being an impact bat in a big lineup. I don't think you're going to be pulling him out of games against tough lefties. For a young guy, he has a mature approach to the game."
Beltran had not started the game due to left shoulder soreness.
Miller battled pitch count problems again, resulting in another early exit. Since pitching a complete game on May 10, Miller has not finished six innings in three straight starts. Fastball command -- not so much foul balls -- pushed his pitch count up on Sunday.
Gonzalez gave Miller most of the trouble. After driving in three runs on Saturday, Gonzalez took Miller deep for a two-run home run in the first inning. In the fifth, Gonzalez's two-out, RBI single evened the game at 3-3.
Miller faced two batters in the sixth before he was pulled from the 105-pitch effort. Afterward, Miller described his start as "average."
"I don't think my fastball was as good as it had been earlier on [in the season]," Miller said. "But I'll get it back to normal in the bullpen [session before the next start]. I feel just a little off, but not much. Hopefully I can get that taken care of."
With the win, the Cardinals still have not lost a series since dropping one to the Pirates from April 26-28. The club has not lost back-to-back games since then, either.
Jenifer Langosch is a reporter for MLB.com. Read her blog, By Gosh, It's Langosch, and follow her on Twitter @LangoschMLB. This story was not subject to the approval of Major League Baseball or its clubs.