Big sixth costs Pelfrey as Twins fall to Tigers
Bases-clearing triple caps Detroit's offensive outburst in series finale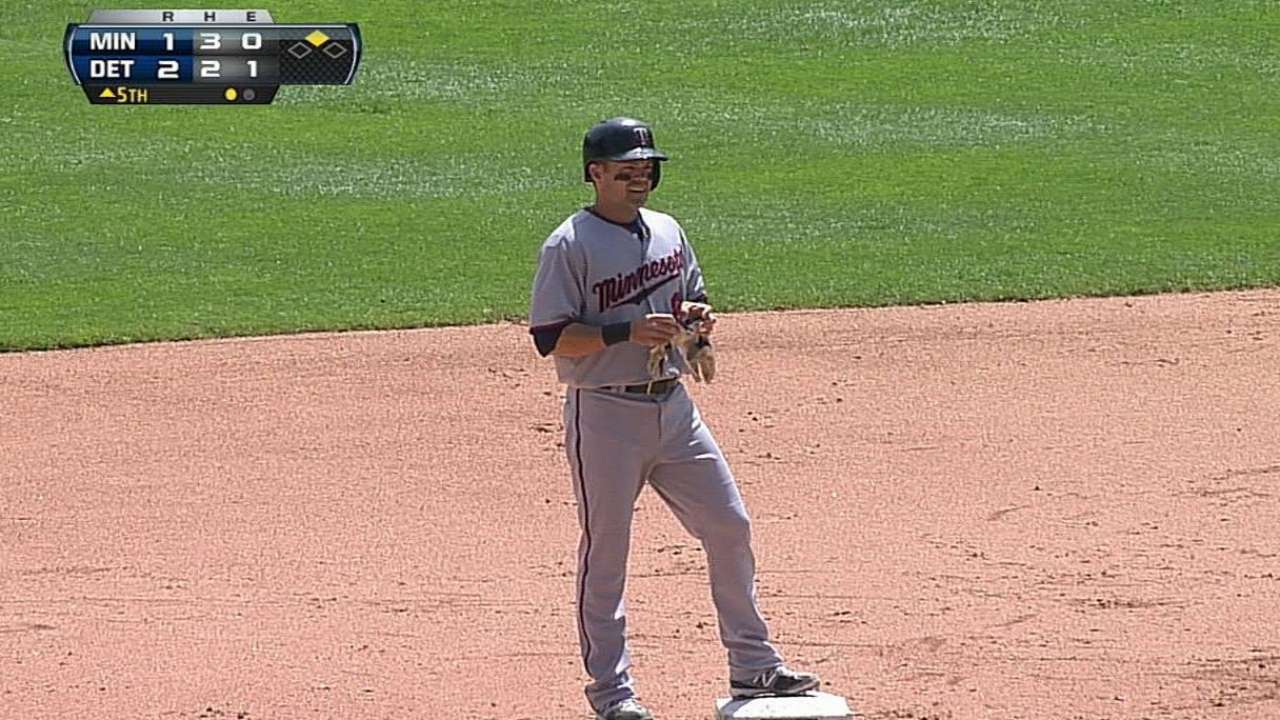 DETROIT -- It has been a forgettable road stretch for the struggling Twins so far.
It has featured two players sent to the seven-day concussion list -- third baseman Trevor Plouffe and outfielder Wilkin Ramirez -- as well as the club's Opening Day starter, Vance Worley, and highly touted outfielder Oswaldo Arcia being optioned to Triple-A Rochester.
And to top it all off, the Twins have just one win in seven games so far on their nine-game trip that concludes with two games in Milwaukee.
It was another defeat for the Twins on Sunday, as Mike Pelfrey could not get through six innings, and the offense was held in check by right-hander Max Scherzer in a 6-1 loss to Detroit at Comerica Park. It was the Twins' 11th loss over their last 12 games.
"It was a game where we were in there for a long time, but you don't win many when you only get three hits and score one run," Twins manager Ron Gardenhire said. "Pelfrey made some good pitches early but just couldn't finish them off, and all of a sudden it's 6-1. But Pelfrey deserved a better linescore than that."
Pelfrey pitched well early but ended up giving up five runs on five hits and three walks over 5 2/3 innings to mark the eighth time in 10 starts he has failed to go at least six innings. The right-hander fell to 3-5 with a 6.85 ERA with the loss.
"I don't think I've come close to going as deep as I'd like in games," Pelfrey said. "And that's on me more than anybody."
He gave up a solo shot to Torii Hunter in the first inning but settled down until allowing an RBI double to Prince Fielder after Miguel Cabrera led off the fourth inning with a walk.
Detroit broke it open in the sixth, as Cabrera singled with one out before Victor Martinez added a two-out single to left field. Pelfrey then induced a pop fly from Alex Avila, but it dropped just past the reach of Pedro Florimon in short left field for an RBI bloop single.
"I thought I made a decent pitch," Pelfrey said. "It was inside and got the guy to pop up to the opposite field. But he fought it off and was strong enough to get it in there."
Pelfrey was removed for right-hander Casey Fien, who promptly walked Omar Infante to load the bases. Rookie left-hander Caleb Thielbar, making his third career appearance, came on in relief of Fien and gave up a bases-clearing triple to pinch-hitter Avisail Garcia on a 2-2 curveball. Two of those runs were charged to Pelfrey, with Fien getting the third for walking Infante.
"We were hoping [Pelfrey] could get through the inning," Gardenhire said. "He jammed Avila and he blooped one out there and it knocks him out. Casey didn't compete with the next guy, and the kid hung a breaking ball."
The Twins' offense was mostly quiet on the afternoon, as Minnesota did not get a hit off Scherzer until Chris Parmelee singled to left with two outs in the fourth. But the Twins did load the bases with one out in the second after two walks and an error from shortstop Ramon Santiago, but Aaron Hicks and Florimon failed to come through.
Minnesota finally got on the board in the fifth, when Florimon doubled down the right-field line and scored on a single from Jamey Carroll, who reached second on the throw home. But he was stranded there, as Joe Mauer struck out and Josh Willingham grounded out to end the inning.
It was the lone run the Twins scored against Scherzer, who gave up just three hits and three walks over six innings with six strikeouts to improve to 7-0 with a 3.42 ERA.
"I've got a curveball now," Scherzer said. "That's my big thing. For me, that pitch has really grown for me. I thought today was another test with it. I'd faced Minnesota a few starts ago and really pitched with it well then, so obviously they knew about it coming into today's start. And to still have success with that pitch against that lineup, it shows that pitch is very good."
Rhett Bollinger is a reporter for MLB.com. Read his blog, Bollinger Beat, and follow him on Twitter @RhettBollinger. This story was not subject to the approval of Major League Baseball or its clubs.