Series finale turns sour, but Cubs beat Reds in extras
Garza, lifted after four frames, is angered by Cueto's 'disrespect'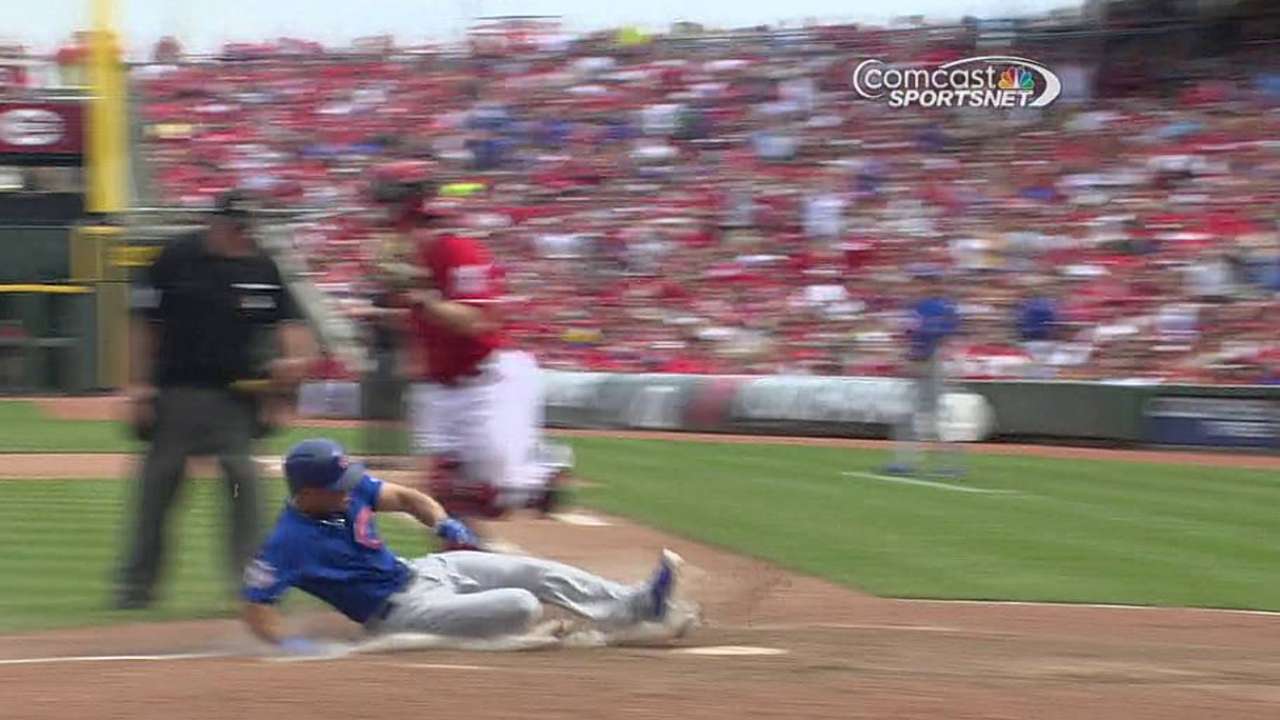 CINCINNATI -- The Cubs were going to let Matt Garza go longer on Sunday than the 80-pitch limit imposed in his first start. He went long enough to get angry.
Welington Castillo hit a game-winning RBI double with two outs in the 10th inning Sunday to power the Cubs to a 5-4 victory over the Reds and snap a six-game losing streak. A Beach Boys concert was planned for after the game on the field. Garza provided the fireworks in the Cubs' clubhouse.
There was some friction in the Cubs' sixth as Johnny Cueto threw a ball over David DeJesus' head. Cueto seemed to take exception to DeJesus stepping out of the batter's box in the first. Home-plate umpire Bob Davidson issued a warning to both benches.
Garza took exception to Cueto's actions.
"Cueto should learn, you don't go after guy's heads," he said. "Don't wake a sleeping dog. I think that's kind of immature on his part and totally uncalled for. He's lucky that retaliation isn't in our vocabulary. You play each game like it's a new one. That's [nonsense] on his part -- just total immaturity. If he has something to say about it, he knows where to find my locker, and I'll definitely find his.
"I took total disrespect out of that," Garza said. "[DeJesus] has never done anything wrong. He just plays the game the right way. If Cueto has any problem, he can throw at me, and I'll definitely return the favor. I didn't like that one bit. We don't retaliate. We take it game by game. Hopefully, he learns to grow the [heck] up. That's totally uncalled for."
Garza wanted to make sure Cueto got the message.
"I hope he hears this, because I really don't care," Garza said. "If we want to retaliate, we could've and lost a bullpen guy but we don't need that. We play the game the right way. We'll take our lumps when we take them and hand them out when we hand them out. I think we responded well to the warning and just play the game well."
There's no history between Garza and Cueto.
"I just didn't like what he did," Garza said. "I don't know what happened, but the guy is an always down-in-the-zone guy and he threw into the arm-side-away box and that takes effort. As a pitcher, that takes a lot of effort. I don't know what the deal is between him and [DeJesus], but he needs to cut it out, because I'll stop it. I'll stop it. And that's just the way it goes. He wants to do it like that, so be it."
Garza said his message could be a warning or nonsense -- he wasn't sure how Cueto would take it.
Cueto was not available after the game.
"If the game was played that way, I don't like it like that," Garza said. "You don't go intently and try to injure somebody. Hopefully, the league looks at that. I don't want him to get suspended or anything. I just want him to learn a lesson. Hopefully, his players will warn him. It is what it is -- they run their own show. We'll see him again down the line."
Davidson told Cubs manager Dale Sveum that he didn't feel Cueto was trying to hit DeJesus, but was just miffed at how long the outfielder took in the box.
"I think he was just goofing around throwing up over his head," Sveum said. "I said, 'Why don't you throw him out of the game then?' [Davidson] said he knew [Cueto] wasn't trying to hit him.
"It probably woke us up as much as anything," Sveum said. "It woke our dugout up."
Back to the game. With the game tied at 4 and two outs in the 10th, J.J. Hoover walked Scott Hairston. Castillo then hit the ball along the left-field line and into the corner to score Hairston.
The Cubs had a runner at third with two outs in the ninth after Darwin Barney doubled to lead off, but he was stranded as Hoover got Ryan Sweeney to line out, DeJesus to ground out, and Starlin Castro to strike out. Cincinnati had two on and two outs in their half against Kyuji Fujikawa, who had to leave the game. Kevin Gregg got Brandon Phillips to fly out and end the inning.
Fujikawa had been on the disabled list earlier this season with a strained right forearm, and Sveum said it could be the same type of injury. The reliever felt it on the first pitch to Joey Votto.
The Cubs' bullpen is already strained with Shawn Camp on the disabled list. Expect a roster move Monday.
"It was an awesome team win," Garza said. "I don't think there was a guy left on the bench who was eligible except the guys in our starting rotation. It was a great team win, and I look forward to more of these. It wasn't a great outing for myself, but these guys shut the door."
"A four-run deficit against that team, to come back -- we got some big hits," Sveum said. "Guys had some good at-bats late again."
Sveum said the players seem to be more aggressive in the later innings. Hopefully, they can get into that mode earlier.
Garza may have delivered a strike in his message to Cueto. He's still working on his command on the mound.
"There was no command of anything," Sveum said. "Once again, when he was in the strike zone, it was foul ball after foul ball, and he got his pitch count up and got tired there."
Sveum said before the game that Garza, sidelined since Spring Training because of a strained left lat, would be allowed to throw 110 pitches as long as he didn't have any stressful innings. But Garza had a stressful fourth.
He needed 26 pitches to get through the first. With one out in the fourth, Jay Bruce hit an 0-1 pitch for his seventh home run. Garza then plunked Todd Frazier with a pitch and was visibly upset, slamming his right hand into his glove. He walked Xavier Paul, and Ryan Hanigan lofted a ball to straightaway center over a diving DeJesus. Frazier scored on the single, which could've been a double, but Paul hesitated. He and Hanigan did move up on a wild pitch that barely left the batters box, which Castillo lost.
One out later, Shin-Soo Choo was intentionally walked and Zack Cozart followed with a two-run double to open a 4-0 lead. Garza faced nine batters that inning, and was then lifted. He gave up four runs on four hits and four walks over four innings.
Cueto was also making his second start since being activated from the disabled list, and he did not give up a hit until Castro doubled with one out in the fourth.
Luis Valbuena hit an RBI single in the seventh off Cueto to make it 4-1. That was Cueto's last inning, and the Cubs took advantage in the eighth. With two outs against Logan Ondrusek, Castro singled, moved up on a wild pitch and scored on Anthony Rizzo's double. Alfonso Soriano then launched his fifth home run and first since May 13 into the left field bleachers to tie the game at 4.
Carrie Muskat is a reporter for MLB.com. She writes a blog, Muskat Ramblings, and you can follow her on Twitter @CarrieMuskat. This story was not subject to the approval of Major League Baseball or its clubs.