O'Neill, nephew of Yanks star, drafted by Bombers
O'Neill, nephew of Yanks star, drafted by Bombers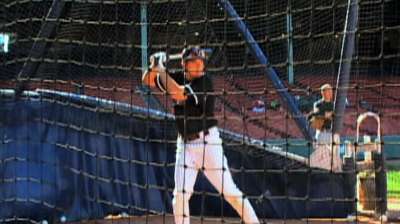 Paul O'Neill's nephew sure knows how to hit. In a few years, he might get the chance to do it for his uncle's old team.
The Yankees drafted Michigan outfielder Michael O'Neill -- the nephew of the former Major Leaguer and current YES Network broadcaster -- with the 103rd pick in the First-Year Player Draft on Friday.
"Congrats to my nephew Michael O'Neill," Paul O'Neill said on Twitter. "Drafted by the Yankees today!!!"
Congrats to my nephew Michael O'Neill... Drafted by the Yankees today!!!

- Paul O'Neill (@PaulONeillYES) June 7, 2013
O'Neill batted .329 with 11 doubles, six home runs and 30 RBIs this season for the Wolverines. The younger O'Neill, who turns 21 on June 12, makes consistent hard contact and sprays line drives to all fields.
Nicknamed the "Laser Show" by Michigan head coach Erik Bakich, O'Neill has mostly doubles power, with some room to add strength at 6-foot-1, 195 pounds. He should be a solid defender, but he isn't quite fast enough to be a center fielder and doesn't yet possess enough power to fit in at the corners.
O'Neill has proven to be an adept base stealer, going 19-for-24 in steal attempts this season. The Yankees previously drafted O'Neill in the 42nd round of the 2010 Draft, but he opted to go to college.
O'Neill wasn't the Yankees' only addition of the day, though. New York made six more selections on Friday, adding a talented group of players to their farm system.
The Yankees added an outfielder to pair with O'Neill and first-round pick Aaron Judge in the eighth round, selecting speedy Georgia Tech center fielder Brandon Thomas. They also shored up the middle of their infield, adding a pair of talented defenders in third-round pick Tyler Wade, a shortstop out of Murrieta Valley High School and sixth-round pick John Murphy out of Sacred Heart University.
New York also picked up an experienced quartet of college arms. The Yankees selected four pitchers on Day 2, all players who pitched in college this season. They started with Howard College's David Palladino in the fifth round, added LSU reliever Nick Rumbelow in the seventh, and closed the day with the selections of Auburn hurler Conner Kendrick in the ninth and South Carolina closer Tyler Webb in the 10th.
Day 3 of the Draft continues with Rounds 11-40 streamed live on MLB.com on Saturday, starting at 1 p.m. ET.
MLB.com's coverage includes Draft Central, the Top 100 Draft Prospects list and Draft Tracker, a live interactive application that includes a searchable database of Draft-eligible players. You can also keep up to date by following @MLBDraft on Twitter. And get into the Draft conversation by tagging your tweets with #mlbdraft.
Josh Vitale is an associate reporter for MLB.com. This story was not subject to the approval of Major League Baseball or its clubs.