Ellsbury caps dramatic rally with walk-off double
Facing three-run deficit in ninth, resilient Sox storm back, stun Tribe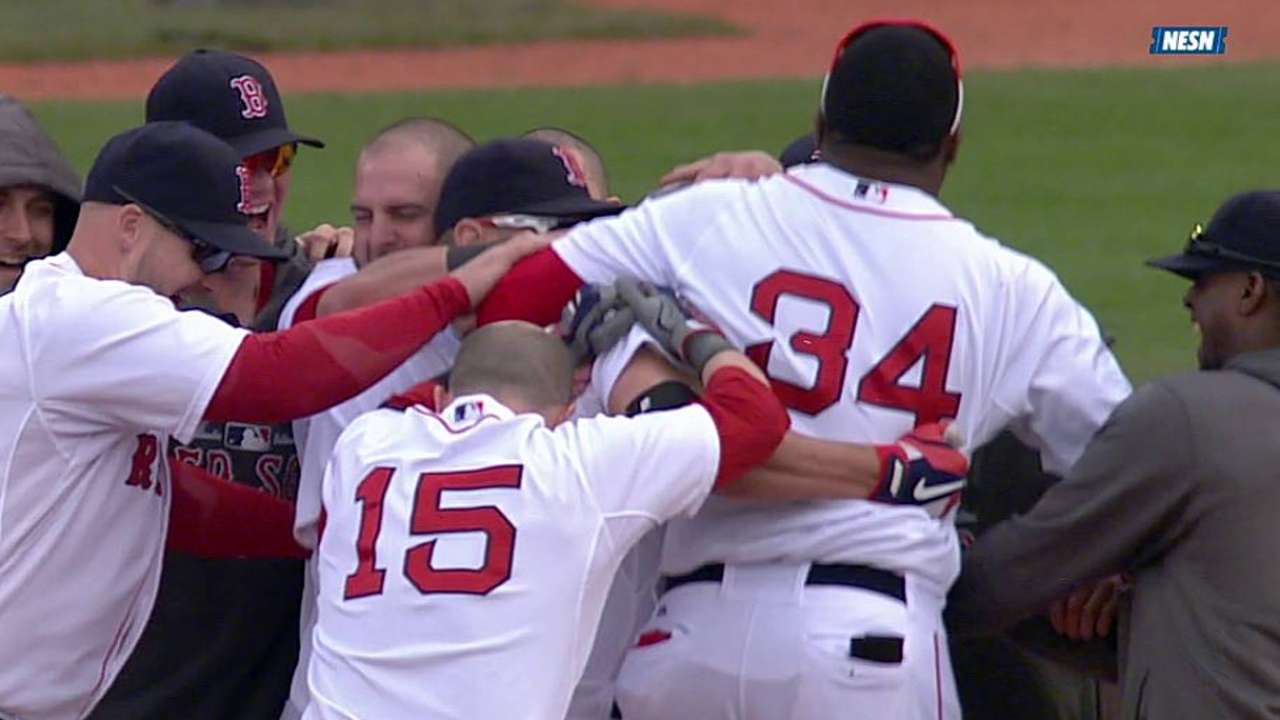 BOSTON -- By the end of the wild comeback, Fenway Park was in an absolute frenzy. The sellout crowd roared at what they had just witnessed on Sunday afternoon.
Meanwhile, the Red Sox sprinted out of the dugout to corral Jacoby Ellsbury, who had just belted a walk-off two-run double with two outs in the bottom of the ninth inning to lift his team to an improbable 6-5 victory over the Indians.
When Stephen Drew raced home for the run that ended the game, it was the first time Boston led all day.
Boston trailed, 5-1, in the eighth. By the time they Sox came to the plate in the ninth, they were down 5-2.
That marked the largest walk-off inning at Fenway since the Mother's Day Miracle on May 13, 2007, when the Sox came from 5-0 down against the Orioles.
"We just have that no-quit attitude," said Ellsbury. "We saw the opportunity and I was just happy to come up big for our team."
This was more than just a win for manager John Farrell's team. It was the latest sign that Boston's 2013 edition never seems to be out of a game.
In the other dugout, Indians manager Terry Francona could probably relate. His best teams in Boston had the same trait.
On May 16 at Tropicana Field, the Red Sox were one strike away from defeat, and Will Middlebrooks clocked a three-run double in the top of the ninth. Just 24 hours before Sunday's thriller, Boston had come back from a 4-3 deficit by scoring four in the eighth.
Sunday's ninth started with a series of strong at-bats against Indians closer Chris Perez, who left the game in the middle of Ellsbury's at-bat with a right shoulder injury.
"I think the biggest thing is that we didn't abandon the plan," said Farrell. "We continued to stay with, I think, a pretty strict strike zone. Perez threw a number of quality pitches that were just off the edge. This team loves to compete. Until that 27th out is recorded, this team doesn't roll over by any means."
The Red Sox moved to 31-20 with the victory and are tied with the Yankees for first place in the American League East.
Dustin Pedroia, who seems to spark just about everything in the Red Sox's universe, opened the ninth with a six-pitch walk. Up stepped David Ortiz, who belted a double over the head of Indians center fielder Michael Bourn.
That brought the tying run to the plate, and a sense of excitement in the dugout.
"I think we felt like we had life in the ninth inning," said Farrell. "But when David hits the double, it certainly elevated it by a notch or two."
"Is that right?" said Ortiz, when Farrell's words were relayed to him. "Well, I was running -- I couldn't see that. But yeah man, we've got an exciting ballclub. Everybody was on top of their toes. Everybody was pushing for each other and trying to make things happen, which was the result."
Pedroia scored on a grounder to short by Mike Napoli. Ortiz stole third for the second time this week, and then scored on a fielder's choice grounder by Jarrod Saltalamacchia.
Jonny Gomes kept hope alive with a walk. Drew -- who gave Boston some life with a leadoff triple in the eighth -- drilled a single to right and Gomes raced to third.
Drew stole second, putting the potential winning run in scoring position.
Jose Iglesias, who isn't known for his plate discipline, drew a gritty walk on a 3-2 count.
"That was the game right there," said Ortiz. "That at-bat was unbelievable. He fouled off some nasty pitches. He stuck with his plan."
Ellsbury worked the count to 2-1 on Perez, and the right-hander suddenly had to come out with that injury.
Joe Smith was thrust into a tough spot and Ellsbury shortened his swing and ripped his first pitch into the gap in left-center. It one-hopped the scoreboard in left-center to end the game.
"They're very different pitchers," said Ellsbury. "You have a few less pitches to make an adjustment or work the count. It's a different scenario than I've ever been a part of. I figured he's trying to throw a strike -- I'm trying to hit something hard."
Ellsbury also beat Smith with a walk-off homer on Aug. 3, 2011. Francona was managing the Red Sox that night.
Being on the other side of a walk-off game at Fenway wasn't much fun.
"That's a tough duty," Francona said of Smith. "A 2-1 count, you've got to throw a strike. He did, and to Ellsbury's credit, he put the barrel on it and we've got to go regroup."
For the Red Sox, it was the third win in the four-game series against Francona's Tribe.
Felix Doubront held his own for Boston, giving up five hits and four runs (two earned) over six innings, walking two and striking out eight.
Indians starter Corey Kluber was magnificent, walking one and striking out 10. The right-hander gave up three hits and a run over 6 1/3 innings.
Doubront ran into trouble in the first. Bourn led off with a single. Jason Kipnis followed with what looked like a flyout to center. But Drew went back on the ball and got in Ellsbury's path. Ellsbury dropped the ball and was charged with an error.
"It hit right in my pocket. It just popped out," said Ellsbury. "I saw him out of my peripheral. I did a little hop to get out of the way a little bit. It was just unfortunate."
With one out, Nick Swisher ripped a single to load the bases. Carlos Santana came through with a two-run single, but was tagged between first and second on a rundown for the third out.
Though it was mostly a slow day until late for the Boston bats, there were signs of life in the third. Drew hit a ground-rule double to open the inning. Iglesias was then hit by a pitch. Ellsbury short-circuited the rally by hitting into a double play. But Daniel Nava drilled a single off the wall to bring home Drew. Nava was thrown out at second trying to stretch it into a double.
Kipnis extended Cleveland's lead to 3-1 when he curled a solo homer around Pesky's pole with two outs in the fifth. An inning later, Swisher unloaded for a solo shot that soared over the Monster, pinning Doubront and the Red Sox in a three-run hole.
"Overall I feel good," said Doubront. "That happens. A couple mistakes. There were two homers and an 0-2 mistake to Santana to drive in the first two runs."
Ultimately for the Red Sox, they overcame all their mistakes to win this one.
"We brought eight guys to the plate, and it was a testament to the guys making an effort to come back and never quit," said Ellsbury. "I was excited to be in that situation."
Ian Browne is a reporter for MLB.com. Read his blog, Brownie Points, and follow him on Twitter @IanMBrowne. This story was not subject to the approval of Major League Baseball or its clubs.