Bullpen suffers another letdown in walk-off defeat
Perez exits with shoulder issue, takes loss; Kluber sharp, whiffs 10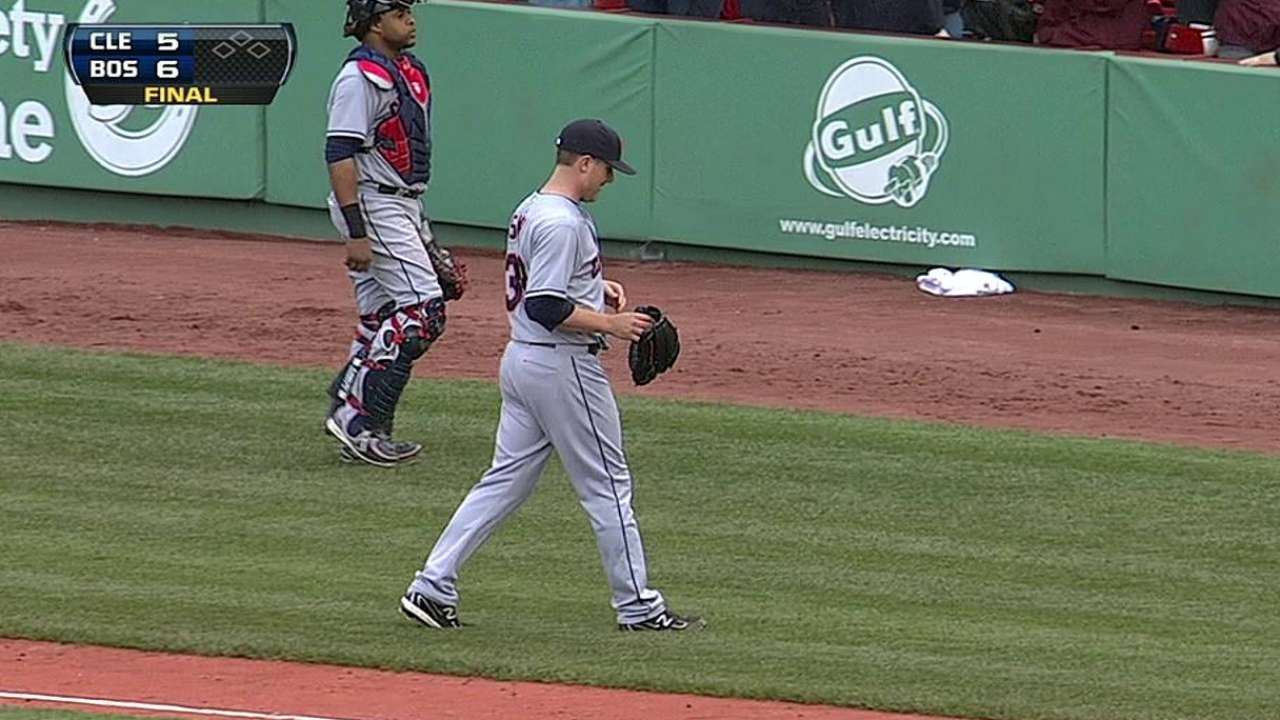 BOSTON -- For the second consecutive day, the Indians' typically stellar bullpen cost the club a game.
Jacoby Ellsbury delivered a two-out, two-run, walk-off double against Tribe sidearmer Joe Smith in the ninth inning, sending Cleveland to an improbable 6-5 loss to close out a four-game series at Fenway Park.
The Indians entered the ninth with a three-run lead, but with two runs already in and the bases loaded, a pinch in closer Chris Perez's right shoulder forced him to exit the game. That's when Ellsbury drove Smith's offering into left-center field, sealing the Tribe's fate.
"That's a tough duty," manager Terry Francona said of Smith's situation. "A 2-1 count, you've got to throw a strike. He did, and to Ellsbury's credit, he put the barrel on it and we've got to go regroup."
After winning the series opener, the Indians dropped three straight contests, the last two of which saw the bullpen reliniquish late-inning leads. The face of the recent struggles has been Perez and setup man Vinnie Pestano, the duo that is supposed to anchor the 'pen.
On Saturday, Pestano, who just came off the disabled list May 17, allowed a career-high four runs and four hits in the eighth to send Cleveland to a disheartening 7-4 loss. His 5.25 ERA is the highest it has been at any point in his career.
Sunday marked Perez's first appearance since May 20, a game against Seattle in which he and Pestano both gave up home runs on the same day for the first time in their careers.
For Perez, this is not the first time he's dealt with shoulder issues this season. A shoulder strain limited the two-time All Star during Spring Training and, on May 12 in Detroit, he felt discomfort in his right shoulder and was held out of the game.
"It's unfortunate that both of us are going through this right now," Perez said. "Hopefully it's nothing serious for both of us. Just get some treatment, get some medicine and hopefully come out there in the next couple weeks."
The Indians will have more information about a potential DL stint for Perez, or the extent of the injury on Monday, when the club travels to Cincinnati for a two-game series against the Reds.
The loss spoiled a stellar outing from Indians right-hander Corey Kluber, who was in line for a well-deserved win. The 27-year-old gave up one run in 6 2/3 innings while striking out a career-high 10 and walking one.
"I think the big key was getting ahead of guys," Kluber said. "A couple times I fell behind guys, they were able to put a couple hits together. For the most part, we worked ahead all day and Carlos [Santana] did a really good job back there."
Francona called Kluber's performance "tremendous."
"He's gaining confidence," he said. "You can see it in the way he attacks pitches, the way he attacks hitters, and the results of this game weren't what we wanted at the end, but his start was fantastic."
The Tribe's offense offered a pair of home runs off Boston lefty Felix Doubront to support Kluber's performance. With two outs in the fifth, Jason Kipnis pulled an 0-2 offering from Doubront down the right-field line, where the baseball snuck around Pesky's Pole for a solo home run. Kipnis' eighth shot of the season pushed Cleveland out front, 3-1.
One inning later, Nick Swisher delivered his seventh homer of the season. Swisher turned on a 91-mph fastball from Doubront, sending the pitch towering over left field. The ball carried over the 37-foot-tall Green Monster, landing in the last row of seats atop Fenway's famous wall for a leadoff blast that gave the Indians a 4-1 advantage.
Doubront turned in six innings and allowed four runs (two earned). The Tribe padded its lead in the eighth, when Kipnis doubled to center field off Craig Breslow and later scored on a sacrifice fly from Swisher.
Boston added one run in the eighth when a sacrifice fly from Jose Iglesias plated Stephen Drew, who led off the inning with a triple, but the Red Sox did most of their work in the ninth. Perez issued a leadoff walk to Dustin Pedroia and David Ortiz followed it up with a double. Both Pedroia and Ortiz crossed the plate on groundouts, cutting the Tribe's lead to one run.
Perez then walked Jonny Gomes, allowed a single to Drew and issued a walk to Iglesias to load the bases with two outs. After throwing a 1-1 pitch to Ellsbury, Perez doubled over and winced. Francona and a team trainer met with the closer on the mound, and then watched as the pitcher made a wild throw on a test pitch.
Perez promptly left the field and was replaced by Smith.
"I haven't pitched in a week or so," Perez said. "Then I felt [the shoulder] obviously on that last pitch there to Ellsbury and it kind of pinched on me and sent a little pain down my arm. I went to throw another pitch and it just wasn't happening. So it's sore."
When Smith came in, Boston manager John Farrell liked his team's chances.
"We felt like when Smith came in, that arm slot fit [Jacoby's] swing pretty well and we saw the reason for it," Farrell said.
Jordan Bastian is a reporter for MLB.com. Read his blog, Major League Bastian, and follow him on Twitter @MLBastian. Michael Periatt is an associate reporter for MLB.com. Follow him on twitter @MichaelPeriatt. This story was not subject to the approval of Major League Baseball or its clubs.