Angels wake up in seventh, win eighth straight
Righty Williams keeps Halos close before Hamilton gets things going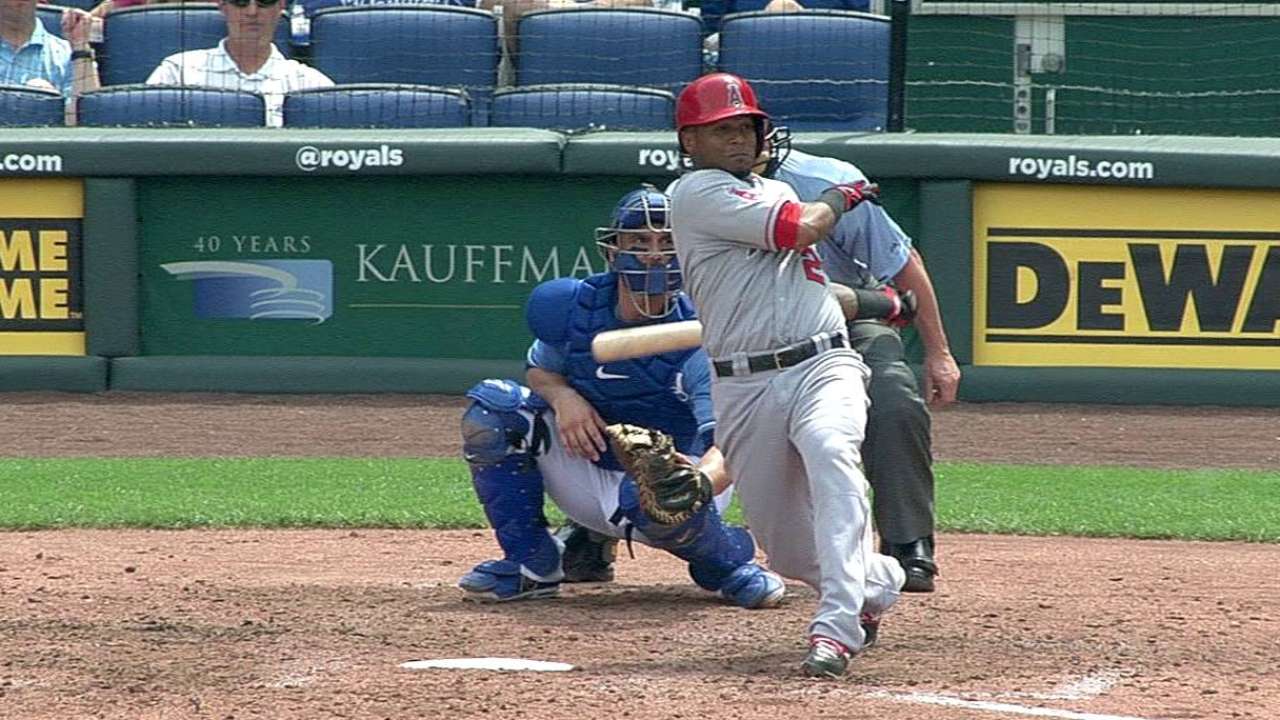 KANSAS CITY -- Sure, the Angels can hit. That part was pretty much a given despite the club's tough offensive start. But the overriding question has been about pitching, and Mike Scioscia's club showed signs in the Kansas City series that it is formulating a convincing answer.
Jerome Williams delivered another positive start on Sunday as the Angels won their eighth in a row with a 5-2 victory over the Royals. In sweeping the four-game series, the Angels allowed four, two, zero and two runs. If that type of pitching continues, the Angels will truly be in business despite the deep hole they are still trying to escape.
Williams went six innings and kept his team close. The Royals took a 2-0 lead into the seventh, but then the Angels erupted with a Josh Hamilton homer and a couple of clutch RBI singles by J.B. Shuck and Erick Aybar. The Angels tacked on two more in the eighth and flew back to California with serious momentum and happy thoughts on several different levels.
"Jerome did a terrific job out there," Scioscia said. "His sinker was, for the most part, where he needed it. He changed speeds and threw some good changeups. All in all, he pitched a strong game."
Williams was already down by two when Eric Hosmer opened the Kansas City sixth with a double. But Williams held firm by retiring the next three hitters and Hosmer never scored.
Hamilton jump started the offense with his homer off Wade Davis down the right-field line, and it was all Angels thereafter.
"[Davis] was throwing a pretty good game, but once Josh hit the homer everything started turning around," Williams said.
Howie Kendrick followed Hamilton to the plate and drew a walk. After Alberto Callaspo popped out, Chris Iannetta walked, and that was it for Davis. Bruce Chen came on for a lefty-lefty matchup with Shuck and Shuck won that duel by dunking an RBI single to left, making it 2-2. Shuck finished the day 3-for-4 to lift his batting average to .315.
"We're hitting as a team right now," Shuck said. "We're having fun. You can see it. Everybody is loose and we're putting some wins together."
Shuck's approach against the left-hander was to look for something up in the zone that he could take up the middle or the other way. Aybar followed with another soft RBI single and the Angels had the lead for good.
A two-run rally in the eighth came in handy because closer Ernesto Frieri had some shaky moments for the second time in the series. But Frieri steadied himself after putting the first two on in the ninth. Frieri fanned Alex Gordon and then got Jeff Francoeur and Hosmer out to end the game.
"Ernie battled," Scioscia said. "A leadoff walk is not how you draw it up. But he got it done and made some pitches when he had to."
The four-game sweep of the Royals was just the second for the Angels in club history. They also pulled off a four-game sweep over Kansas City in 2004.
"Josh's homer gave us the little boost that we needed," Shuck said. "That's what this lineup can do. With all the guys that can hit one out or take a bag ... it gets everybody going."
The timely hitting has been there. The pitching has been there. It's a combination that the Angels would love to see continue as they prepare to take on the Dodgers in the Freeway Series.
"Davis did a great job of keeping us off balance for the first six innings," Shuck said. "But Jerome did the same thing. He kept us in the game, knowing we would explode at some point. It took a little bit longer, but we came through."
Robert Falkoff is a contributor to MLB.com. This story was not subject to the approval of Major League Baseball or its clubs.