Royals fall to Halos as Butler missing after ejection
Slugger tossed after strikeout and spot in order comes up twice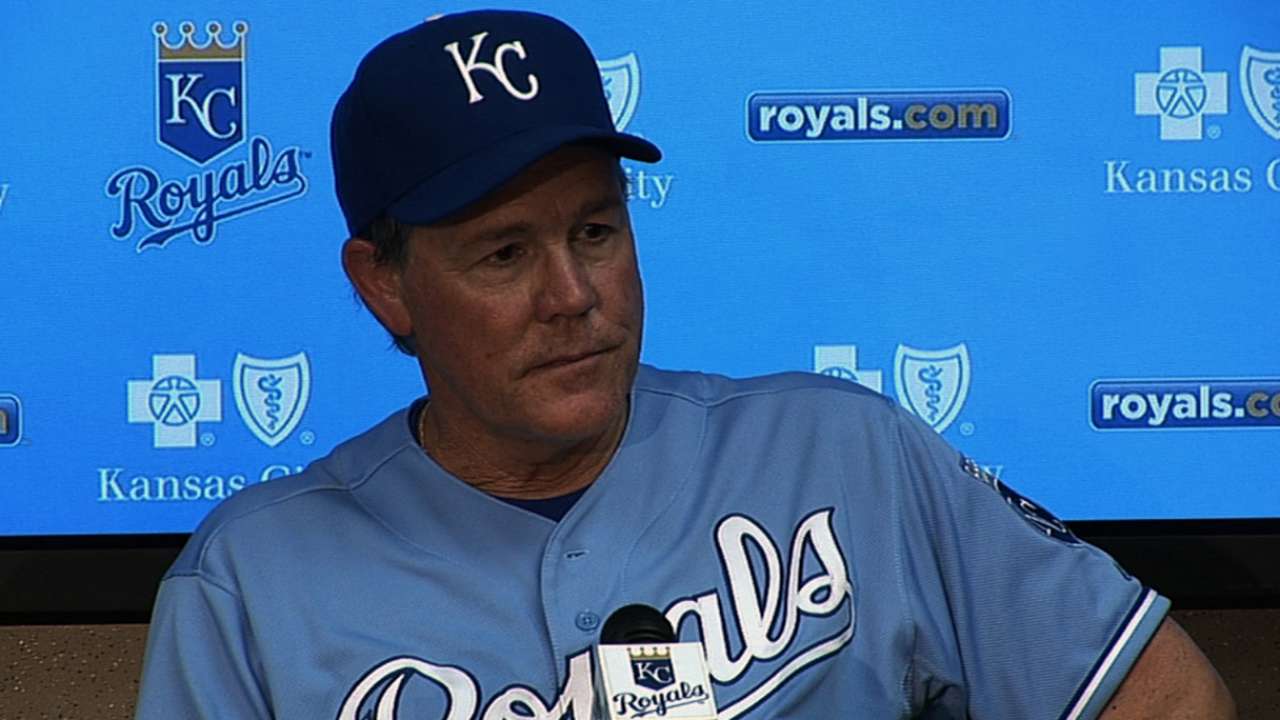 KANSAS CITY -- It was a wacky day at The K.
Billy Butler got ejected and wasn't available to hit at crucial junctures, the umpires' circus continued unabated and the Royals' drudgery was compounded with yet another loss.
The Angels completed a four-game sweep of the Royals with a 5-2 victory on Sunday with a holiday weekend crowd of 24,475 at Kauffman Stadium. Home sweet home it ain't -- not lately.
After being 10-4 at home early in the season, the Royals have since lost eight straight. Of their last 20 games overall, they've lost 16, including a season-high five in a row. They also sit in fourth place in the American League Central, five games under .500 for the first time this year.
Not pretty numbers.
"We haven't played well and we know it," Butler said. "That's exactly the way it is. I'll stand up and say we're not playing the way we know we can and that is frustrating, so that goes into it."
The frustration, he meant, was a contributing factor to making him the designated hitter in absentia for nearly half the game. The Royals had just upped their lead to 2-0 when he got ejected. With two runners on base and two outs in the fifth inning, Butler was called out on strikes by umpire Marty Foster.
This was a busy series for Foster. He had ejected Royals second baseman Chris Getz on Saturday and would oust Angels manager Mike Scioscia before Sunday's game was over.
Called out, Butler paused to debate the call with Foster before being guided to the dugout by third-base coach Eddie Rodriguez.
"We had a disagreement. I'm not the only one that had disagreements with him this series," Butler said. "He said some things to me I didn't like and it got me fired up."
So fired up that he could not keep quiet.
"Came in and put his bat away, came back out and yelled something on the field and was immediately ejected," manager Ned Yost said.
Butler's ire was prompted by an electronic glimpse of what he assessed to be a very inside pitch.
"Whenever I went and looked at the video, it made me more mad," Butler said.
So Butler was banished, and when the DH spot came around again in the seventh inning, it was at a crucial point.
The Angels had just broken loose against Wade Davis, who'd kept them scoreless for six innings. Josh Hamilton ended Davis' shutout by leading off the seventh with a home run. Davis issued two walks and was replaced by Bruce Chen, who threw just two pitches but gave up two RBI singles by J.B. Shuck and Erick Aybar.
So it was 3-2 Angels, and Butler's cleanup spot rolled around with two on and two out in the seventh. To face right-hander Kevin Jepsen, Yost sent out right-handed-hitter Jeff Francoeur instead of lefty hitter Mike Moustakas, who was also on bench.
"He'd gotten like six hits in his last 15 at-bats and I liked the way he'd been swinging the bat," Yost explained. "I felt like he had a chance of getting hold of one and giving us some quick runs."
Alas, Francoeur popped out to second base. And sure enough, after the Angels went ahead 5-2, the DH spot came up again in the Royals' ninth. Again there were two on and one out. This time Francoeur gave it a battle and even won a debate with Foster.
In a 12-pitch at-bat, Francoeur fouled off seven deliveries from closer Ernesto Frieri. And on one of them, Foster ruled that Francoeur swung and missed for strike three. Nope, it was a foul tip, Francoeur argued.
"He fouled the ball off and Marty Foster didn't hear it," Yost said. "When I went out, I just went to say, 'I heard it, it was a foul ball.' Marty said he didn't hear it, and I said, 'I heard it, it was definitely a foul ball.' And he goes, 'Well, I'll go check.' "
So Foster checked with his fellow crewmates and decided it was, indeed, a foul tip and Francoeur was not out. Scioscia roared off the Angels' bench, entirely irate, and got himself ejected.
"Well, you're not allowed to go check," Yost continued. "An umpire's job at first, second, third, if you see a foul ball, you automatically call it foul. So Mike [Scioscia] was right, in a sense, where you can't go out and check on that. But one of the umpires did see it, I guess, and obviously they just didn't call it."
That umpire, according to Scioscia, was the crew chief.
"Tim Welke at second base said he saw the ball foul tipped and go through our catcher's legs," Scioscia said.
After that storm was over, Francoeur eventually flied out to center and Eric Hosmer grounded out to end the game.
"I'm going to try to control my emotions a little bit better the next time, you always want to work on that, and I definitely try to," Butler said. "I'm not saying it's never going to happen again. Sometimes the emotions get the best of you and it's just unfortunate that runners in scoring position come up later in the game. I should have been up there."
There's no doubt that Yost would have preferred to have Butler at the plate. After all, he calls him one of the top 10 right-handed hitters in the AL.
"It didn't make it any easier," Yost said. "We had scoring opportunities in both at-bats. But sometimes frustration gets the better of you. Being a professional, you can't allow that to happen, but being human, it does happen."
Scioscia, tossed even in the process of sweeping a series, had been primed by another umpire's call in the eighth inning. His first baseman, Mark Trumbo, made a fine stab of David Lough's hot shot and raced to the bag, but Scott Barry, the umpire at first, ruled his foot missed connections. Lough was safe and Scioscia's blood pressure accelerated when he argued that call.
Probably with good reason.
"I kind of looked down and it seemed like his foot was right there on the base," Lough said. "I don't know what the umpire was looking at but, from my standpoint, I thought I was out. I was pleasantly surprised."
One of the first pleasant moments in this series for the Royals.
Dick Kaegel is a reporter for MLB.com. This story was not subject to the approval of Major League Baseball or its clubs.