Astros add to starting pitcher depth with Thurman
Astros add to starting pitcher depth with Thurman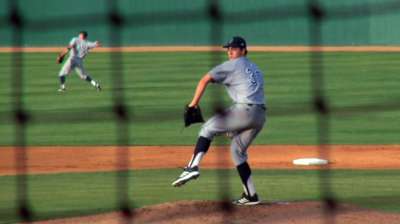 HOUSTON -- By the time the first round of Thursday's First-Year Player Draft was coming to a close, the Astros were thrilled to see that UC-Irvine pitcher Andrew Thurman was still available. So when the 40th pick rolled around, they knew they had their man.
The Astros continued to add to their starting pitching depth by selecting the right-hander with the first pick of the second round, giving Houston a pair of right-handed starters on the first day of the Draft. Houston picked Stanford's Mark Appel with the first overall pick.
"Not only were they the best players on our board in both spots, but it also fits our needs at this period of time," Astros scouting director Mike Elias said. "We need pitching depth, and these are two starting pitchers with everything going for them."
Thurman, who attended at Astros game in Anaheim against the Angels earlier this month, said he was thankful for the opportunity with Houston. The pick comes with a $1,397,200 slot value.
"Hard work and dedication is what I pride myself on," Thurman said. "Stuff-wise, no matter if I have my best stuff or average stuff, I'm going to go out and work hard and basically try to give whoever I'm playing for the best chance to win."
Thurman's fastball could be a plus pitch in the future -- he can reach back for a mid-90s heater when he needs to. He throws a curve and a slider, with the former a bit better than the latter, and his changeup is a deceptive offspeed offering.
Thurman's good command lets his stuff play up and he can move his fastball in and out, going right after hitters with his very strong feel for pitching. That was on full display in the Cape Cod League last summer, when he struck out 49 hitters over 39 innings in seven starts.
"He was somebody we viewed as late first-round talent, and to get him at 40, we were a little surprised he was there," Elias said. "We're very comfortable calling him a mid-rotation starter in the future.
"We love a lot about him. He has good stuff. He has four pitches and can really pitch. He performs, he makes pitches, can mix it up and keep hitters off-balance and really locate the ball. The big difference this year was his velocity stepped up and stuff stepped up, and now you have this complete pitcher who can move it around."
Astros area scout Brad Budzinski has watched Thurman since the righty was in high school in California, and Budzinski says Thurman improved tremendously in his three years in college, though he could always pitch. He locates better and improved his curveball and slider, as well as his velocity.
"You feel very confident this guy is going to be a starting pitcher," Budzinski said. "I don't think there's too much risk to that. That was attractive to me. I had him as a first-round talent all along."
Day 2 of the Draft continues with Rounds 3-10, streamed live on MLB.com on Friday, beginning with a preview show at 11:30 a.m. CT. And Rounds 11-40 will be streamed live on MLB.com on Saturday, starting at Noon.
MLB.com's coverage includes Draft Central, the Top 100 Draft Prospects list and Draft Tracker, a live interactive application that includes a searchable database of Draft-eligible players. You can also keep up to date by following @MLBDraft on Twitter. And get into the Draft conversation by tagging your tweets with #mlbdraft.
Brian McTaggart is a reporter for MLB.com and writes an MLBlog, Tag's Lines. Follow @brianmctaggart on Twitter. This story was not subject to the approval of Major League Baseball or its clubs.