Colon keeps Astros off balance to seal sweep
Offense delivers another big game with five-run fourth inning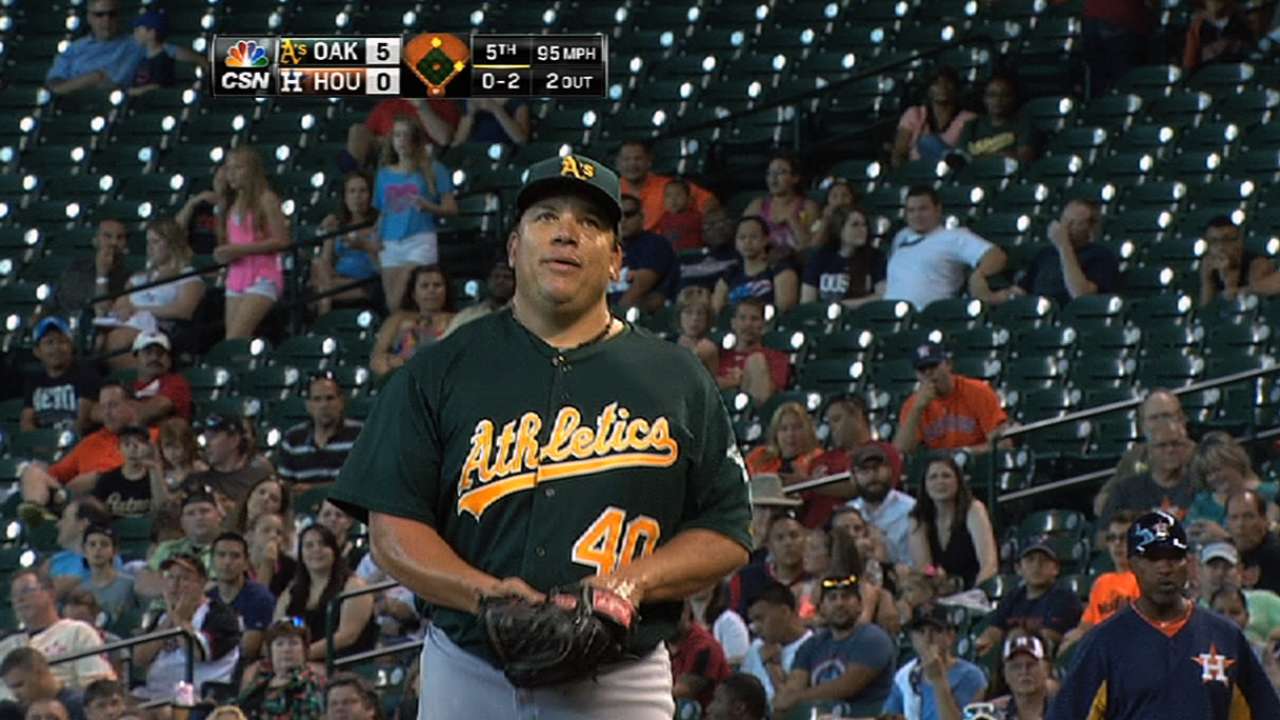 HOUSTON -- Though the Astros have greatly struggled just as much as anticipated, A's manager Bob Melvin says he tells his club to "play them like they're the '27 Yankees."
"The minute you back down a little bit or assume something," Melvin said this week, "that's when you get bit."
So the A's chose to play their best baseball in Houston this weekend and subsequently left it with three wins for the sweep following Sunday's 6-2 victory at Minute Maid Park. They're undefeated in nine games against the Astros, who fell to 14-36, with 10 more still to be played between the two clubs by season's end.
Against all other teams, Oakland is 19-23.
"We've been playing good when we play them," Melvin said, flatly.
"Baseball's a funny game," said Houston starter Dallas Keuchel. "Sometimes somebody is going to kick your butt and you're going to kick their butt. They've got our number right now and we've got to do something about it. They're a great team, but we can't give them too much credit. We just have to play better."
It was quite the productive road trip in Texas for the A's, who also took two of three from the Rangers earlier in the week in Arlington to finish it 5-1. They've now won three straight series after dropping each of the previous four.
Sunday's matinee featured a seven-inning scoreless performance from veteran Bartolo Colon, who fanned a season-high nine -- including five of his first six batters faced -- in his first outing as a 40-year-old, becoming just the fourth pitcher in Oakland history to start a game at that age.
Colon scattered nine hits, but didn't walk a batter, keeping his walk total through 61 1/3 innings at four, and he consistently reached 94 and 95-mph on the radar gun, even in the later goings.
That's not so typical of a 40-year-old.
"No, not typically, but he does," said catcher Derek Norris, smiling. "He was throwing a little harder today. I think he lost a little bit of confidence in his two-seamer, so he had to amp up on his four-seam a little bit and used his offspeed a little more. He always has a plan of attack."
"He knows how to make a pitch when he needs to," Melvin said. "I thought his stuff was as good today as we've seen all year.
"Every now and then you could see he was peeking up there at times to see his velocity. Really, for a guy that's mostly touched 93 and you see a 94 sprinkled in there, to hover around 94 and hit 95, at 40 years old, pretty impressive."
The right-hander's performance was aided by another offensive breakout by his teammates, who combined for 10 hits on Sunday after compiling 18 on Saturday, their six runs upping their season total against the Astros to 68. Houston has 31 runs in that same span.
Just as they did twice Saturday, Oakland put together one big inning that the Astros could never overcome. This time it was a five-run fourth against Keuchel that distanced them, with a two-base throwing error by Jose Altuve on a Yoenis Cespedes grounder starting it all.
Cespedes scored on Josh Donaldson's ensuing base hit, and Jed Lowrie, back in the lineup for the first time since Tuesday because of a contused right foot, followed with a single of his own, paving the way for back-to-back doubles from Seth Smith and Nate Freiman that brought in three runs.
Freiman, a Rule 5 pick by the Astros last year, launched a long solo shot to left-center at a distance of more than 410 feet two innings later for a 6-0 lead.
"It gets deep quick out there," said Freiman. "Starts out shallow and gets deep quick. I wanted to make sure I was on second or third if it didn't get out."
It was just the 14th start of the season for Freiman, whose main job is to hit left-handers. So far he's done that well, going 13-for-38 against them. He's hitless in 15 at-bats when a righty is on the mound.
"I'm excited about this opportunity to learn how to be a role player on this team," the rookie Freiman said. "Right now, that role is to get the occasional start against a left-handed starter. I'm getting a lot of work in the cage, trying to take as many swings as I can and do the best I can to be ready when it's my time."
Houston spoiled Oakland's shutout bid by posting two runs off righty Ryan Cook in the eighth. Cook, who had not pitched in a week, had allowed just one other run this month. But that's all the Astros would get in what transpired into Colon's fifth win.
"I remember Nolan Ryan back in the day, when he was 45, throwing the same kind of velocity I did today," Colon said through translator Ariel Prieto. "I keep that in my mind."
Jane Lee is a reporter for MLB.com. Read her blog, Major Lee-ague, and follow her on Twitter @JaneMLB. This story was not subject to the approval of Major League Baseball or its clubs.