Reds set to honor vets in Memorial Day festivities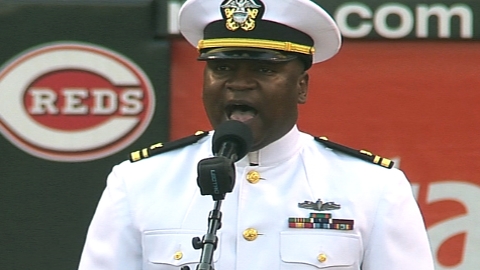 CINCINNATI -- Along with the rest of Major League Baseball, the Reds will use Monday's game as an opportunity to celebrate Memorial Day and honor some of the many people who are the reason for the holiday.
Every club is set to wear jerseys and hats with authentic military digital camouflage, which has been licensed from the United States Marine Corps. The hats will be available for purchase at the Reds Team Shops, while the jerseys can be found at the Reds' online shop, and all proceeds will go to Welcome Back Veterans.
Monday's games will also stop at 3 p.m. local time to participate in the National Moment of Remembrance honoring the Americans who have died while serving their country.
Before their Memorial Day matchup with Cleveland, the Reds will honor members of the Tuskegee Airmen and welcome Lincoln Ware as an Honorary Captain. Ware is a U.S. Marine Corps veteran and currently works as a radio host on The Buzz 1230 AM.
U.S. Navy Second Class Petty Officer Nicholas Gagner is set to sing Monday's national anthem, and the ceremonial first pitch will be thrown out by U.S. Marine Gunnery Sergeant Samuel Deeds, who was injured by an improvised explosive device while serving in Iraq in 2005. The pregame festivities will be capped off by retired Lt. Col. Robert R. Adams, who will deliver the official game ball to the mound.
Jeremy Warnemuende is an associate reporter for MLB.com. This story was not subject to the approval of Major League Baseball or its clubs.