Gonzalez sharp, but Johnson can't close out series
Orioles allow four runs in ninth frame, fall on walk-off double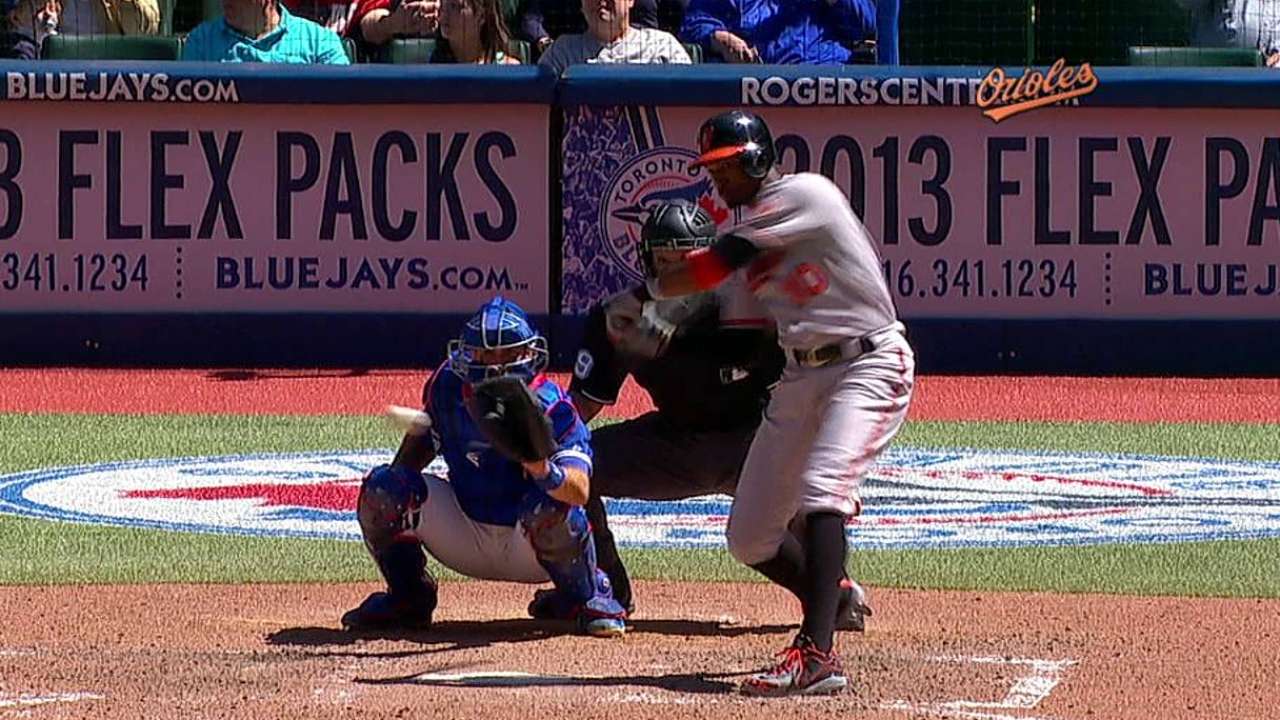 TORONTO -- Squandering late-inning leads is becoming commonplace for the Orioles.
Baltimore was one strike away from taking three of four from the Blue Jays, but closer Jim Johnson failed to finish things off and imploded once again in the ninth. He couldn't close out a three-run lead and blew his fourth opportunity in his last five tries, as the Blue Jays rallied back in the final frame to win, 6-5, in walk-off fashion to split the four-game set in front of a roaring crowd of 28,502 at Rogers Centre on Sunday.
"We should be getting on the plane with three wins here, but I can't hang my head too long," said Johnson, who allowed four runs in the final frame. "It's going to hurt for a little bit, and it should."
After Matt Wieters gave Baltimore a three-run lead with a two-run double in the ninth -- his fourth hit of the game -- the Orioles appeared to be on their way to a series victory. But the Blue Jays had other ideas and became the latest team to get the best of Johnson.
Toronto chipped away with some key hits and were working the count before ending the contest on Johnson's season-high 37th offering of the game. The final blow came from unlikely hero Munenori Kawasaki, who ended things by hitting a 3-2 pitch into left-center field for a two-run double, his third hit of the game, to give the Blue Jays the win.
"To be honest with you, I don't know where we'd be without him," Blue Jays manager John Gibbons said about Kawasaki, who has been filling in at shortstop for the injured Jose Reyes.
Johnson has already blown more saves -- all since May 14 vs. San Diego -- this season than he did during his career-best 2012 year. He didn't blame Sunday's debacle on fatigue from the high pitch count and he remains confident in his ability to remain in the role.
So do his teammates.
Wieters insisted Johnson was not making lousy pitches against the Blue Jays.
"I think when he got into some deeper counts and some hitter's counts, it allows them to hit some better pitches," Wieters said. "A 94-mph sinker is never going to be easy to hit, no matter where it is. They were able to get the barrel on it and find some holes."
Reliever Tommy Hunter, who allowed one run over 1 1/3 battle-tested innings, had Johnson's back, too.
"He's our dude down there," said Hunter, who worked his way out of bases-loaded jams to end the seventh and eighth. "He's pretty [darn] good. We'll stick with it. I'll take my chances with him any day of the week."
While Johnson's blown save spoiled the mood for a club that was merely inches away from winning its fifth game in six contests, the team was looking at the positives of the series, which included winning two on the road and some exceptional individual performances.
The usual suspects were in the thick of things, yet again.
Adam Jones recorded three hits and homered for the fourth consecutive game, the first time in his career he has accomplished that feat. He raised his home run total to 10 and extended his hitting streak against Toronto to 16 games. Jones' nine homers at Rogers Centre since the start of the 2012 season are more than any visiting player's total.
In wasn't just Jones who powered Baltimore throughout the series. Slugger Chris Davis remained hot, going 6-for-13 with five extra-base hits -- including two homers -- during the series. Davis was intentionally walked three times Sunday and raised his lifetime average at Rogers Centre to .390, which is the highest among active players with a minimum of 50 at-bats.
Both teams put on a show at the hitter-friendly Rogers Centre , combining to pound out 102 hits over the series, a record number for a four-game set at Toronto's ballpark, eclipsing the old mark of 97 set in June 2003.
Manager Buck Showalter said he was proud of the way his club played and tipped his cap to the Blue Jays, who are showing signs on life despite sitting in last place in the American League East.
"I think of splitting a series against one of the hottest teams in the American League," Showalter said when asked what was going through his mind after the game.
The loss overshadowed what was a solid outing from starter Miguel Gonzalez, who threw 5 2/3 innings of one-run ball, allowing just four hits while walking three and striking out a season-high seven batters.
Gonzalez lowered his ERA to 3.03 on the road since the start of the 2012 season, which is the second best in the AL among pitchers who have thrown at least 75 innings.
Manny Machado recorded his 22nd multihit game of the season and tallied nine hits in the series, while Nick Markakis extended his hitting streak to 11 games.
Baltimore will continue its six-game road trip in Washington on Monday.
"We'll pack up our bags and head on to the next challenge," Showalter said. "I don't dwell on those things. We try not to live in that world."
Chris Toman is a contributor to MLB.com. This story was not subject to the approval of Major League Baseball or its clubs.