Clutch Kawasaki, Blue Jays pull off amazing walk-off
Shortstop caps career day with winning double in four-run ninth inning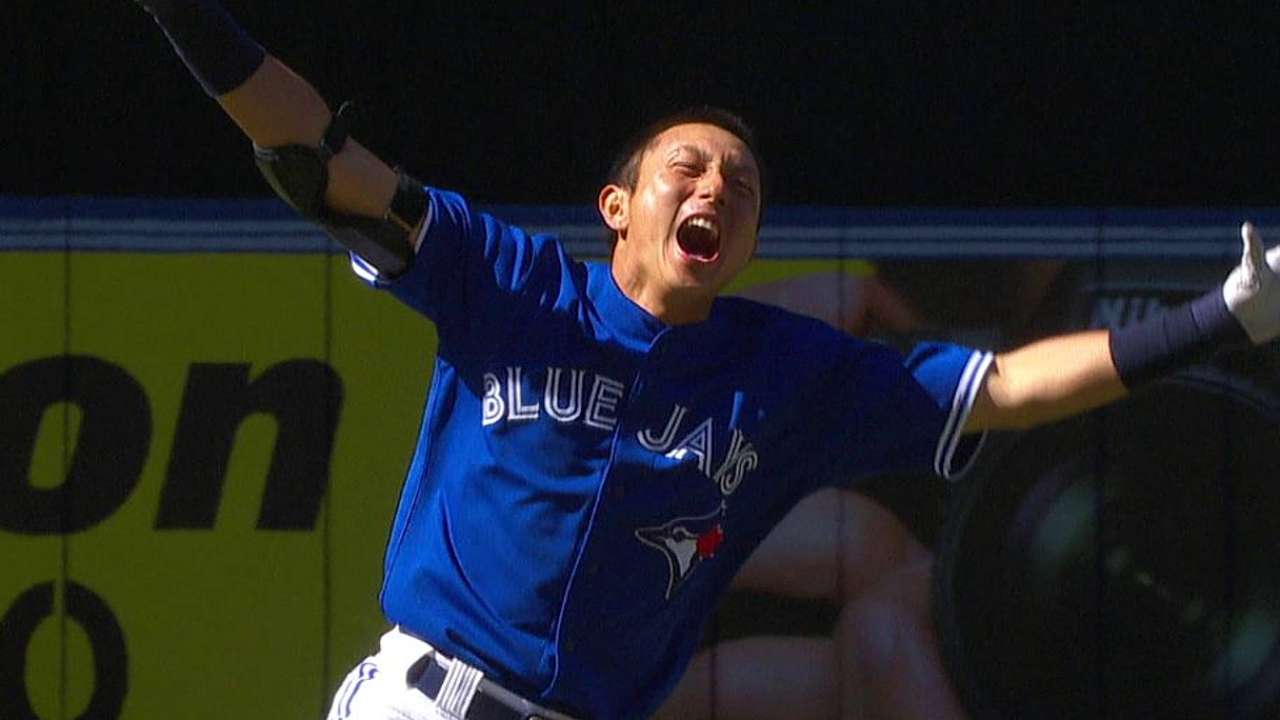 TORONTO -- It took a while, but Toronto's offense finally came alive when it mattered most.
After managing only one run and loading the bases in both the seventh and the eighth, things turned in their favor in the ninth, and an unlikely hero was there to do it.
Diminutive shortstop Munenori Kawasaki hit a game-winning double in the ninth off of Orioles closer Jim Johnson as part of a four-run ninth to seal the come-from-behind victory, 6-5, over Baltimore on Sunday at Rogers Centre.
"My teammates gave me an opportunity. I wanted to do something about it," Kawasaki said in his best English.
With runners on the corners and the Blue Jays down to their final strike, Kawasaki -- Toronto's first Japanese-born position player -- hit a slicing double into the gap in left-center field, scoring Mark DeRosa from first for the game-winning run.
"He hit it in the perfect spot there," Blue Jays manager John Gibbons said. "Especially with DeRosa running."
Kawasaki's hit made Johnson the losing pitcher, as he blew his fourth save in his last six appearances.
"He made a lot of good pitches, he just kind of painted himself in a corner there and we just couldn't get it done," said Orioles manager Buck Showalter. "He had a great outing last night and the time before. Sometimes you have to tip your cap to the opposition."
To say the win was improbable and the source unlikely is an understatement. Not only did Toronto score four runs against a closer who, until recently, had converted 35-straight save opportunities, but the man who drove in those runs was never in the Blue Jays plans to begin the season.
"When [Jose] Reyes went down, we were scrambling, we didn't know what we were going to do," Gibbons said. "To be honest, we didn't know what to expect on either side of the ball [from Kawasaki].
"[Now,] I don't know where we'd be without him, if you want to know the truth, because he's really stepped up and did a nice job for us out there."
Kawasaki's game capped a career day for the 31-year-old in his second Major League season, as he went 3-for-5 with three RBIs, both career highs.
Toronto's shortstop also got a rally going in the eighth inning. Kawasaki hit a line drive just over the head of second baseman Alexi Casilla to pull Toronto within one for the second time in the game. Melky Cabrera grounded into a forceout at home, loading the bases for Jose Bautista. Bautista hit a hard shot up the middle, but Orioles right-hander Tommy Hunter grabbed it with his bare hand, getting the right fielder in plenty of time at first.
"That might've been the most amazing thing I've ever seen," Toronto starter Chad Jenkins said of the grab. "If something's not broken, he might have the strongest hand ever."
That play ended what looked to be the Blue Jays' final rally attempt, especially after the Orioles spotted two insurance runs in the ninth when catcher Matt Wieters drove in Nick Markakis and Adam Jones on a double to right field.
In stepped Johnson, who had shut down the Blue Jays for his 15th save of the season on Saturday. Johnson allowed the first three hitters to reach, drawing the Blue Jays within two. The Orioles closer then loaded the bases to put the winning run at first in the form of Anthony Gose. However, Mark DeRosa grounded into a forceout, allowing a run to score. The Orioles were unable to pull the double play on DeRosa's slow hopper, setting the table for Kawasaki's heroics.
It was an unlikely comeback, since the Blue Jays failed to find that clutch hit all game until that final at-bat. In the first eight frames, Toronto was 2-for-9 with runners in scoring position and had left 12 men on base.
The offense's early struggles helped Miguel Gonzalez lower his road ERA to 3.03 since the start of 2012 -- second best in the Majors to Felix Hernandez. Gonzalez stifled the Toronto offense, allowing four hits and three walks in 5 2/3 innings of one-run ball.
It was enough to give Jenkins, who worked in and out of trouble all afternoon, a no-decision. Jenkins, who was making his first start in two weeks, held the Orioles to only two runs, despite allowing eight hits and three walks in five innings.
His final frame may have been his best balancing act of the day. After throwing the ball away on an attempted pickoff at second that allowed both runners to advance into scoring position, Jenkins was able to strike out the hot-hitting Jones. He then intentionally walked Chris Davis for the second time of the game to load the bases, but he was able to induce a lineout from J.J. Hardy to end the threat and keep the Blue Jays within a run.
"It was a little nerve-wracking for a moment," Jenkins said of his final frame. "First couple of innings, I was trying to get back in the groove of things, trying to warm up a little bit, but after that I settled down."
Evan Peaslee is an associate reporter for MLB.com. This story was not subject to the approval of Major League Baseball or its clubs.