Loss to Sox presents Marlins with a teachable moment
Redmond points to baserunning as an area of concern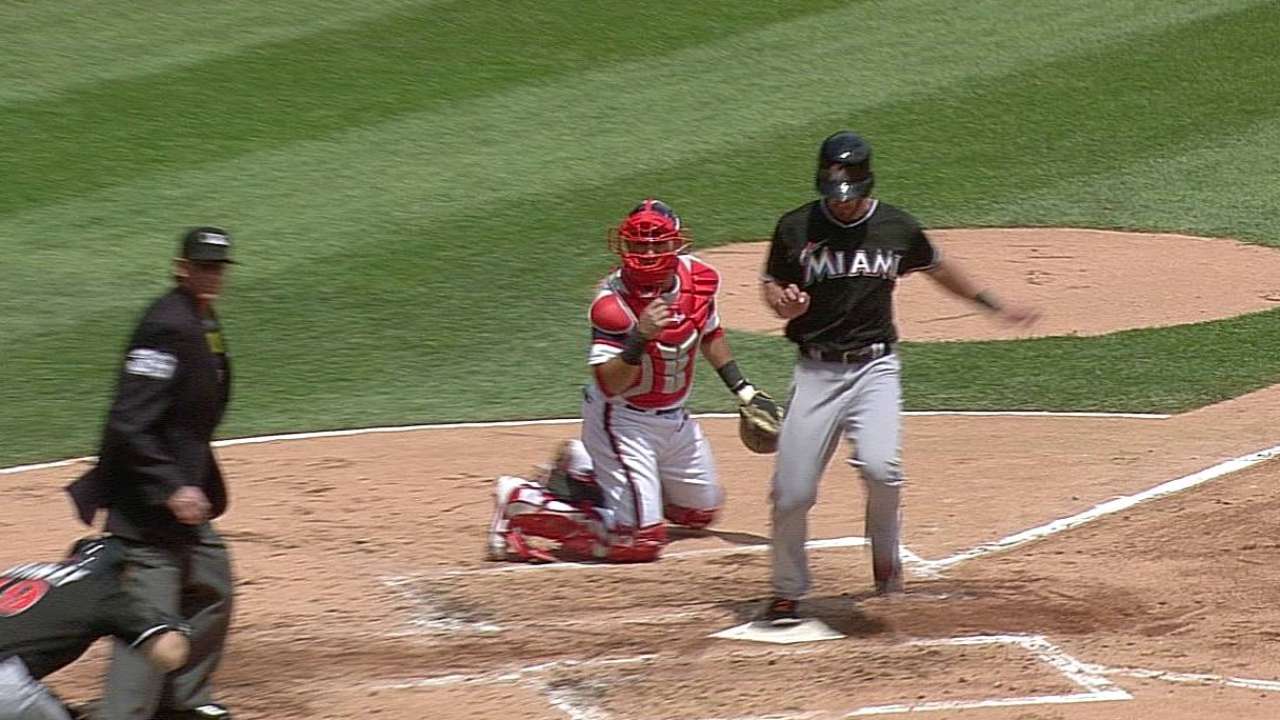 CHICAGO -- Marcell Ozuna claims he touched home plate.
The Marlins outfielder represented the tying run in the sixth inning of a 4-3 game, but was called out sliding into home trying to tag the plate with his hand. Home-plate umpire Paul Nauert told Marlins manager Mike Redmond that Chicago catcher Hector Gimenez blocked Ozuna's hand with his shinguard, and the White Sox went on to earn their first sweep of the season with a 5-3 win over Miami at U.S. Cellular Field.
Redmond said he wasn't happy with the way Ozuna handled the situation even though White Sox right fielder Alex Rios bobbled Justin Ruggiano's single. Redmond said Ozuna's passive baserunning rounding third created the bang-bang play at the plate, and the Marlins manager wasn't done there.
"I don't know why we've lost the art of just sliding into home plate," Redmond said. "I don't know why everything has to be a sweep of the hand or a diving, sliding-on-your-butt play. I don't know if that looks better on TV, but I was always just taught to slide straight into home plate. If you go in hard, you're going to be safe."
Redmond said he planned to have a conversation with Ozuna about the play, but the whole situation capped a frustrating weekend for the Marlins. They were just 2-for-10 with runners in scoring position in the first two games of the series. When their offense finally showed some life on Sunday, two plays at the plate eliminated crucial runs and their pitching faltered.
Marlins starter Alex Sanabia's day lasted just 72 pitches and four innings because of a sore right groin, and the right-hander said the injury will likely require some time on the disabled list. Sanabia has a history of groin problems dating back to last season, but he didn't feel the injury prior to his start on Sunday. He said his groin affected his pitching during the game, but it didn't start becoming a problem until around the second inning.
That was after Adam Dunn had already launched an opposite-field, two-run home run in the bottom of the first inning. The White Sox added to that in the second, scoring two runs on Alejandro De Aza's two-run double.
Sanabia had trouble keeping the White Sox off the basepaths all day, and Redmond said he noticed something was wrong from the start.
"I think he battled to give us the four innings," Redmond said. "His velocity was down and he just didn't look like himself."
The White Sox had another chance off Sanabia in the third inning, when Dayan Viciedo doubled down the right-field line with Paul Konerko on first. Second baseman Derek Dietrich, praised by Redmond for his strong arm, gunned down Konerko at the plate on the relay, on what was a head-scratching send by Chicago third-base coach Joe McEwing.
But in the end, it was the Marlins who were on the more frustrating end of the close plays around home plate. Ozuna's play was the focus of Redmond's postgame disgruntlement, but Chris Coghlan was also thrown out heading home in the second as a part of the Marlins' two-run inning.
Ruggiano and third baseman Nick Green provided some clutch hits in the inning, and Juan Pierre followed suit in the third by stealing second, advancing to third on a sacrifice fly and scoring on Ozuna's groundout to third.
Redmond simply had no excuse for his struggling offense after Friday and Saturday night's losses, but the Marlins finished 3-for-9 with runners in scoring position on Sunday. He complimented his pitching staff for keeping the Marlins in games after the series' first two contests, explaning that his starters almost needed to pitch perfectly with the offense struggling. He didn't get that perfection from Sanabia on Sunday.
"I was pretty much going out there and trying to have the bullpen not take too big a hit early on," Sanabia said. "I battled through it. I did what I had to do, what I thought was right."
Marlins reliever Wade LeBlanc entered the game and threw three scoreless innings in relief before Steve Cishek allowed the Chicago's insurance run on an eigth-inning single by Rios that plated De Aza. Once again, Miami's offense went cold late in the game and couldn't muster another run off White Sox starter Dylan Axelrod.
Chicago's right-hander said he didn't have his best stuff on Sunday, throwing 5 1/3 innings and surrendering all three of the Marlins' runs.
"I was erratic in those middle innings," Axelrod said. "Self-inflicted third inning when I gave up that run with the walks. But you know, we pulled it out -- so I can't be mad about it. Just get ready for the next one now."
It proved to be enough against a banged up Sanabia and a struggling Marlins lineup. Axelrod also combined with the White Sox bullpen to quell Dietrich, Miami's most potent offensive threat during the first two games of the series. Dietrich had reached base in 14-straight games to start his Major League career, but the streak ended on Sunday.
The Marlins are already dealing with injuries to several key players. Sanabia's groin injury opens up another opportunity for Redmond to fill, much like injuries to outfielders Giancarlo Stanton and Logan Morrison opened a door for the 22-year-old Ozuna.
The Marlins leave Chicago banged up and frustrated after getting swept for the fifth time this season, and Ozuna will leave with a teaching moment from his manager after his play on Sunday.
"I slid away because I didn't want a collision [that got Gimenez] hurt or myself," Ozuna said.
Redmond said he'll let Ozuna know that's not how his old veteran ballclubs used to do it.
Ethan Asofsky is an associate reporter for MLB.com. This story was not subject to the approval of Major League Baseball or its clubs.