Timely hitting and defense help Sox secure sweep
Dunn, De Aza drive in two; outfielders cut down a pair at the plate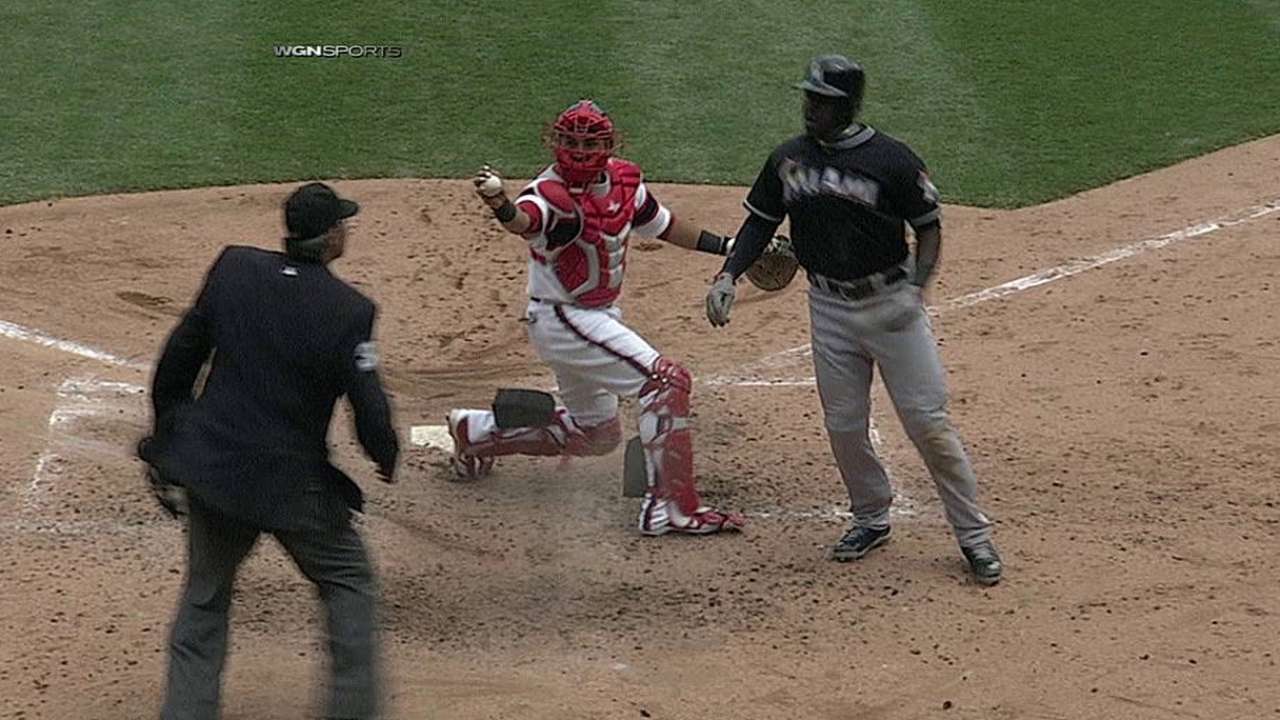 CHICAGO -- There was no White Sox blowout to complete their three-game weekend Interleague sweep of the Marlins at U.S. Cellular Field on Sunday.
That sort of seven or eight-run runaway just doesn't seem to be in the South Siders' current repertoire.
Instead, the White Sox claimed a 5-3 victory before a crowd of 25,464, which included the largest walk-up sales of the season at almost 2,600. They completed their first sweep since Sept. 14-16 at Minnesota last season behind Dylan Axelrod (3-3), who officially will be part of the starting rotation moving forward, and four relievers.
Jesse Crain picked up his 15th hold by striking out the side in the eighth for his 20th straight scoreless appearance covering 18 1/3 innings. Closer Addison Reed came on to fan two in the ninth for his 17th save in 18 chances.
This victory improved the White Sox homestand record to 5-1, with four games coming this week against the Cubs in two-game, home-and-home sets, beginning on Monday night on the South Side. They have won nine of their last 12 and, at 24-24, moved to .500 for the first time since they were 4-4 on April 10.
It's not exactly the celebration they envisioned on Memorial Day when the season began. Then again, after the rough, injury-riddled six weeks to open the campaign, the White Sox are more than satisfied with their current standing.
"Being .500, we feel like now the only way is up," Axelrod said. "Good things are happening."
"It's nice," said White Sox right fielder Alex Rios, who drove in an insurance run with an eighth-inning single. "We've been playing good ball since a couple weeks ago, and it's looking good."
Timely hitting and fundamentally sound defense were absent from the White Sox when they struggled to a season-worst six games under. 500 as recently as May 13. The counter to those problems were present in Sunday's victory.
Adam Dunn opened the scoring with a two-run, two-out, opposite-field home run off of Marlins starter Alex Sanabia (3-7) in the first inning. It came on Sanabia's first pitch, ending Dunn's 0-for-17 slump, and arrived two batters after Alexei Ramirez's single.
Back issues have bothered Dunn since he left a May 18 game in Anaheim. But Dunn said that problem has begun to get better.
"Hopefully, it will be really good tomorrow and we'll get rolling," Dunn said.
"Anytime he's hitting balls to left field, it just puts him in a good spot," said White Sox manager Robin Ventura of Dunn. "The home run was big to get us on the board."
Miami (13-37) tied the score with two runs in the second, even with Dayan Viciedo throwing out Chris Coghlan at the plate when he tried to score on Justin Ruggiano's single. But Alejandro De Aza's two-run double gave the lead back to the White Sox in the bottom of the frame.
Marcell Ozuna's groundout moved the Marlins within one in the third, but the score stayed there thanks to Hector Gimenez's great block of the plate in the sixth. Ozuna tried to score from second after Rios bobbled Ruggiano's single, but Gimenez's foot prevented Ozuna from ever reaching home -- despite him beating the throw.
"We had, obviously, the two plays at the plate," Marlins manager Mike Redmond said. "It looked like today was going to be a pretty high-scoring game, but their pitchers kind of settled in after the third inning. We're not scoring a lot of runs, so we have to be better on the bases."
"Our outfielders have some good arms," said Axelrod of the White Sox defense, which has committed just three errors over the last 10 games. "That's the difference in the game right there."
Axelrod allowed three runs on six hits over 5 1/3 innings, striking out one and walking two. He still picked up his third straight victory, after going winless in the seven previous starts.
Reaching .500, not to mention moving within 2 1/2 games of the second-place Indians in the American League Central, represents a significant step forward for Ventura's crew. This upward move also brings up a number of more important questions.
Can the White Sox move above .500 in the near future and stay significantly above that mark? Are they a playoff-caliber team, currently at four games behind the division-leading Tigers? After the victory, Dunn added another point of concern about the overall inconsistency of the club's bats.
"Offensively, we're still not clicking. It seems like we get one or two guys going and the rest of us kind of don't swing the bats well," Dunn said. "We're playing good baseball, but we're just not getting the offensive production that we're accustomed to getting."
One thing is certain: The White Sox make no apologies for two walk-off wins and a two-run decision over baseball's worst team. They aren't concerned about the look of the wins, as long as they keep winning.
"Right now, everything is clicking," Reed said. "We are playing the ball we know how to play."
"I definitely don't think we've played our best baseball," Dunn said. "If people think we have, I think they're crazy. We started out playing terrible defense. Offensively, we haven't got it going, and yet we're right in the middle of it."
Scott Merkin is a reporter for MLB.com. Read his blog, Merk's Works, and follow him on Twitter @scottmerkin. This story was not subject to the approval of Major League Baseball or its clubs.