Cobb extends mastery of Yanks, snaps Rays' skid
Righty takes shutout into ninth after fanning eight and walking none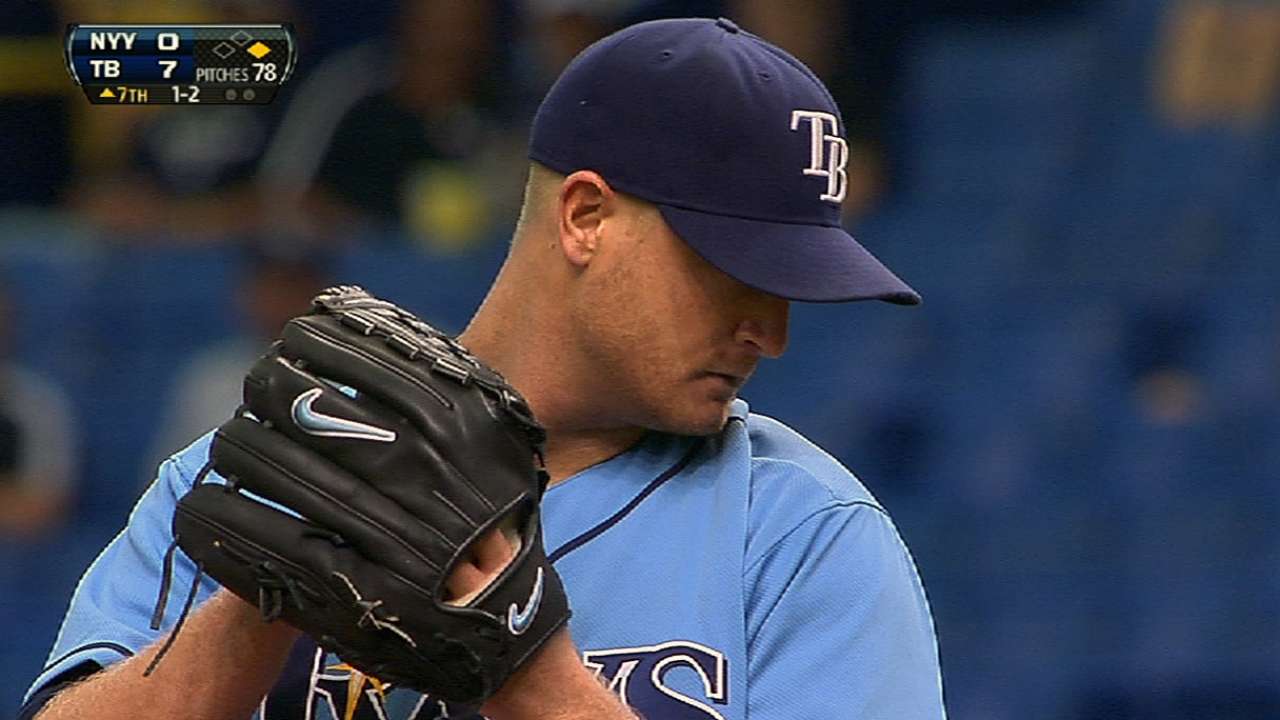 ST. PETERSBURG -- Alex Cobb kept the second-guessers in check on Sunday, and the Yankees' bats, too.
After being moved up in the rotation because of Thursday's off-day, Cobb validated the decision by carving up the Yankees in an 8-3 win.
"It worked out good, you know," Cobb said. "When they told me I was pitching against the Yankees, you knew it was going to be a big game. Unfortunately, losing those first two games [of the series] made it more of a must-win. Not only that, having the bullpen kind of eaten up, I wanted to go out there and attack and have them put the ball in play and hopefully go deep in the game. And fortunately, I was able to."
With the win -- which came after taking a devastating loss on Saturday -- the Rays snapped a three-game losing streak, improved to 25-24 and crept to within five games of first place in the American League East.
Cobb "was wonderful," manager Joe Maddon said. "After what happened yesterday, to be able to come back and right us like that was outstanding. He was that good."
Cobb appeared to be in cruise control from the outset, keeping the Yankees off balance thanks to solid fastball command and an assortment of well-placed curveballs and changeups.
"I had [fastball location] today, being able to go to both sides of the plate, and the fastball movement was good," Cobb said. "When you have that, you're able to set up your other pitches. Kind of use one offspeed pitch the first half of the game and the other the other half, and then mix and match later in the game. It all starts with your fastball."
The Yankees did not get a hit until Jayson Nix's infield single with one out in the third. Replays showed that Nix was out, which would have been more significant had Robinson Cano not gotten the Yankees' second hit to lead off the seventh. Until that, Cobb was perfect save for Nix's hit.
"He was good today, man," Cano said. "You have to give it to him. His changeup was moving and everything was moving pretty good, especially the front-door fastball."
Ichiro Suzuki tripled with one out in the eighth on a hit that could have been a single had center fielder Desmond Jennings not tried to make a diving catch. To Cobb's credit, he did not get rattled. Instead he retired the next two hitters on groundouts to keep his shutout intact.
Cobb used 101 pitches to get through eight innings, which earned him the opportunity to take the mound in the ninth, but Brett Gardner broke up the shutout when he led off the frame with a home run to right. Cobb was lifted with one out and his sixth win of the season seemingly assured, though the Yankees made it interesting by scoring twice more before Joel Peralta got the final two outs.
Cobb is now 2-0 with a 1.08 ERA in two starts against the Yankees this season, coming within two outs of a complete game both times. He improved to 3-1 with a 2.21 ERA in five career starts against New York.
"That kind of team, it's tough to have one certain approach against them," Cobb said. "They make such good adjustments, and that's why they're [tied for] first right now. I think that maybe the positive outings come from me being a little more focused, a little more 'bear down,' a little more excited for the game. These big games, I love to have them, and they really make me focus a lot more."
Yankees manager Joe Girardi praised Cobb.
"The young man knows how to pitch," Girardi said. "He locates extremely well. He's got one of the best changes or split-change -- whatever you want to call it -- in the game. He's pitching."
Tampa Bay swung the bats well all day, but its first two runs against starter CC Sabathia came via one of the odder scoring sequences of the season.
Sabathia hit Sean Rodriguez with one out in the second before Yunel Escobar and James Loney each reached on a fielder's choice to load the bases. Jose Lobaton followed with a soft line-drive single into center field to drive home Rodriguez. Sam Fuld's sacrifice fly then scored Escobar.
Rodriguez chose a more conventional path in the third, hitting his second home run of the season with Evan Longoria onboard. Loney's two-run homer highlighted a three-run sixth that pushed the Rays lead to seven runs.
Though their bats came alive, the Rays' hitters wanted to talk only about Cobb.
"Unbelievable," Rodriguez said. "He's been good all year. He's been as consistent as you can find on the mound next to anybody in the big leagues."
Bill Chastain is a reporter for MLB.com. This story was not subject to the approval of Major League Baseball or its clubs.