Rays prove too much for CC at the Trop
Left-hander looking for answers after tough start in St. Petersburg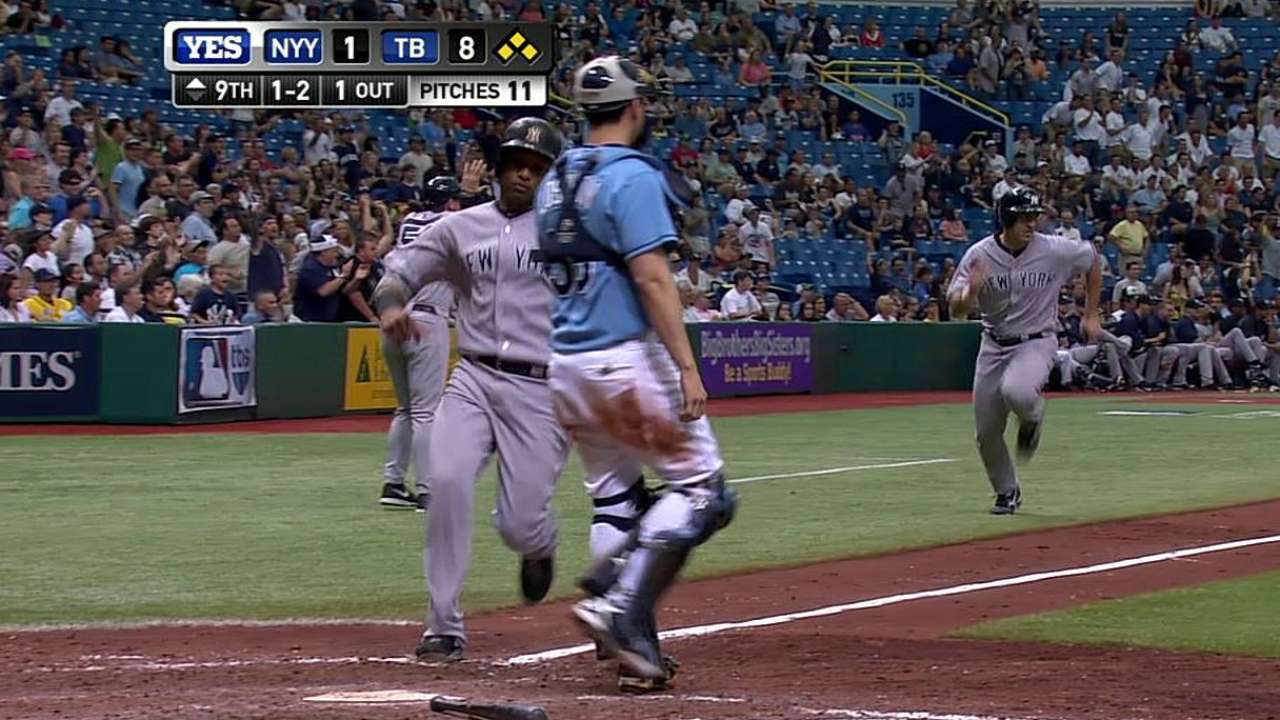 ST. PETERSBURG -- The doors to the visitors' clubhouse at Tropicana Field swung open 10 minutes after the final out on Sunday, and CC Sabathia was still sitting at his locker, deep in a conversation with pitching coach Larry Rothschild that dripped with frustration.
Sabathia declined to go into details about his chat, saying that the contents were private, but it is no secret that the left-hander is looking for answers after being rocked for seven runs in the Yankees' 8-3 loss to the Rays.
"I'm hurting the team," Sabathia said. "I'm not helping the team out. I just need to get better."
Sean Rodriguez and James Loney homered off Sabathia, who will finish the month of May winless in five starts. The Rays have also been a nemesis for Sabathia, who has won just three of his 20 starts against Tampa Bay in a Yankees uniform.
"We know what kind of player he is," second baseman Robinson Cano said. "He's going to go now and figure out what's wrong, what he's not doing. Most of his pitches were over the plate, but I know he'll figure out what's wrong. That's the last guy I worry about."
The Yankees had few answers for right-hander Alex Cobb, who limited New York to a pair of singles over the first seven innings -- Jayson Nix's disputed infield hit in the third and Cano's ground-ball single in the seventh -- before surrendering a solo homer to Brett Gardner in the ninth.
Ichiro Suzuki legged out an eighth-inning triple but was stranded there by Cobb, who walked none and struck out eight in the dominant effort.
"That kind of team, it's tough to have one certain approach against them," Cobb said. "They make such good adjustments, and that's why they're [tied for] first right now. These big games, I love to have them, and they really make me focus a lot more."
Such ace-caliber results have been difficult to come by for Sabathia, who said that his fastball command has been lacking, and cited an inability to make important pitches with two strikes.
"Look, this is a guy that has a lot of pride and has pitched really well for us, and he'll pitch well again for us," Rothschild said. "It's some inconsistencies. He's missing some spots at times, and he's not getting away with any pitches. I think you'll see that all modify itself and take care of itself."
Sabathia's velocity has been a popular talking point, but he did touch 94 mph in Sunday's effort while sitting at mostly 91 mph or 92 mph with his fastball. Rothschild said that it is Sabathia's inconsistency, not his velocity, that has affected him.
"In this league, if you have velocity and not location, you're going to get hit," Rothschild said. "You get away with more pitches at higher velocities, but I think the thing that I focus on is, we have to execute those pitches consistently."
As the Yanks mounted a rally in the ninth, with David Adams just missing a grand slam and settling for a two-run double off the left-field wall, Sabathia burned about how the late push would mean little.
"With this crew, this team that we have, we battle to the end," Sabathia said. "We did it tonight. I just didn't give us a chance. I'm just not able to keep the game close and give these guys a chance to feel like they can come back and win the game."
Tampa Bay scored a pair of soft runs in the second inning, helped by two infield grounders that did not produce an out, as Jose Lobaton logged a run-scoring single and Sam Fuld lifted a sacrifice fly.
The loud hits were to come. There was no doubt about Rodriguez's blast, a third-inning line-drive homer on a sinking cutter that ended up in the "162 Landing" beyond the left-field fence.
Yunel Escobar's RBI double off Sabathia in the sixth swelled the Rays' lead, and Loney put the finishing touches on Tampa Bay's assault with a long drive to right-center for his fourth home run of the season.
"I feel fine. It's just one of those things," Sabathia said. "I feel like the ball's coming out pretty good. It's getting on guys. I'm just not making pitches. The ball Rodriguez hit cut right back over the middle. It was just a bad pitch."
Sabathia stayed out to complete seven innings and help lighten the bullpen's load, only the smallest of silver linings on a day when he fell to 3-7 in 16 career starts at Tropicana Field, marking his lowest winning percentage (.300) in any Major League park.
"He always has a good approach," Rothschild said. "We talked a little bit, and there's some things to modify, but his heart is always in the right place. He goes out there to win games. He's going to stay out there until the job is done.
"Even today he gave us seven innings. It's obviously not what you want from your No. 1 pitcher, but there's not a lot of guys that do that. We're in a 17-game stretch, and he saved the bullpen ,even though it's a really bad day for him."
Bryan Hoch is a reporter for MLB.com. Follow him on Twitter @bryanhoch and read his MLBlog, Bombers Beat. This story was not subject to the approval of Major League Baseball or its clubs.