Strasburg's sparkling outing bests Hamels, Phillies
Righty allows one run over eight innings as Nats take series finale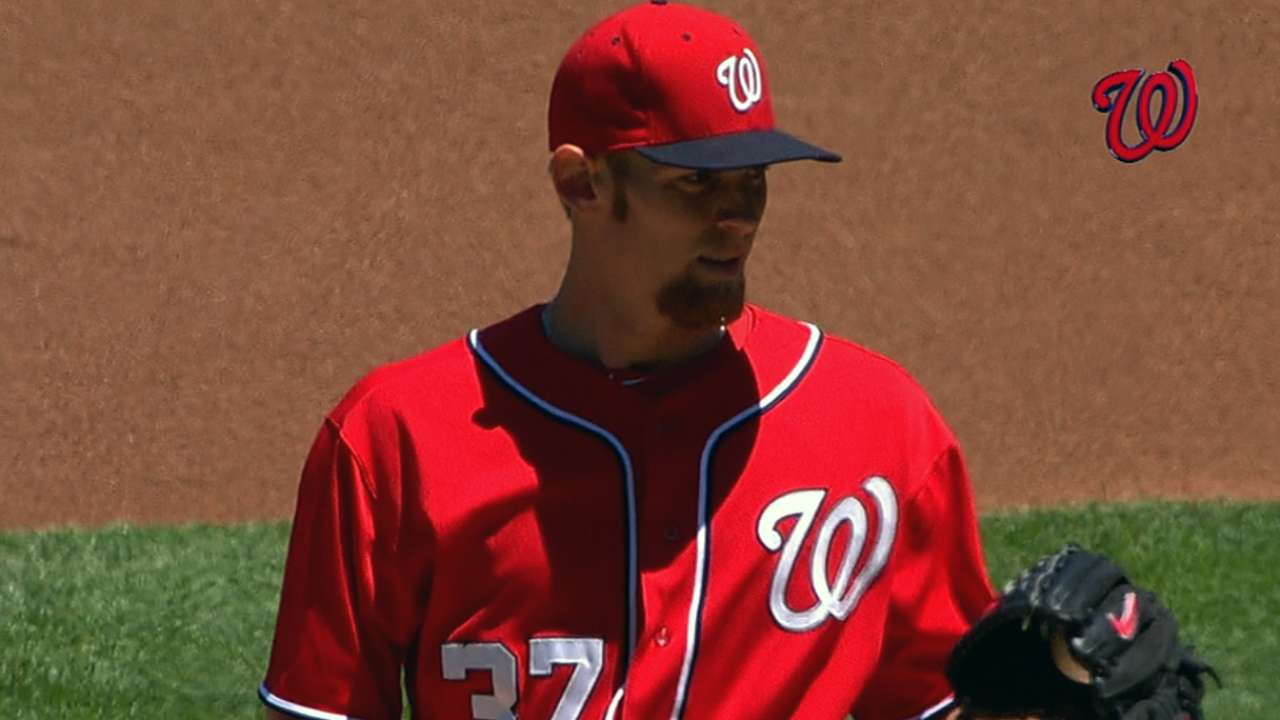 WASHINGTON -- In the first six innings of Sunday's rubber game against the Phillies, the Nationals had three hits. Their right-handed ace, Stephen Strasburg, had two of them.
But in the seventh inning, two slow rollers changed all that. Ryan Zimmerman hit a dribbler to second base and beat the throw to first. Three batters later, backup catcher Jhonatan Solano rolled another one toward third base to score Zimmerman, waking a dormant Nationals offense.
Washington went on to score four more runs in the inning to back Strasburg, who had nine strikeouts, and pick up a 6-1 win over the Phillies at Nationals Park.
It's not exactly how manager Davey Johnson drew it up. But he'll take it.
"Those things, that's called momentum," Johnson said. "Once you start getting a little bit of momentum going your way, that's what you need."
Added shortstop Ian Desmond: "A couple weeks ago, they probably would've turned a double play on that swinging bunt by Solano, somehow, some way. But things are starting to unfold. … We're getting those lucky drops every once in a while, and that's what you need."
Strasburg and Hamels had a combined record of 3-12 entering Sunday, but neither pitched like it on a cool afternoon before an announced crowd of 39,033. Hamels fanned five of his first seven batters. Strasburg in one stretch retired 14 of 15, striking out nine during that span. He struck out the side in both the fourth and sixth innings.
"My fastball command has gotten a little better as the season has gone on, and I've gotten more comfortable out of the stretch," Strasburg said after allowing just one run in eight innings. "It's all about making adjustments. Sometimes you're not going to start the year where you want to be, but it's all about how you end the season."
Strasburg was sharp. He had excellent control of his fastball and struck out the Phillies' Nos. 3, 4, and 5 hitters twice each. The only blemish on his afternoon was a balk, the first of his career, in the eighth inning. Strasburg moved his right arm while standing on the rubber, which home-plate umpire Mike Winters viewed as a move toward his glove. The balk allowed Ben Revere to score from third base.
"It can be interpreted both ways," Johnson said. "It was a fine line in there."
Strasburg said he wasn't focused on outpitching his counterpart, Hamels, though the two pitchers traded strikeouts -- and hits. Hamels singled off Strasburg to lead off the third inning. Then Strasburg doubled off Hamels in the bottom of the inning, and also singled in the sixth.
The Nationals finally found some traction after the seventh-inning stretch. Zimmerman worked a full count and hit a dribbler to second base and beat out Freddy Galvis' flip to first. Adam LaRoche singled to right field, and Desmond laid down a bunt to advance the runners.
"I thought it was a good job of Desi getting that bunt down," Strasburg said. "It's all about putting pressure on the other guy. [Hamels] hung in there for a long time, and I just had to keep on going out there and match his zeros. We were able to go out there and get it done late in the game."
After Desmond's bunt, Tyler Moore took three balls before Hamels intentionally walked him to load the bases. Solano followed with a slow roller to third baseman Michael Young, whose throw home went between the legs of Phillies catcher Humberto Quintero, allowing both Zimmerman and LaRoche to score.
"I knew it'd be bang-bang," Young said. "My gut told me he'd probably have a beat on it to be safe, but you've got to go for it there."
Steve Lombardozzi cleared the bases in the next at-bat, doubling down the right-field line toward Delmon Young. Lombardozzi then scored on a double to left by Denard Span. After Strasburg exited the game with 112 pitches -- the third straight game in which he's exceeded 100 -- Tyler Clippard pitched a scoreless ninth.
The Nationals once again recorded double-digit hits, and there was speculation after the game that this would allow Johnson to finally shave the stubbles of gray hair on his chin. He promised not to shave until the bats got hot, but now that they have, he's hesitant to mess with the mojo.
"It's getting close," Johnson said with a smile.
Tom Schad is an associate reporter for MLB.com. This story was not subject to the approval of Major League Baseball or its clubs.