Hamels gets tough-luck loss in duel with Strasburg
Lefty finds trouble in seventh as Phillies fall in series finale to Nats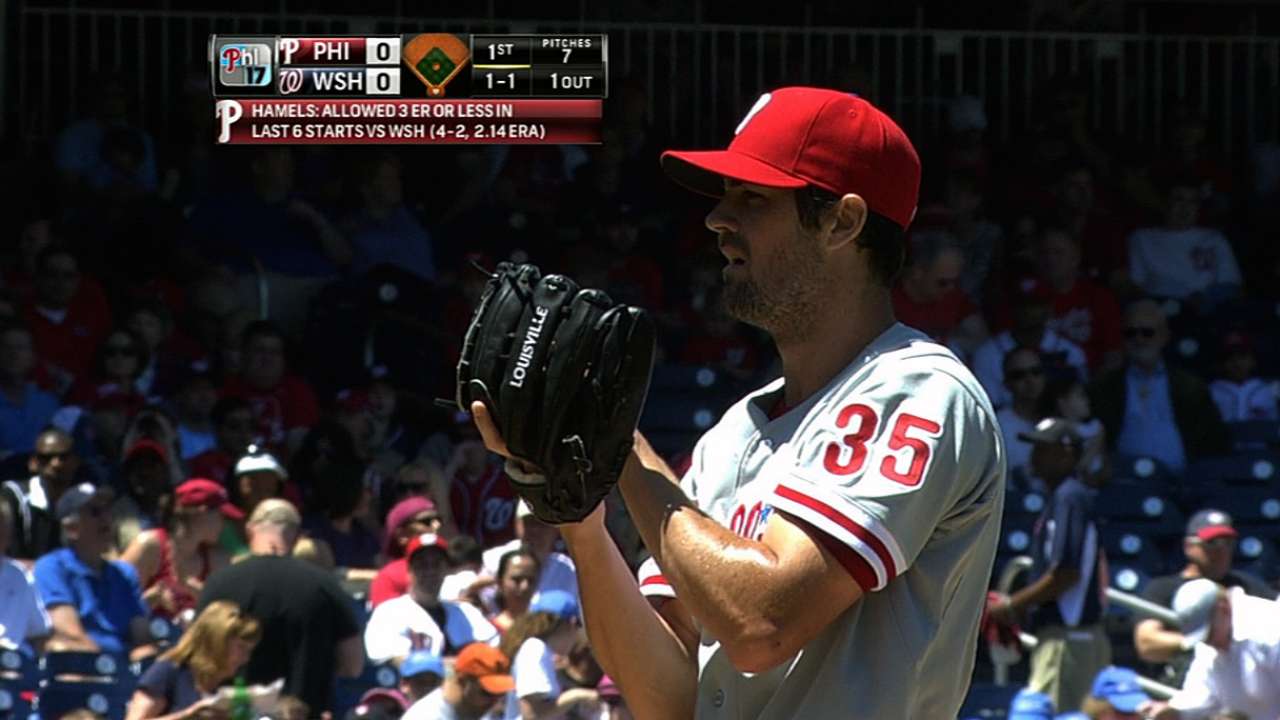 WASHINGTON -- With a win on Sunday afternoon, Cole Hamels could have snapped a personal four-start losing streak while pushing the Phillies to the .500 mark for the first time since April 14.
Instead, poor run support continued to plague the left-hander, who found himself on the wrong end of a duel with the Nationals' Stephen Strasburg in the rubber game of a three-game series at Nationals Park. The two traded zeros for six innings, but when the dust cleared after a disastrous and sloppy five-run seventh, the Phillies were on their way to a 6-1 loss that dropped Hamels to a stunning 1-8 and the club back to 24-26.
Hamels, who had declined to speak to the media following his last start, said the most frustrating aspect of the day was not pulling the Phillies even on the year. The defeat sent Philadelphia to its first series loss since May 1 and prevented the club from tying the Nationals for second place in the division behind the Braves.
"Getting back to .500 is where we want to be, so we can start back over, but now we have to win two more to get back there," Hamels said.
With Strasburg holding the Phillies to one run on five hits and no walks over eight innings, Hamels still has not pitched with a lead since April 7, his second start of the year. Hamels owns a 3.24 ERA over his past nine starts, with the Phillies scoring a total of 13 runs while he has been in those games, the worst average for any Major League pitcher during that stretch.
"He pitches his [rear] off for us every time. Sooner or later, we're going to come through for him," infielder Kevin Frandsen said. "It's kind of what happened with Cliff [Lee] last year. We didn't support him, and he pitched his [rear] off for us, and one of these days we've got to come through for him.
"Guys are competing up there. We know what we want to do. We're trying to get on the board for Cole and unfortunately we haven't. Cole's the same every time, just mellow and goes out there and does his job. We have to do our job and score for him."
Veteran Michael Young said that while the team is eager to back up Hamels, it can't press in order to do so.
"Obviously Cole knows he's doing his job, putting up zeros, keeping us in every game he pitches in, and we always look forward to his next start," Young said. "The last thing we want to do is turn this into something where we try extra hard when Cole pitches, because that can tend to snowball. Obviously we want to help him out and support him any way we can, because he's pitching like he pitches. We want to get him some support, and we expect that to turn."
Young played a key role in the bottom of the seventh, which began in a scoreless tie but quickly unraveled for the Phillies.
Ryan Zimmerman led off by beating out a slow grounder to second base, Adam LaRoche pulled a single into right field, and both runners advanced on Ian Desmond's bunt. Tyler Moore, who was hitting .135, walked to load the bases, the final ball intentionally thrown after Moore had reached a 3-0 count.
That brought up Nationals backup catcher Jhonatan Solano, who dribbled a grounder toward third base. Young charged and appeared to have time to get the forceout at home, but his low throw got through catcher Humberto Quintero, scoring Zimmerman. With nobody backing up the play, the ball rolled far enough to allow LaRoche to score from second.
Young, charged with an error on the fielder's choice, said his only regret was making a normal throw instead of simply flipping the ball to Quintero.
"I knew it'd be bang-bang," Young said. "My gut told me he'd probably have a beat on it to be safe, but you've got to go for it there."
Steve Lombardozzi followed with a two-run double down the right-field line, and advanced to third on Delmon Young's error. That spelled the end for Hamels. Justin De Fratus came in, and one out later, Denard Span made it 5-0 with an RBI double.
Hamels was charged with five runs -- three earned -- on six hits in 6 1/3 innings, while striking out six.
"That's something where if you keep putting the balls in play, things happen," Hamels said of the seventh inning. "I made the pitches I wanted to make, and ultimately the results didn't transpire the way, obviously, I would like."
The Phillies didn't get many chances to score against Strasburg (3-5). They put runners at first and third with two outs in the second when Frandsen was hit by a pitch and Ben Revere singled, but Quintero grounded into a fielder's choice. Hamels hit a leadoff single in the third but was stranded on second.
Strasburg struck out the side in the fourth and seventh innings, racking up all of his nine K's in a 13-batter stretch. The Phillies didn't move another runner into scoring position until the eighth, when Revere and Quintero led off with singles. Pinch-hitter Ryan Howard grounded into a double play before Revere scored on a Strasburg balk to break up the shutout.
"My fastball command has gotten a little better as the season has gone on and I've gotten more comfortable out of the stretch," said Strasburg, who also has dealt with poor run support this year. "It's all about making adjustments. Sometimes you're not going to start the year where you want to be, but it's all about how you end the season."
That could be something for the Phillies to keep in mind after their latest frustrating day, which included three errors and Frandsen getting ejected after slamming his bat in response to a check-swing call.
But most of the frustration centers on Hamels, who already has been hung with two more losses than he was all of last season.
"It definitely seems like things aren't going his way right now," Phillies manager Charlie Manuel said. "It's something he's got to just battle through. I don't know what to tell him, except just keep pitching, keep battling through, and it'll change."
Andrew Simon is a reporter for MLB.com. Follow him on Twitter @HitTheCutoff. This story was not subject to the approval of Major League Baseball or its clubs.