Cubs take right-hander Masek in fifth round
Cubs take right-hander Masek in fifth round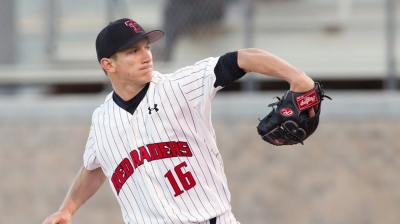 CHICAGO -- Arm soreness late in the season dropped Trey Masek to the fifth round in Friday's First-Year Player Draft, but it appears the Cubs got a potential first-day talent in the Texas Tech right-hander.
Masek was 5-2 with a 1.82 ERA in 11 starts, three of which were complete games, in his junior season. He also posted 69 strikeouts and 22 walks in 79 innings, while holding opponents to a .206 average. He did not allow a home run all season.
"I'm just blessed to be able to get picked up by such a great organization," Masek said Friday on Double T 104.3 FM Radio in Lubbock, Texas. "The Cubs, they're a great organization and a great city. To be able to get picked up by the Chicago Cubs is a blessing."
Slightly undersized at 6-foot-1 and 185 pounds, Masek can run his fastball up to 94 mph, and he possesses a solid curveball and good feel for his sinking changeup.
Masek, MLB.com's 67th-ranked prospect heading into the Draft, was hindered by a rotator cuff injury this spring, but he recently told SB Nation that it's no longer a concern.
"No, I'm definitely past that," said Masek, who was still throwing mid- to low-90s after the injury. "There's been no soreness since I got over that, so if any team has asked, I've been very open about it. I'm just looking forward to getting out and to showing that I'm healthy and ready to go."
Cash Kruth is a reporter for MLB.com. Follow him on Twitter at @cashkruth. This story was not subject to the approval of Major League Baseball or its clubs.